I post a weekly diary of the historical notes, arts & science items, foreign news (often receiving little notice in the US) and whimsical pieces from the outside world that I featured this past week in "Cheers & Jeers". For example .....
OLDER-YOUNGER SISTERS? - Academy Award winner Rita Moreno and California senator Barbara Boxer.
OK, you've been warned - here is this week's tomfoolery material that I posted.
ART NOTES - sixty years after he and Tenzing Norgay reached the summit of Mt. Everest: an exhibition detailing the life and achievements of Sir Edmund Hillary (with a selection of rarely seen images) will be at the Auckland, New Zealand Museum through September 29th.
MORE THAN TWO YEARS after a long spate of post-election violence: the Ivory Coast is trying to address the issue, with a Truth and Reconciliation Commission modeled after South Africa's .......... but progress has been rather slow.
HAIL and FAREWELL to the English graphic designer Storm Thorgerson - who designed the album covers for numerous rock bands (most notably Pink Floyd's "Dark Side of the Moon") - who has died at the age of 69.
TUESDAY's CHILD is Opal the Hero Cat - who awoke a Manitoba, Canada woman (whose smoke detectors failed) just minutes before a ceiling collapse.
MUSICAL THEATER has traditionally focused on feel-good or fantasy themes ... but an increasing number are tackling more serious themes such as homelessness, deprivation and crime.
WEDNESDAY's CHILD is Sammy the Hero Cat - an Ohio kitteh who saved the life of his housemate dog Izzy - who was in-the-mouth of a bigger dog, about to be torn apart - when Sammy puffed-up, causing the big dog to release Izzy and chase Sammy ... to no avail ... up a tree (enabling the family to rescue an injured Izzy, but who is expected to recover fully).
AWARD NOTES - the late screenwriter and director Nora Ephron is to have an award named in her honor at the Tribeca Film Festival - with a $25k prize going to a female writer or director "with a distinctive voice" judged to embody Ephron's "spirit and vision".
ARCHAEOLOGY NOTES - a construction project in the heart of London, England - destined to be the media corporation Bloomberg's European headquarters - may provide a unique insight into the first 400 years of London's Roman history.
ART NOTES - an exhibition of twentieth-century works entitled The Brush Is Mightier than the Sword will be at the James A. Michener Art Museum in Doylestown, Pennsylvania through May 26th.
SIGN of the TIMES - a disabled retiree in Italy (with the benefit of a national rail pass) now lives by riding trains - after he was evicted from his home and has yet to be given state housing.
GIVEN THAT the previous government in South Africa badly mishandled that country's AIDS crisis, it was left to large business to take the lead .... which eventually spurred the new government into action.
THURSDAY's CHILD is Jade the three-legged Cat - who was turned-over to a Texas police department to be euthanized ... but the former chief couldn't bring himself to doing it, and now for the past twelve years Jade has been the department's mascot (and credited with calming down irate citizen complainers).
BOOK NOTES - the first book printed in America - the Bay Psalm Book, printed in Massachusetts in 1640 and one of 11 remaining copies of a translated version of the Book of Psalms - is expected to fetch up to $30m (£20m) when it goes on auction later this year.
BRAIN TEASER - try this Quiz of the Week's News from the BBC.
FATHER-SON? - two noted European film stars: French-born Alain Delon and also Ewan McGregor originally from Scotland.
BUSINESS NOTES The Caribbean port of Cartagena, Colombia is undertaking extensive infrastructure and technology upgrades in an effort to be one of the world's best megaports by 2017 - in the same league as the ports of Los Angeles, Long Beach and New York.
THE OTHER NIGHT yours truly hosted the Top Comments diary, with my annual plea for DK readers to attend a political meet-up - either a DK gathering, Drinking Liberally or otherwise - and how to get started, finding one in your area.
FRIDAY's CHILD is Marilyn the Cat - a south African kitteh who nursed a frightened puppy for several weeks (along with her kittens) and now all of these furries (including Lollipop the Puppy) have been adopted.
....... and finally for a song of the week ..................................... when rock power trios came into vogue in the late 1960's (especially in England), the All-Music Guide's Greg Prato says that Cleveland's James Gang were arguably the finest to emerge from the subsequent American crop (though they wound up in that format not by design, but circumstance). Numerous personnel changes did them in by the mid-70's: but they exist today on classic-rock radio like few other bands do.
Phase 1 of the band begins in 1966, when several Kent State University students (led by drummer Jim Fox) formed a band. The revolving door swung right away, with several personnel changes. In 1968, guitarist Glenn Schwartz left to join Pacific Gas & Electric, and his successor Joe Walsh is someone I've written about elsewhere before. At this time, he had not yet developed the witty repartee that his later work would .... but already had his signature guitar licks in order.
Phase 2 of the band opened for Cream in May, 1968 in Detroit and when their 2nd guitarist quit just beforehand - they continued as a power trio with Walsh, Fox and bassist Tom Kriss. They signed to ABC Records in 1969 and released Yer Album with covers of the Yardbirds' - Lost Woman and Buffalo Springfield's "Bluebird". Some of the early originals pointed to the band's future: the melodic "Take a Look Around" plus Funk 48 which is largely instrumental.
Their well-regarded producer Bill Sczmczyk featured their songs in the film Zachariah and by their next album James Gang Rides Again bassist Tom Kriss left, replaced by former baseball prospect Dale Peters - and Phase 3 of the band is considered the "classic" lineup (1st photo L-R: Jim Fox, Dale Peters and Joe Walsh).
"Rides Again" features the classic-rock staple "Funk 49" (listen at this link if its title is unfamiliar) as well as The Bomber - another instrumental that featured part of Cast Your Fate to the Wind by Vince Guaraldi. At this time, Pete Townshend asked them to open for The Who in Europe, ensuring more success. After their next album Thirds in 1971 plus the excellent Live in Concert album, Joe Walsh left to embark on his solo career (later also joining The Eagles).
Phase 4 of the band saw Canadians Roy Kenner (vocals) and the late Domenic Troiano (guitar) come on board in 1971, and this is the lineup I saw as a 14 year-old in an old hockey arena (with Kenner telling everyone "Let's crack this ice" via hand-clapping). This lineup recorded two albums that failed to chart (none of the present members were gifted songwriters) and the newcomers left (with Troiano joining The Guess Who).
Phase 5 of the band began when former Zephyr/Billy Cobham guitarist Tommy Bolin joined in 1973. While no memorable songs resulted during his tenure, he played his spirited licks on two albums before leaving. Like Joe Walsh, he began a solo career as well as joining a major band (Deep Purple, in Bolin's case) before his death in 1976.
Jim Fox and Dale Peters recorded two more albums (with different guitarists) before finally folding the band in 1977 (with Peters going on to a prominent career as a recording engineer).
The classic lineup has reunited from time-to-time: in 1996 at a Bill Clinton re-election rally, in 2001 at the Rock & Roll Hall of Fame in their hometown of Cleveland and in 2006 they held a major reunion tour (with a keyboardist and back-up singers) that gladdened the hearts of many a classic-rock fan.
They have left the door open to future shows/recordings, and while no sign of it has yet surfaced: just last year, news accounts mentioned the classic trio recording a new studio album with their old producer Bill Szymczyk. And in the second photo (clockwise from upper left) are producer Bill Szymczyk, Joe Walsh, Jim Fox and Dale Peters. Hey ..... James Gang fans can hope, can't they?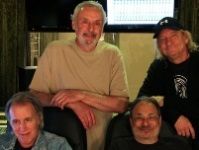 The band's only Top 40 hit was the opening track Walk Away on the album "Thirds". Yet the studio version (while good) sounds lethargic compared to the uptempo version (with Jim Fox wailing on drums) from their 1971 Live in Concert album - and below you can listen to it.
Taking my time
Choosing my lines
Trying to decide what to do?
It looks like my stop
But I don't wanna get off
'Cause I got myself hung up on you

I've got to cool myself down
Stomping around
Think of some words I can name you
I'll meet you half-way
I've got nothing to say
Still, I don't suppose I can blame you

It seems to me
You don't want to talk about it
It seems to me
You just turn your pretty head
and walk away