Early in May the Pentagon formally recognized that there are transgender veterans for the first time. We can only hope that it is the first step to allowing transpeople to serve openly in the military.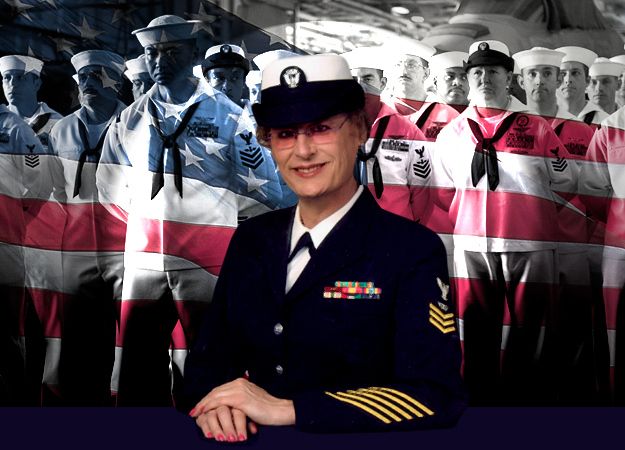 On May 2 transgender veteran and activist Autumn Sandeen received a short letter from a Navy official:

Per your request the Defense Enrollment Eligibility Reporting System (DEERS) has been updated to show your gender as female effective April 12, 2013.
Sandeen has a new military identification card to reflect the change.
The fact that a process exists [to change the gender listed] indicates that there are people in the Department of Defense who are aware of the needs of transgender retirees and who are working to see those needs met. And, in that sense, the significance of this symbolic act for our broader work and for our goal of open service becomes I think a little bit more apparent.

--OutServe-SLDN executive director Allyson Robinson
Gay, lesbian and bisexual service members have been able to serve openly since September, 2011, but transgender people continue to be discharged if it becomes known they are transgender.
In the past Sandeen worked with the National Center for Transgender Equality to establish standards to be used by the Department of Veteran Affairs in addressing transgender issues.

I have now done California, the Veterans Administration, State Department with a passport, and the Social Security office, I have changed all of this. The one last place that shows me as male is the Department of Defense — from being a retiree there.

--Sandeen
Many veterans have their records and benefits maintained by the Department of Defense through DEERS rather than the VA.
I had heard that it could be done; I had never heard of anybody actually doing it. So, I went and called up OutServe-SLDN, and told them, 'OK, what I did with NCTE and checking the system there [in the Veterans' Affairs Department], trying to find out what the rules are, what do you want me to try and do to see what … policy is.' And they said, 'If you can just show us that it can be done.'

--Sandeen
So Sandeen submitted the documentation requested and has now received notification that the change has been made.
The documentation required to have the DoD change gender is substantial.

1. Changed birth certificate (original or notarized copy)

2. Court order: name change document (original or notarized copy)

3. Notarized letter indicating surgical transition letter

4. Court order: change of gender (original or notarized copy)

5. Copy of updated Social Security Card or notarized copy of current Social Security Benefits indicating changed name and SSN

6. Copy of driver's license, state-issued ID card, or passport with new name and gender indicated

The following additional document is a required document if one has a spouse that is enrolled in the Defense Enrollment Eligibility Reporting System (DEERS):

7. Notarized letter from the retired servicemember's spouse indicating that he or she understands that after the DOD documents the gender change they will lose their Tricare coverage.

--Sandeen, LGBT Weekly
#7 is, of course, due to DOMA.
To our knowledge, this is the first time that the Department of Defense has recognized and affirmed a change of gender for anyone affiliated, in a uniformed capacity — in this case a military retiree. That alone makes it very significant, not just for this veteran herself, but for likely thousands of others who can have these corrections made to their DEERS documents.

--Robinson
By showing you can actually change your gender marker with the Department of Defense, it shows that the Department of Defense actually will do that, and if they do that then it's another stop toward figuring out a way to have open service for trans people.
Robinson admitted that the decision is limited in scope because "[i]t does not go back and correct historical records that the Department of Defense maintains on retirees, but it does correct all documents going forward, including the ID cards that veterans are issued that allows them access to the same kinds of military facilities that active-duty service members have."
When transgender people are inadvertently outed on documents that don't match … that they become more susceptible to harassment and discrimination, more likely to face those kinds of responses. In a broad sense, having documentation that matches one's day-to-day presentation of gender is very important.

--Robinson
The limits are still significant. The DoD will not alter the gender listed on the DD-214 (Certificate of Release or Discharge from Active Duty), because the Pentagon considers it to be an historical document.
If you have a name, gender, or social security number (SSN) change after discharge from the military, even if it is court ordered, the name and gender on your military records will not be changed since they are historical documents which record facts during the time you served in the military. If you need a certificate to show your current name or gender and that you served in the military under another, you can request such from the National Personnel Records Center, Military Personnel Records …

--Applicant's Guide To Applying To The Army Board For Correction Of Military Records
They're starting with 'you can change your reported gender with the Department of Defense,' and then [transgender people can] take that into the next couples of questions: 'Why can't we update our DD-214s?' and 'Why can't we serve openly?'

--Sandeen
I would say that it is a very early and very small step in a long process to achieve our goals here. But, it is significant, as the earliest steps always are, because it reflects a shift, even if it is a small one, in the way that transgender people are viewed within the institution of the United States military.

--Robinson
I'd like to see trans people being able to serve openly, and that's my end, and I think this is going to be a step to get there.

--Sandeen
Only about half of the states will allow changes in birth certificates, putting this process out of reach of a substantial number of transgender veterans.