Poor Marg. She's looking a bit too plain, don't 'cha think?
Large Marg - aka:
The Veterans Green Bus
has been through a lot this past year. In human terms, she had a bleeding ulcer [
in bus terms: a fire in the electrical panel
] in Roanoke, VA. Once that was fixed, Marg carried Veterans Green Bus project manager Gordon Soderberg to Detroit, their home base, and then on to Seattle to demonstrate how a huge bus like Large Marg can run on used cooking oil at
Growing Veterans
.
Large Marg as she is now
Even though Large Marg was perkin' along, the poor old dear has been through a lot. She and Gordon worked for 5 long months with
Team Rubicon
to rescue the people affected by Hurricane Sandy. Clearly, Large Marg needed a checkup.
Currently she is in Kelso, Washington being worked on by an expert Crown bus mechanic. After that she is being driven to Net Roots Nation by Gordon. Soderberg will show you how the bus runs on used cooking oil. While she is there, with your help Large Marg can be gussied up.
So, starting today, we trying to raise only $900.00 Now here's the really cool part. Instead of contributing money to a good cause in hopes that the organization will use it for the purpose intended, this time you can actually see what your money buys. The glamourizing of Large Marg will take place right at NN2013 - and if the live streaming works, you will see the conversion in progress!
Decals like these cost less than $900.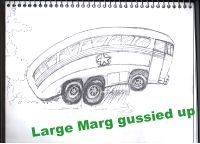 So, please, please, please part with a $10, $20, or even a $100.
From the Comments: Gordon is offering a Veterans Green Bus T-Shirt to anyone donating $100 or more. So far, we have 1.
Background on the Veterans Green Bus below the flying Spaghetti Monster.
The Veterans Green Bus some remarkably good things have happened. If you'll remember, the bus had a mid-engine fire which did $4,000 worth of damage. That happened in Roanoke, VA. Some very kind people - including many of you - stepped up, and paid the bill. Gordon Soderberg, project manager for the bus, drove first to his home base in Detroit, then on to Rockford, IL and met with Congresswoman Cheryl Bustos. They discussed the green energy aspects of the project as well as how much Veterans help other Veterans cope with the PTSD.

The above shot shows how Team Rubicon and Veterans Green Bus volunteers worked aboard the bus during the aftermath of Hurricane Sandy.
When Gordon pulled into Portland, OR there was a full tank of bio-diesel waiting for him. Now that's not your typical VW 12 gallon tank. Large Marg holds 250 gallons! And the bio-diesel retails for $4.00 a gallon. [Gordon refines his own right on the bus. It's a remarkable and amazingly simple process.] So, Large Marg took on $1,000.00 worth of the good stuff all donated.