GUS (Gave Up Smoking) is a community support diary for Kossacks in the midst of quitting smoking. Any supportive comments, suggestions or positive distractions are appreciated. If you are quitting or even just thinking of quitting, please join us! We kindly ask that politics be left out.

You can also click the GUS tag to view all diary posts, or access the GUS Library at dKosopedia for a great list of stop-smoking links. Check it out! Want to make sure you never miss us? Follow (♥) the GUS tag to keep GUS in your Stream and easily find the link to the latest one. It's just that easy!

A message to ALL quitters: You don't have to avoid GUS if you have a failed quit. We won't give you a bad time or nag you. We consider the failed quits as "practice" for the real quit.
I swear.
By that, I mean that my everyday speech is sometimes punctuated with profanity. Oh, it's not excessive or even reflexive for the most part, but there are some choice expressions I occasionally blurt out under duress that I probably wouldn't want to air in front of colleagues, much less have my grandmother overhear.
I come by it honestly; my father was a Sailor and his father a Marine, two branches of the armed services famed for their grasp of the more socially inappropriate salty expressions. And of course I grew up in the verbally adventurous '60s and '70s, an era where edgy cinema and counterculture-inspired song lyrics introduced words and topics that would have been verboten just a few years earlier. George Carlin was one of the more prominent canaries in that coal mine.
A generation of post-Boomer Latchkey Kids discovered an impressive range of rather shocking words---and sometimes the pictures to go with them, if the scrambling on your Skinemax signal was cooperating---and they weren't afraid to use 'em. Despite Tipper Gore's efforts, casual profanity crept into our music, our movies, and our everyday conversation. Censors couldn't hit the "bleep button" fast enough. The rise of the internet and shock jock talk radio did not improve the situation.
Eventually, this translated into a culture that was a little less shocked by the occasionally vulgar turn of phrase, and to me letting those years of reprimands by my elders to "watch your language!" fall by the wayside a bit. Don't get me wrong, on a typical day little more than a discreet "shit!" or "damn it!" passes my lips, and I'm generally aware of the setting and my companions when they do. It's been this way for many years, with one notable exception: when I was quitting smoking.
During my quit, all bets were off when it came to my use of profanity. I'm not sure what it was (probably the existential death throes of a brain being rewired while it was being deprived of its favorite chemicals), but for a few weeks, I swore like a sailor. No, I swore like someone playing a sailor in a [NSFW, obviously] Quentin Tarantino movie. That is to say constantly, colorfully, explosively, and at great length. Stephen Fry was my homeboy.
I swore at everything, all the time, for no reason except that it seemed to help relieve the ever-present tension and stress I was experiencing. I was mad at my then-boss, frustrated at my job, climbing the walls at home, antsy, twitchy, inexplicably furious or frustrated with a thousand perfectly normal everyday things, and ready to verbally slice and dice anything and everything that set me off. And so I swore.
For a while, it was actually kind of freeing. I'd given myself permission to be as awful as I needed to be in the short term, to get past the worst of it. And maybe I just needed to get some of that pent-up toxicity out of my system, and this was the perfect opportunity to do so? Whatever it was, it was bad for a little while, and then---like some kind of crazy Hurricane of Expletives---it blew past and evaporated, and I was back to normal.
Quitting is hard, and folks in the GUS community frequently point out that it's okay to do pretty much whatever it takes to get through the process.
I couldn't bleep-bleeping bleepity bleep-bleepin' agree more.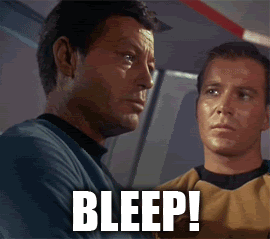 Who's Your Li'l Buddy?
1BQ, 2thanks, 3rdGenFeminist, 417els, A Man Called Gloom, Abra Crabcakeya, Actbriniel, addisnana, AfroPonix, aishmael, Alise, Alpha99, ambeeeant, American in Kathmandu, amk for obama, andsarahtoo, angry marmot, Anne933, anodnhajo, aoeu, AoT, aquarius2001, arcadesproject, Archie2227, arodb, Arthur Wolf (in memoriam), assyrian64, Aunt Acid, awkawk, b4uknowit, BadKitties, bamablue, BARAKABETH, barnowl, b barrie, bdizz, beatpanda, beefydaddy18, BFSkinner, bgblcklab1, BigAlinWashSt, Bike Crash, BirderWitch, BJKay, bleeding heart, blingbling65, blue husky, Blue Intrigue, bluedust, BluejayRN, BlueJessamine, Bluerall, bluestatedem84, BoiseBlue, boudi08, Brahman Colorado, breedlovinit, BrenP, BrianParker14, Bronxist, broths, BrowniesAreGood, bsmechanic, buddabelly, Bugsydarlin, bumbi, BusyinCA, cactusgal, Carol in San Antonio, CathiefromCanada, CathodeRay, CDH in Brooklyn, Cedwyn, cee4, Cen Den, ChocolateChris, ChurchofBruce, ciganka, cinnamondog, xuǝzıʇıɔ, ClapClapSnap, claude, Cleante, Code Monkey, codobus, Coldblue Steele, Colorado is the Shiznit, coloradomomma, common green, commonmass, Common Sense Mainer, congenitalefty, coppercelt, dadanation, Damnit Janet, dangoch, DarienComp, dauber, Dauphin, Dave in AZ, Dave in Northridge, David54, deedogg, demkat620, Dexter, Diana in NoVa, Dickie, DiegoUK, Dingodude, dirtdude, distraught, djMikulec, docreed2003, dolfin66, donnamarie, Donna O, dotsright, Dr Teeth, Dreggas, DRo, droogie6655321, Dube, duckhunter, Eclectablog, Eddie C, EdgedInBlue, effervescent, elbamash, El barragas, el vasco, electricgrendel, entrelac, ericlewis0, Everest42, Ex Con, ezdidit, fauve, fhamme, Fineena, fiona2, fishhawk, Flea, flumptytail, Friend of the court, fritzi56, FrugalGranny, Garrett, Gator, 2ɹǝɔnɐɥɔb, GDbot, Geiiga, GenXangster, glpaul, gooderservice, gooners, gravlax, GreenMountainBoy02 (in memoriam), greylox, grndrush (in memoriam), GrumpyWarriorPoet, GuerillaLiberal, GulfExpat, gzodik, Haole in Hawaii, HappyinNM, henlesloop, here4tehbeer, HeyMikey, hideinplainsight, High Tide, hiliner68, history first, hold tight, Hugh Jim Bissell, hulibow, I love OCD, I said GOOD DAY sir, Im a frayed knot, imisa, Indexer, indubitably, indyada, Interceptor7, Inventor, Isaacsdad, itsbenj, Jahiz, JamesEB, janl1776, Janeo, jarbyus, JayinPortland, jayjaybear, JBL55, jbou, Jeffersonian Democrat, jillwklausen, jmadlc55, jmonch, Joes Steven (aka Steven), john07801, johngoes, johnny wurster, jsfox, just another vet, JVolvo's Mom (in memoriam), jwinIL14, Kai99, kailuacaton, Kamakhya, kat herder, katchen, Kelly of PA, khloemi, Khun David, Kitsap River, kittania, KrazyKitten, Kristina40, Ksholl, labwitchy, ladypockt, Lahdee, langerdang, LarsThorwald, LA rupert, last starfighter, LaughingPlanet, Laurie Gator, Lava20, Leo in NJ, Lipstick Liberal, litoralis, lmdonovan, lockewasright, Lonely Liberal in PA, Lonely Texan, longislandny, Lorinda Pike, luvsathoroughbred, maggiemay, magicsister, mango, Marc in KS, MargaretPOA, Marjmar, Mark E Andersen (Kodiak54), marknspokane, marsanges, maryabein, Matt Esler, Maxiemax, MBNYC, mdemploi, Meteor Blades, Micburke, michael1104, MillieNeon, minerva1157, MinervainNH, Missys Brother, mjbleo, MnRaindog (in memoriam), mntleo2, mollyd, mom of 5, Morague, MotoGP, Mr Bojangles, mrsgoo, mskitty, msmacgyver, MsWings, Murphoney, nannyboyz, ncsuLAN, NearlyNormal, Nedsdag, Nespolo, Nick Zouroudis, nokkonwud, notgivingup, NY brit expat, oceanview, OleHippieChick, Olkate, one pissed off democrat, One Pissed Off Liberal, Onomastic, operculum, OrangeMike, Ordvefa, Overseas, Over the Edge, Pager, paige, PaintyKat, paradox, parryander, paulitics, peglyn, Pennsylvanian, peterfallow, phrogge prince, plok, Positronicus, post rational, PowWowPollock, Proud Mom and Grandma, psycho liberal, ptolemynm, Purple Priestess, PvtJarHead, racheltracks, randallt, ray bob, real world chick, red mittens, Reepicheep, regis, relentless, revelwoodie, revsue, Rex Manning, rexymeteorite, RiaD, rickeagle, ridemybike, rightiswrong, Rileycat, rincewind, rkex, roadlion, Roger Fox, Rosebuddear, roses, rscopes, Rudini, RumsfeldResign, Safina, SallyCat, Sanuk, Sark Svemes, sboucher, scooter in brooklyn, Scrapyard Ape, seenaymah, Senor Unoball, sfbob, sgary, Shahryar, sheddhead, shesaid, Shifty18, shmuelman, shopkeeper, sidious666, sidnora, slksfca, slowbutsure, smartcookienyc, smeesq, Smoh, snoopydawg, snorwich, SnyperKitty, SoCalHobbit, SoCalSal, sofia, soonergrunt, soros, sostos, sowsearsoup, SpecialKinFlag, spmozart, spotDawa, SpotTheCat, StateOfGrace, Statusquomustgo, stiffneck, stonekeeper, suesue, sunbro, Super Grover, Syoho, tallmom, Tay, tdslf1, teknospaz, theatre goon, The Eyewitness Muse, TheGeneral, TheStoopingRabbit, TigerMom, Tim DeLaney, tiredofcrap, TomP, tonyahky, Toyotabob7, TracieLynn, TreeFrog, triciawyse, tripodisblack, trs, trueblueliberal, ttanner, Tulsonian, Turn VABlue, Turtle Bay, Tyto Alba, uc booker, UncleCharlie, Unduna, Unforgiven, ursoklevar, USArmyParatrooper, VA02 femocrat, Vacationland, valadon, Vayle, vc2, Vetwife, vgranucci, Via Chicago, Village expects idiot home soon, viral, vulcangrrl, waytac, webranding, weelzup, Wes Opinion, Whimsical Rapscallion, willy be frantic, willy mugobeer, Wood Dragon, wolfie1818, Wordsinthewind, Wreck Smurfy, x, xopher, yet another liberal, Zotz
Have you had some experience with the effects of smoking, and want to write a GUS diary or host an open thread? Please sign up in the Butt Can (Tip Jar), and name the day and time that works for you. Weekly GUS Diary Schedule (regular hosts featured in bold) is below.


Wed PM: Vacationland (You Are Here)
Thu AM: nokkonwud
Thu PM: Open
Fri AM: flumptytail
Fri PM: paulitics
Sat AM: effervescent
Sat PM: Open
Sun AM: gchaucer2
Sun PM: Open
Mon AM: Open
Mon PM: bgblcklab1
Tue AM: gchaucer2
Tue PM: Open
Wed AM: Open

If you can spare a few hours, please consider hosting GUS - doesn't have to be a permanent slot; it can be a one-time deal or just an open thread!

Not sure where to start? Just ask for help in the Butt Can (Tip Jar). Seriously, it doesn't have to include specific elements or require all sorts of fabulous diary formatting skills. The regulars will make sure stuff gets carried over from diary to diary, so if you want to just tell your story or provide an open thread and host for a few hours, that's cool too. We would be very grateful!