In this latest installment of the political geography series, I take a look at how the 2012 gubernatorial races in 10 of the 11 states that held them diverged from the presidential performance. Mostly this is by County though in Vermont it is by Town and New Hampshire by Precinct. Democrats won 6 of these states while Republicans won 4, but Obama only carried 3 of them and while that wasn't surprising, there were a few race margins and a few counties in each race where I was surprised at the disparity or lack thereof. So let's look at the results.
Indiana
In Indiana, Democrat John Gregg fell just 3% short of defeating Mike Pence for this open seat vacated by popular governor Mitch Daniels while Obama, who had ceded a state he surprisingly flipped in 2008, lost by low double digits. While this and all other results are two party, Pence only won a narrow plurality thanks to the Libertarian party candidate. Still we can see a fairly predictable pattern as to which regions saw Gregg outrun Obama the most. In particular those are rural western Indiana where Obama lagged far behind the rest of the ticket for all offices last year. Gregg and Obama were basically at parity in the Indianapolis metro area which was to be expected for a candidate who did better than Obama, but they were also decently close in south/eastern Indiana which was atypical of the norm. You can pretty clearly see Gregg's base in southwestern Indiana where he indeed ran over 10% ahead of the presidential ticket.
Missouri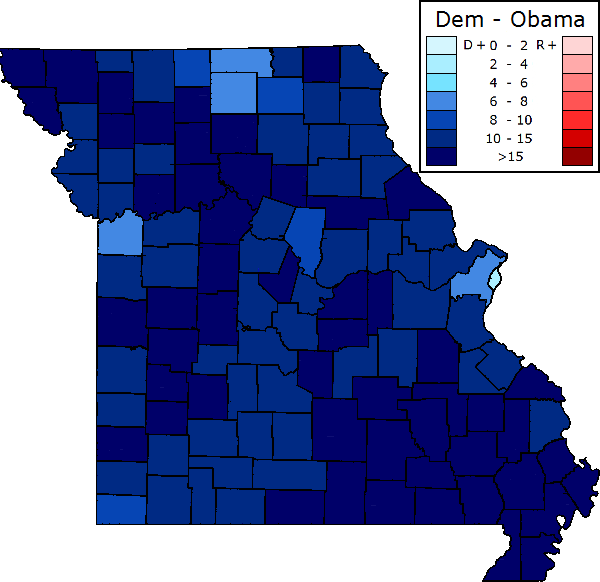 Like Indiana, Missouri was a state that Obama had heavily contested in 2008 yet ignored in 2012 since it was unwinnable. As such, incumbent governor Jay Nixon ran far ahead of Obama statewide and in many counties though it was not entirely even everywhere. Missouri is quite amenable to statewide Democrats so this is not surprising. In particular though, Nixon barely ran ahead of Obama (relatively speaking) in the more urban areas of the state such as St. Louis proper especially given how Dems are maxed out, but also the St. Louis suburbs and Kansas City. In general Nixon ran the furthest ahead, sometimes by 20% or more in much of southeast and parts of northern Missouri which have long been conservadem friendly areas.
Montana
Montana is our 2nd state where the Democrat won a Romney state. Here, we saw a plurality win while the Libertarian candidate essentially played spoiler, but there is a significant regional disparity. Now Governor and then Attorney General Steve Bullock ran ahead of Obama more or less as much as he did statewide in most of the state's few urban counties, but ran far ahead in the rural ones in the center of the state. Obama underperformed much more in Montana compared to our statewide ticket in the east than the west, so it is somewhat surprising that MT-Gov doesn't match this pattern to a similar extent. Bullock outran Obama everywhere, but this effect was much more pronounced in Western Montana than I had at least expected.
New Hampshire
New Hampshire made precinct data abundantly accessible so it's the only state where I use it instead of Towns, which is the norm for New England rather than counties. Here we can see that Maggie Hassan outran Obama by roughly 2-4 points in the vast majority of the state with the only exceptions being a few northern towns with minute populations. This shouldn't be surprising as New Hampshire is an incredibly homogeneous swing state, meaning that Obama performed fairly uniformly throughout it as well. The one area of note where Hassan didn't come close to outperforming Obama by her statewide margin was in Manchester in the south-central part of the state.
North Carolina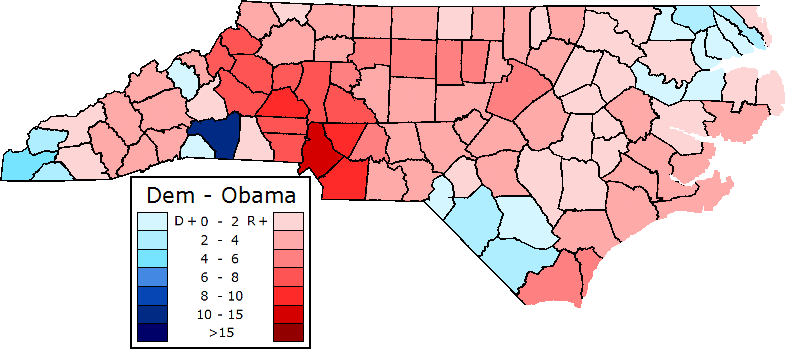 North Carolina was a disaster in the 2012 gubernatorial election as incumbent governor Bev Perdue was toxic and former Charlotte mayor and narrow 2008 loser Pat McCrory was a very popular candidate. Our replacement candidate, incumbent Lt. Gov Walter Dalton was both the wrong candidate to run and unsurprisingly ran 5% behing Barack Obama. Quite unsurprisingly, he ran about at parity or even slightly ahead in some counties of Obama in the historically Democratic and conservadem heavy counties in the east of the state and a few in the far west. Also unsurprisingly, McCrory ran
very well
ahead of Romney in the Charlotte area thanks to Obama's overperformance there which was the most pronounced of any area in the state and his own personal popularity thanks to his tenure as Charlotte mayor. Surprisingly though, McCrory ran ahead of Romney by more than his statewide margin in parts of Appalachian North Carolina and Watauga County (hope to UNC Appalachian) in particular. Dalton of course runs uncharacteristically ahead of Obama in his home of Rutherford County. These results though, are an indication in part of the trend away from Democrats in western North Carolina as even down the ticket in races we won our candidates had at best underwhelming wins in many counties other than the one home to Asheville.
North Dakota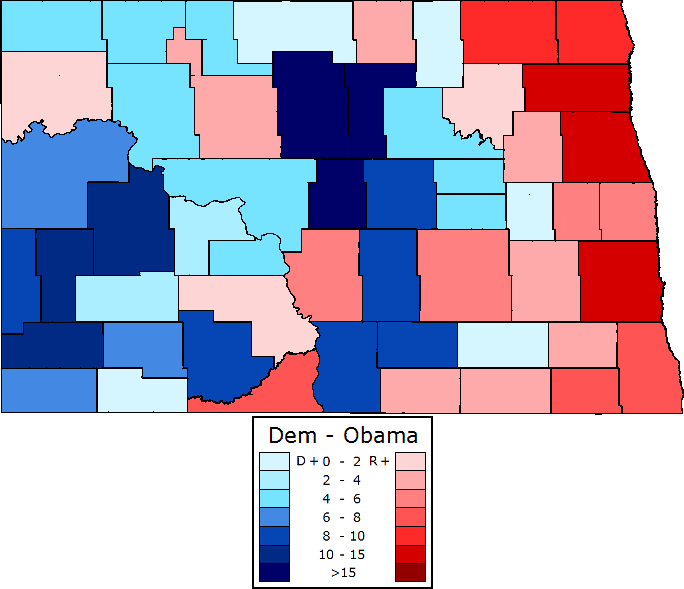 North Dakota had been decently close for president in 2008 but a blowout for Romney and all of the statewide ticket. Except that we won the senatorial race in an epic bit of awesomeness thanks to our best possible nominee and a highly unpopular Republican one allowing us to eke out a 1% win. Unlike that race, and unlike even the open House race which saw us lose by 14% we lost the quasi-open gov race by 30%. The incumbent, Jack Dalrymple, acceded to the office when governor John Hoeven won an open senate seat in 2010 and senate minority leader Ryan Taylor, an otherwise strong Democrat, ran and got destroyed in 2012. Still, with Obama underperforming the average significantly in many of the whiter central and many western counties, Taylor ran ahead of him there despite doing worse statewide. In particular, you can see Taylor underperforming in the eastern counties that are key for a Democratic win statewide such as Cass, home to the state's largest city of Fargo, as well as heavily Native American counties such as Sioux County. However, he did massively better in the heavily white counties of central and far western North Dakota as all of the statewide ticket did.
Utah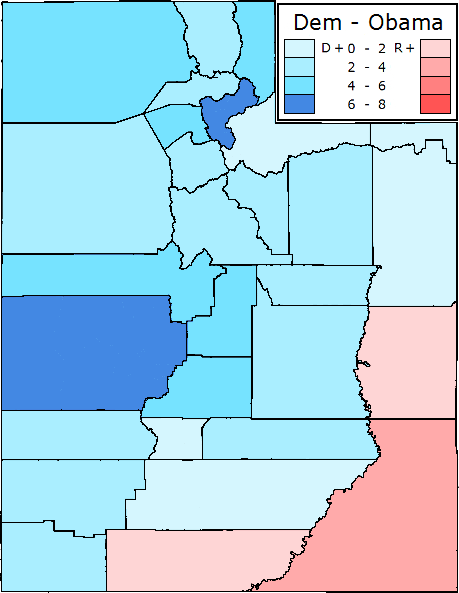 Next is Utah which is one of probably the only states where Romney had coattails at best. Gary Herbert had already established a reputation as a moderate by Utah standards governor and won a special election in 2010 so it isn't like this was an open seat. Nonetheless, our sacrificial lamb ran modestly ahead of Obama mostly everywhere but not by significant margins and actually ran behind him in the more minority heavy southeast most likely due to undervoting.
Vermont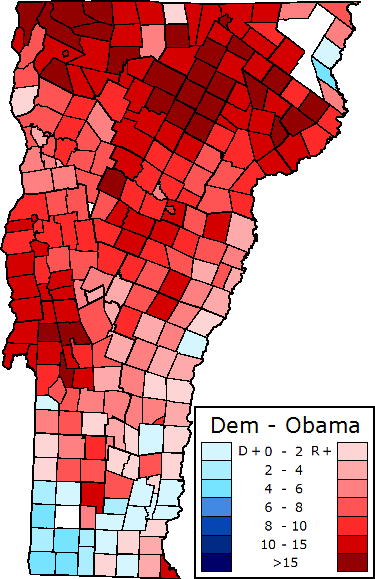 In vermont we get to the one Democratic incumbent who severely underperformed the president. Vermont Republicans, who had dominated the state until the 1980s, tend to be a hell of a lot less conservative than their national counterparts. Peter Shumlin only won narrowly in 2010 but won fairly easily last year. Still, he underperformed significantly in the towns of northern and mid-central western Vermont. The other way of looking at it though, is that Obama has performed not only the best relatively but also absolutely of any Democrat ever in Vermont and with that in mind it's no surprise that the Republican candidate, who was less conservative than Mitt Romney, did better than the Republican national ticket here. This is still the most liberal state in the nation out of any of them though.
Washington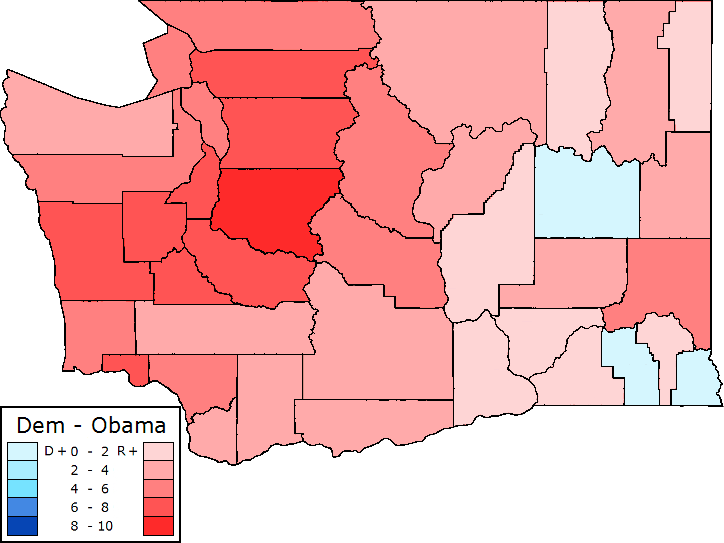 Washington actually saw a fairly competitive gubernatorial election despite its status as the state with the longest streak of electing a Democratic governor which extends back to 1984. Incumbent governor Christine Gregoire, who won a less than 100 votes in 2004 and a mid single-digits margin in 2008, left office somewhat unpopular. Republicans thus nominated their strongest candidate in decently popular state Attorney General Rob McKenna. Despite this, Democrats were able to win with liberal suburban congressman Jay Inslee by about 3%. Still, this was far behing Obama's margin and you can clearly see that Inslee ran several points behind Obama, particularly in the Puget Sound area. Inslee held up better in the east of the state, but this is largely because the voters there are more straight ticket and as opposed to overperforming, Obama performed at parity or underperformed what the rest of the statewide ticket did in 2012. In particular you can see King County, home to Seattle, where McKenna outran Romney the most.
West Virginia
Our final state is West Virginia where, if you've read any of the previous diaries in this series will know that it sees the largest disparity of any state in the union between its presidential and all other downballot Democratic votes. As such, I literally had to change the scale from increments of 2 to 5% to capture the divergence in the Pres/Gov vote. For the first time ever, a Republican captured every single county in the presidential race in the state, but incumbent governor Earl Ray Tomblin saw his margin expand to just over 5% last year. In particular he outran Obama the most in the coal heavy counties. In his home of Logan County in the southwest, Tomblin outran Obama by a whopping
Fifty
percentage points in vote share, but he also outran him significantly in every single county in southern West Virginia and even those in central and eastern (non-DC-centric) West Virginia. The reason for this is coal. Obama's opposition to greenhouse gas emissions has made him toxic in the state that is the heart of coal country, yet unionization of miners etc has long made West Virginia a fiscally populist state and as such this is the reason for this massive disparity.