I Got The News Today (IGTNT) is one of the oldest continuous series on Daily Kos. It is a way for our community to pay respect to those who have died as a result of war.
The beautiful logo was created by Timroff
We come together once again to remember one of our fallen soldiers. A young man from Texas, Sergeant Anthony R. Maddox, was horribly burned in an accident while serving in Afghanistan. Although he was rushed to a fine medical facility, he died two days later.
There is a quote on Beaumont Enterprise site, which gives the reaction of Maddox's grandmother, Cora, who said, "With all his injuries, God decided to take him home."
Sergeant Anthony R. Maddox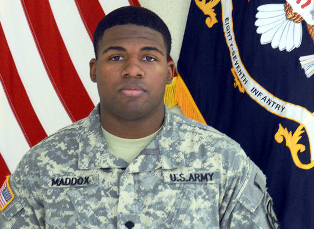 As a young teen, Anthony Maddox was living with his father, Jerome, for a time. He attended Chiddix Junior High and then two years at Normal Community High School in Illinois before moving to Texas to be with his mother.

In 2005, Hurricane Katrina had caused his mom and stepdad, Glenda and Ronald Key, to move from Louisiana to Southeast Texas. They settled in Port Arthur, which is located about 90 miles east of Houston. In 2007, Maddox moved to Texas, enrolled at Nederland High School and played on the football team. According to a KFDM News article:
Friends say he approached football the same way he approached his job as a soldier, with energy and passion to do his best.

This is his jersey, he was number 26, that was his number, his team mate Logan Hebert explains.

"He was real quiet but was a mad animal on the football field when he put that helmet on, he became a whole other guy," Hebert says.

They called him 'Mad Dog', for his passion during the games.
After graduating from Nederland High School in 2009, Maddox spent a year in the Job Corps, a federal government program that offers affordable education and vocational training. Upon his return, he informed his family that he wanted to join the military.
In January of 2011 Maddox signed up for the Army. He trained at Fort Leonard Wood in Missouri and Fort Lee in Virginia. He was stationed in New York state and arrived at Fort Drum there in July of 2011. At Fort Drum, Maddox was assigned to the 10th Brigade Support Battalion, 1st Brigade Combat Team, 10th Mountain Division. He was trained to be a petroleum supply specialist.
There is a touching article on
BeaumontEnterprise.com
which shows many pictures of Anthony and quotes several family members:
His family told of his pride in his Army service. They said he'd help other soldiers in his outfit pass their physicals. He'd run with them, work out with them.

"He was a great leader," Ron Key said. "He looked out for the underdog. He was always looking out for other people."

His grandmother said she was very glad that her grandson grew up to be a good man and didn't fall prey to the temptations of street crime and violence.
On Friday, July 19th, Anthony talked on the phone with his mother and told her that he'd be back home in the states in mid-August. He would spend the rest of the year in northern New York state at Fort Drum, and then the next four years in Hawaii. The next day, the Key and the Maddox families got a call that their son had been badly injured in an accident in Andar, Afghanistan. He had been flown to Germany for treatment after a fuel truck explosion that had left him badly burned.
Pantagraph.com
quotes his father, Jerome Maddox of Bloomington:
Jerome Maddox and his family were traveling from Chicago Saturday morning when Army officials called to inform him that his son had been in a nonhostile incident and he had suffered second-degree burns to about 97 percent of his body. He was evacuated to Germany and underwent surgery. On Sunday morning, officials reported he was in stable, but critical condition and hospital officials had plans to transfer him to San Antonio for further treatment. But his condition worsened and Jerome Maddox received the news Monday morning.

"My heart was broken," Jerome Maddox said.

His funeral will be in Texas, but Jerome said the family will have a memorial service in Illinois as well.

"He still had tons of friends here and they have been coming by and paying their condolences and sharing stories about him," he said. "What you learn from hearing these stories is how much he meant to everyone and right now, that's what we need. He will be missed because he loved his family and he loved his friends. I am proud of him and very proud of the man he became."
When a fuel truck exploded, the soldier suffered severe burns over most of his body. Specialists to treat him were flown from the Army burn center in San Antonio to the military medical facility in Germany. The 22-year-old died July 22nd, in the hospital in Landstuhl, Germany. The Department of Defense is investigating the incident that led to Maddox's death.
Anthony Maddox had recently been promoted to Sergeant. His awards and decorations included the Army Achievement Medal, the Afghanistan Campaign Medal, the Global War on Terrorism Service Medal, the Army Service Ribbon, the NATO Medal, the National Defense Service Medal and the Combat Action Badge.
Anthony Maddox is survived by his mother, father, stepfather, siblings, grandparents, aunts and a number of other relatives in Texas and Louisiana
Services for Sergeant Anthony R. Maddox are being planned and will be at Antioch Missionary Baptist Church in Port Arthur with Gabriel Funeral Home overseeing. Maddox will be buried at the Houston National Cemetery. There is also a memorial service planned next week in Illinois.
**********************
Helping our troops:
If you wish to assist our military and their families, consider contributing to Fisher House. Donating to Netroots for the Troops provides care packages that make a real difference in a military person's life. To assist the animal companions of our deployed military, information is available here. Also, you could visit:

When our veterans come back home, they need jobs. Look at the programs of Hire Heroes USA and Welcome Back Veterans to see if you can help out.
About the IGTNT series:
"I Got the News Today" is a diary series intended to honor, respect, and remember the fallen, and to remind us that each casualty has family and friends who received the terrible news that their loved one has died. US service members whose names have been released by the US Department of Defense will usually be diarized two days after the official announcement on the DoD website. This allows the IGTNT team to cover each person more fully, but still in a timely manner. Click the IGTNT tags below to see previous diaries in the series, which was begun by i dunno, and is maintained by i dunno, Sandy on Signal, Monkeybiz, Noweasels, Blue Jersey Mom, Chacounne, twilight falling, SisTwo, Spam Nunn, True Blue Majority, CalNM, Wide Awake in Kentucky, maggiejean, Jax Dem, The Fat Lady Sings, Ekaterin, & Joy of Fishes. These diaries are heartbreaking to write, but show our community's respect for those who have died.
Please bear in mind that these diaries are read by friends and family of the service members mentioned here. May all of our remembrances be full of compassion rather than politics.