On August 8, 1974, Richard Milhous Nixon addressed the nation and resigned his office as President of the United States. To this day, he remains the only White House occupant to have done so.
At the heart of this unprecedented decision was the political train wreck and a "third rate burglary" which is forever etched in the nation's conscience. The Watergate Scandal involved the actions of elected and unelected men who went to extreme lengths in seeking to demonize and destroy their political opponents. Secretly taped conversations - whose release was ordered by the Supreme Court of the United States- divulged heretofore unknown details of the extent of Nixon's complicity in enabling this disaster. It involved maintaining enemies lists of journalists and politicians; sanctioning illegal break-ins; authorizing wiretapping; conjuring up conspiratorial schemes; tainted campaign funds through the appropriately-named CREEP; and a host of other unlawful, unethical, and unsavory activities, including the "Saturday Night Massacre." Many of these finding came as a result of riveting investigative hearings on Capitol Hill and through the reporting of the Washington Post.
Few people - other than perhaps diehard staffers and GOP loyalists - shed tears for one of the most paranoid men ever to become President. For one whose political career was built on strident anti-Communism, dirty political tricks, race baiting, and blatantly lying about prolonging an immoral war, it was finally over. This time, the country really didn't have "Nixon to kick around anymore."
This sorry chapter in American political life provided many lessons for both admirers and detractors of the Nixon Administration. Most important of all, its conclusion reiterated in clear, unambiguous terms a simple legal principle: not even the President of the United States was above the law.
---
Cartoon Source: Herblock, Washington Post, June 23, 1973. Even before the Watergate burglary, Nixon's troubles with editorial cartoonists and the press had started earlier, notably with the release of the Pentagon Papers by Daniel Ellsberg in 1971.

Update:
If you didn't watch it last week, CNN recently broadcast "Our Nixon" - a documentary based on home movies taken by three of his closest aides. It is definitely worth watching.





CNN to encore CNN Films presentation 'OUR NIXON'

CNN will encore the CNN Films presentation 'OUR NIXON' on Wednesday, Aug. 7 at 10:00pm and again on Saturday, Aug. 10 at 9:00pm and 12:00am. All times Eastern.

OUR NIXON is an all-archival documentary presenting those home movies for the first time - along with other rare footage - creating an intimate and com­plex portrait of the Nixon presidency as never seen before. Throughout Richard Nixon's presidency, three of his top White House aides obsessively documented their experiences with Super 8 home movie cameras. This unique and personal visual record, created by H.R. Halde­man, John Ehrlichman and Dwight Chapin, was seized by the FBI during the Watergate investigation, then filed away and forgotten for almost 40 years. OUR NIXON was co-produced by Penny Lane and Brian Frye.

In his long and illustrious career as one of the nation's very best editorial cartoonists ever, Herblock of the Washington Post captured the essence of this scandal perhaps better than anyone else
Herblock was the pen name of Herbert Block, the Washington Post's political cartoonist who graphically captured the Watergate story in more than 100 often memorable drawings done between June 1972 and August 1974...

Herblock demanded, and received, total editorial independence at The Post, refusing most requests to tailor his views to the needs of others. In her memoirs, publisher Katharine Graham wrote, "Since he arrived at The Post, five editors and five publishers have learned a cardinal rule: Don't mess with Herb." "I have sometimes opened the paper and gasped at Herb's cartoons, particularly during Watergate when we were so embattled on all fronts," Graham confessed. "But I learned not to interfere. And anyway, most of the time we're on the same wavelength. Even when we aren't, I should confess, I generally find myself laughing uproariously at the cartoon that has caused my apprehension. In this sense, Herb always wins."

Block received the Congressional Medal of Freedom by President Bill Clinton on August 8, 1994, the 20th anniversary of President Nixon's resignation. He died on October 8, 2001.
In a Library of Congress exhibit, and as only he could, Herblock graphically detailed the scope of illegalities involved in the Watergate Scandal by Nixon and his cronies.
I'm going to post a few of the editorial cartoons here and the rest in diary comments.
On the night of June 17, 1972, former employees of the Nixon reelection campaign broke into the Democratic headquarters in the Watergate building. This incident began the unraveling of the Nixon Administration's abuses of power and illegal actions and the administration's efforts to cover up these activities. Two days after the break-in, Herb Block drew cartoons of Nixon and his attorney general feigning surprise, and saying, "Who would think of doing such a thing?" This was followed by one of Nixon and Department of Justice officials saying, "Remember, we don't talk until we get a lawyer." He also did a cartoon showing scandal footsteps leading to the White House. Says Herb Block: "Watergate was not even the first by the Nixon 'plumbers.' They had previously broken into the office of Daniel Ellsberg's psychiatrist. And in the Nixon tapes, he [Nixon] tells aides how to break into such places as the IRS offices." In 1974, Herb Block produced Herblock Special Report, a book of cartoons and text devoted to Nixon's political activities from the 1940s to his resignation in 1974.
Long before the Watergate scandals, Herb Block was pointing out excessive use of government power to wiretap or otherwise investigate the activities of citizens an administration felt were at odds with its policies. In 1970, the Civil Service Commission admitted to having a Security Investigations Index with over 10 million entries, and the armed forces revealed surveillance of Americans involved in anti-Vietnam war activities - January 18, 1970.
New figure on the American scene
On June 13, 1971, the New York Times began publishing installments of the "Pentagon Papers," documents about American involvement in Indochina from the end of World War II to the mid 1960s. The Nixon administration moved to block further publication of the papers, and Attorney General John Mitchell obtained a temporary injunction against the New York Times. The Washington Post then released two installments before being similarly enjoined. Other papers picked up the series, until June 30, when the Supreme Court rejected the government's request for a permanent injunction. The "New Figure" cartoon was one of many depicting President Richard Nixon's attempts to curb public information, partly through government control of broadcast stations owned by newspapers - June 20, 1971.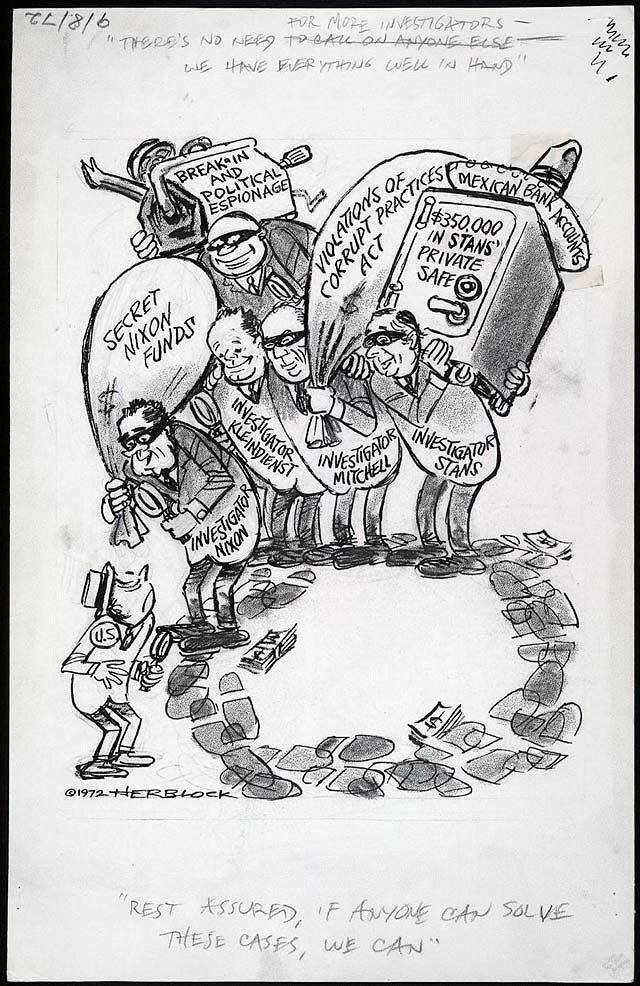 "There's no need for an independent investigation–We have everything well in hand"
As the 1972 presidential campaign progressed, reports surfaced of violations of campaign regulations and laws. On August 26, the General Accounting Office said that it had found irregularities in reports by the Republican Committee to Re-elect the President (known by the acronym CREEP). Democrats complained that an investigation by the Justice Department and the White House were insufficient and called for a special team to handle the matter - September 8, 1972.
Nixon hanging between the tapes
Even more damning than President Richard Nixon's profiting from public office were the disclosures of his corruption and attempts at corruption of the government itself including the CIA, the FBI, the Pentagon and even the Secret Service. A taping system that had recorded most of President Nixon's conversations in the Oval Office provided the "smoking gun" that spoke of crime and corruption. Nixon refused to release the tapes until the Supreme Court ordered him to do so - May 24, 1974.
Nixon, "unindicted co-conspirator"
By July 14, 1974, President Richard Nixon stood almost alone. His vice-president Spiro Agnew, pleaded nolo contendere to a charge of tax evasion, and was forced to resign. Many of Nixon's closest aides had been convicted of illegal activities. Nixon himself was named an "un-indicted co-conspirator" by the Watergate grand jury. A few days later, the House Judiciary Committee recommended impeachment, and the Supreme Court required him to turn over all subpoenaed tapes. When even his closest friends, reviewing these tapes, agreed that the evidence against him was overwhelming, Nixon bowed to the inevitable, resigning on August 9 - July 14, 1974.
As I mentioned above, give me a few minutes and I'll post some more of Herblock's cartoons in comments. I am really interested in hearing from you about your memories of the Watergate scandal or what you know from reading about it since that time.
Update: As you can see from this comment, you can find other Herblock cartoons in a diary about the Watergate Scandal posted a few months ago by Dave in Northridge.