Every day is a new day and with that, a new opportunity.
EVERYONE is welcome and please join us each morning at 7:30 AM PACIFIC
to tell us what you're working on, share your show & tell, vent, whatever you want...
...this is an open thread. Nothing is off topic.
Boujou!
Today we have a special edition.
The whole world knows about the flooding in Colorado. Very few know about the flooding currently hitting Indian Country throughout the Southwest — or, in fact, the effects of extreme weather on tribal lands all over the country right now.
On Saturday, I wrote about the effects of climate change so obvious on our land — effects that were particularly immediate, since my diary was delayed by a day because of weather outages. Extreme weather, that is, resulting from accelerating climate change.
At the time, I knew that other tribal lands in the region were likewise being hit hard, and I knew that some would suffer far worse effects. But you wouldn't know it from the media coverage out there. So I went looking.
And for the second time in three weeks, I've scrapped my existing edition of "This Week" at the last minute for something more acute.
There won't be a lot of bells and whistles; it'll be lacking in images, and the stories themselves will mostly be brief. Each entry could no doubt sustain its own diary, exploring causes and effects in depth, but this is necessarily only a snapshot.
What follows is a simply brief round-up of some of the current weather-related crises on tribal lands around the country. Most are, by virtue of season and geography, localized in the Southwest, but there are stories from other regions, too. As you read, keep in mind that in many instances, the people affected are those who can least afford to lose what little they have, and those who are least likely to have any sort of safety net.
And next time you read about catastrophic weather impacts, spare a thought (and a prayer, if you're so inclined) for the Invisible People, the Forgotten Ones, who aren't even on the radar of the corporate media but who are struggling every bit as hard to survive.
Because of course, there will be a next time. And soon. In just a few short weeks, the first severe winter weather will hit.
DINETAH: THE NAVAJO RESERVATION
Yesterday afternoon, media outlets were reporting that the earthen dam at Crownpoint, on the Navajo Reservation in New Mexico north of Gallup, was a mere two to three hours away from failing. It was billed as a question of when, not if, with a guarantee that flash flooding would occur that would likely take out the Crownpoint Indian Health Service [IHS] facility.
Apparently, no one spoke with tribal officials who were on the scene.
The dam did not, in fact, fail. Navajo officials and first responders were already aware of the issue and were on-site, working to create a spillway and set up portable pumps to release the pressure of the floodwaters swelling the reservoir.
Just to be on the safe side, they also evacuated the IHS facility, as well as Navajo Technical College and dozens of homes in the surrounding area.
What was hyped breathlessly as sure and certain catastrophe was, in fact, apparently handled efficiently and effectively, especially given the external complications.
Nonetheless, the situation has been and remains dangerous, and outside of local Indian press and the Indian Country Today Media Network, it has gone virtually unremarked outside of reservation boundaries.
As of Saturday, the damage had become both widespread and severe.
As many as 50 chapters have requested assistance in Arizona, New Mexico and Utah, the Navajo Nation said, with 22 people evacuated in Chinle, 40 evacuated or rescued in Many Farms and Rock Point, and 20 homes damaged in Tonalea, Arizona. Chinle residents were returning home on Friday September 13.

Even with floodwaters subsiding, however, homes were still plagued by mud, rain, mold and infestation, according to reports.
It's a perfect storm of severe weather effects resulting from accelerating climate change: prolonged extreme drought, over a period of years; extreme freezing temperatures last winter that destroyed pipe and infrastructure and damaged the water supply; and now, a monsoon season different from, and even more intense than, the usual pattern. And members of one of the more economically depressed tribal nations are paying a steep price.
The Chinle Subagency has been hit hardest overall, with 22 people from five different families evacuated last Wednesday. The Navajo Nation paid for hotel rooms for the evacuees, who were able to return home on Friday. Another seventeen people spent Wednesday night in a Chinle shelter set up by the tribe and the area Red Cross chapter.
And while To'hajiilee (the eastern Navajo reservation formerly known as Cañoncito) has been in the news recently for entirely fictional reasons, it's likewise been hit by the storms. On Friday, state officials reduced a busy stretch of the I-40 corridor, which crosses the reservation, to one lane. Flooding caused formation of a 20-foot deep sinkhole in the highway's median, a result of what officials term a "drop inlet" failure. The reservation's dam is also now classified as a "Level 1 emergency"; officials fear that it could fail if the rain continues to fall.
Right now, much of the Navajo Nation is in a holding pattern: waiting to see whether the rains will continue, waiting to see whether the floodwaters will return, waiting to see whether the dams and spillways will hold. Crownpoint's long-range forecast tops out at a 30% chance of rain for today, and decreases from there — but as its residents will tell you, those numbers mean little to nothing this time of year. In the meantime, clean-up efforts have begun. Volunteers in the area are needed for physical labor, for shelter staffing, and for purchase and delivery of supplies, including basics like bottled water. Residents will also need help for some time to come as they work to repair water and mud damage, and reclaim their homes (to the extent possible) from toxic mold that is already developing.

If you live in the area and would like to volunteer, or if someone you know can do so, you can contact the Navajo Nation Department of Emergency Management Emergency Operation Center at the following numbers: 505.371.8415; 505.371.8416; or 505.371.8417.

More "This Week In American Indian News" & Latest Updates on Kossack Regional Meet-Up News Below the Frybead Thingey
PUEBLOS OF NEW MEXICO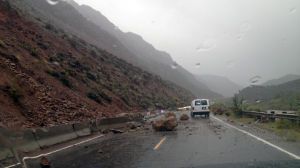 Janet Mockovciak photographed this rockslide
on NM 68 near Pilar on 9/13

Above I mentioned my diary from Saturday. It talks about the annual monsoon season here in New Mexico, the drastic differences in it this year, and the local effects of the storms of the last few days. Taos Pueblo and the surrounding area was only moderately inconvenienced: a few power surges, Internet outages, power knocked out for a while in town because of a downed line, minor flooding, and the temporary closure of Highway 68 south of town because of a rockslide south of the village of Pilar.

Other Pueblos in the region weren't so lucky.

Santa Clara Pueblo has been hit especially hard, due in large part to the impact of the 2011 Las Conchas wildfire, which left massive burn scars on tribal lands. Those burn scars are now contributing once again to severe flooding from the rains of the last several days. More than two dozen Santa Clara Pueblo households were evacuated over the weekend.

San Felipe Pueblo, just north of Albuquerque, has opened a shelter at the Pueblo's elementary school for tribal residents forced to evacuate Saturday night and Sunday. Officials at San Felipe, like those at Santa Clara, expressed concern about the integrity of many of the Pueblo structures, particularly the old traditional homes and buildings, because of the weight of water pooling on the roofs and other potential water damage.

The RailRunner commuter train crosses the tribal lands of Kewa Pueblo (which has reverted to its original name, after abandoning the Christianized label of "Santo Domingo" that was affixed to it by Spanish invaders) [note: link goes to Facebook site]. Over the weekend, it was forced to shut down because of a rail bridge washout on Kewa lands.

And Frijoles Canyon and Bandelier National Monument, in the Jemez Pueblo area, have been closed to the public because of the risk of flash floods. Jemez Pueblo is regarded by experts as the epicenter of a climate change Ground Zero for New Mexico (here at Taos Pueblo, we are on the eastern edge of that ground), an area that has been designated as having a 100% probability of severe negative impacts due to climate change.

Other ancient sites are also in jeopardy. The Gila was the site of three separate fires (the Silver Fire, the Papoose Fire, and the Indian Fire) earlier this year. Now, thanks to burn scars and other damage, the historic cliff dwellings are at risk. The last week's rains have raised the Gila River by an additional 15 feet, prompting officials to close the monument and area campgrounds.

On Friday, Governor Susana Martinez (R) formally declared a state of emergency, paving the way for the state to receive federal disaster relief funds.


SOUTHERN CALIFORNIA: FORT YUMA, AGUA CALIENTE,
AND MORONGO RESERVATIONS
The North American monsoons are birthed, of course, at the West Coast, and California's tribal nations are not exempt from their effects. As with places like Jemez Pueblo and some of the other New Mexico and Arizona tribes, the most immediate effects for some are likely to be financial, with the loss of tourism dollars in what should still be the tourist season. But the physical risks remain very real, and with the accelerating effects of climate change, storm damage now lays the groundwork for even greater damage in the future.

On the Fort Yuma Indian Reservation, home to the Quechan Tribe, a storm on Thursday knocked out power for most of the residents. Michael Jack, liaison for the Quechan Indian Tribe's Emergency Crisis Response Team and a member of the tribal council, told reporters that although some 75% of reservation residents had had their power restored by Friday evening, as many as 50 homes were still without electricity at that point.
"(Thursday) we had 18 poles down and we found more today. They had been uprooted out of the ground and some were broken in half," Jack said.
The tribe worked with the Red Cross to set up emergency shelters, and between local motels and the Paradise Casino, they were able to house some 1,000 people. Elders and those with disabilities or other needs were provided shelter at the Quechan Casino.

The Fort Yuma Reservation straddles the California/Arizona border.

Near Palm Springs, the Agua Caliente Band of Cahuilla Indians has announced closures of major canyons after two days of flash floods a week and a half ago.

The Tahquitz and Indian Canyons were closed back in July, when the Mountain Fire burned through some 6,000 acres of tribal land as it raced through the San Jacinto Mountains, rendering the canyons inaccessible. The fire created burn scars that heightened the canyons' vulnerability to flash flooding during the monsoon season.
"The Indian Canyons are nearly unrecognizable in the condition they are in today," Chairman Jeff Grubbe said in a statement from the tribe, whose reservation is near Palm Springs, California. "We are working diligently to assess the damage and determine the next steps to remove debris, repair damage and return the Canyons back to as close to their natural beauty as possible."

The tribe said rangers and emergency management workers were gauging the extent of damage after heavy rains dumped fast-moving water that sent trees, boulders and mud tumbling down the canyons. The havoc damaged trails, roads and access to parts of the Indian Canyons, the statement said.
Several roads in the surrounding area were also closed temporarily.

Finally, this summer's Silver Fire and Hathaway Fire created similar conditions for the Morongo Band of Mission Indians. Multiple storms in less than a week caused flash flooding in the greater Idyllwild area, and put roads and residential areas below the burn scars at risk as floodwaters carried rocks, trees, other debris, and massive amounts of mud downstream at high speed.


MENOMINEE TRIBAL COMMUNITY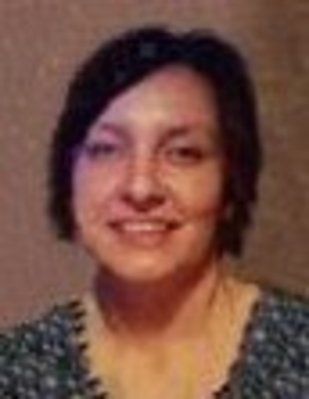 Marlo King

A second round of storms that hit the Shawano area of northeastern Wisconsin last week has claimed the life of one woman and done massive damage to trees and homes on the Menominee Indian Reservation. Marlo King, a member of the Menominee Tribal Community, was killed when a tree, uprooted by high winds, fell on her car.

The storms did the greatest damage on tribal lands. Four municipalities within reservation boundaries, Keshena, Legend Lake, Middle Village, and West Branch, all lost power on Thursday, and several residents of those areas were also without water. Both electricity and water were expected to be restored by last Saturday, but tribal officials noted that they were monitoring area wells in an effort to prevent contamination.The tribal government also opened three separate shelters for residents affected by the storms: one at tribal offices, one at the Menominee Tribe Casino, and one at the tribe's College Technical Center.

Both area fire crews and the National Weather Service reported sightings of at least two funnel clouds. Whether the high winds that caused the most significant damage were in fact part of a tornado has not yet been determined.


Chi miigwech.

:: COMMUNITY BUILDING UPDATES ::
Let's build communities!

Every region needs a meatspace community like SFKossacks.
We take care of each other in real life.
I urge YOU to take the lead and organize one in your region.
Please tell us about it if you do and we're here for advice.
•
THINK GLOBALLY, ACT LOCALLY
>>>Instructions on
HOW TO FORM A NEW DAILY KOS GROUP
NEW GROUPS IN THE PROCESS OF ORGANIZING:


Send a Kosmail to the organizers and ask for an invitation to the group.

• Northern Indiana Area: Kosmail Tim Delaney

• Long Island: Kosmail grannycarol

• Northern Michigan: Kosmail JillS

• Nebraska: Kosmail Nebraska68847Dem

• Westburbia Chicago Kossacks: Kosmail Majordomo

• New York Hudson Valley Kossacks: Kosmail boran2

• North Carolina Triangle Kossacks: Kosmail highacidity

• Caprock Kossacks (Panhandle/Caprock/Lubbock/Amarillo area) : Kosmail shesaid

• West Texas Kossacks (including Big Bend Region and El Paso) : Kosmail Yo Bubba

Note to the above new leaders: Feel free to leave a comment any day reminding readers about your new group. Also, tell us about your progress in gathering members. Kosmail me when you've chosen a good name for your group and have created a the group. Then I'll move you to the NEW GROUPS LIST. When you've planned a date for your first event I'll make a banner for you to highlight your event in our diaries and your diaries.
These are the groups that have started since * NEW DAY * began. Please Kosmail navajo if you have started a group before that.
NEW GROUPS LIST:

• California Central Valley Kossacks - Formed: Jul 29, 2012, Organizer: tgypsy

• New England Kossacks - Formed: Aug 6, 2012, Organizers:
Clytemnestra for Lower New England (Conneticut, Massachusetts, Rhode Island)
nhox42 for Upper New England (Maine, New Hampshire, Vermont)

• Houston Area Kossacks - Formed: Aug 7, 2012, Organizer: Chrislove

• Kossacks in India - Formed: Aug 14, 2012, Organizer: chandu

• CenTex Kossacks - Formed: Sep 9, 2012, Organizer: papa monzano

• Central Ohio Kossacks - Formed: Sep 26, 2012, Organizer: VetGrl

• Kansas City Kossacks - Formed Oct 15, 2012, Organizer: [Founder stepped down]

• Phoenix Kossacks - Formed Oct 16, 2012, Organizer: arizonablue

• Chicago Kossacks - Formed: Oct 31, 2012, Organizer: figbash

• Koscadia the Pacific Northwest coast from Northern California to Alaska
- Formed Oct 17, 2012, Oganizer: Horace Boothroyd III based in Portland, OR

• Boston Kossacks - Formed: Nov 7, 2012, Organizer: GreyHawk

• Motor City Kossacks South East Michigan (Detroit) Area - Formed: Nov 10, 2012, Organizer: peregrine kate

• Pittsburgh Area Kossacks - Formed: Nov 12, 2012, Organizer: dweb8231

• Salt Lake City Kossacks - Formed: Nov 17, 2012, Organizer: War on Error

• Twin Cities Kossacks - Formed: Nov 17, 2012, Organizer: imonlylurking

• Dallas Kossacks North Texas - Formed: Nov 21, 2012, Admins: Catte Nappe and dalfireplug. Please contact them to join the group. An Event Organizer needed.

• The Southern California Inland Empire Kossacks - Formed: Dec 3, 2012, Organizer: SoCaliana

• Los Angeles Kossacks - Formed: Dec 17, 2012, Organizer: Dave in Northridge

• Northeast Ohio Kossacks - Formed: Jan 16, 2013, Organizer: GenXangster

• Kansas & Missouri Kossacks - Formed: Jan 17, 2013, Organizer: tmservo433

• I-77 Carolina Kossacks who live from Columbia, SC to north of Winston-Salem, NC. - Formed: Jan 30, 2013, Organizers: gulfgal98 and eeff

• Indianapolis Kossacks - Formed: Feb 6, 2013, Organizer: CityLightsLover

• Southwest Ohio Kossacks - Formed: May 10, 2013, Organizer: Dr Erich Bloodaxe RN

• Northern Arizona Kossacks - Formed: Jul 5, 2013, Organizer: Sam Sara

• Mexican Kossacks - Formed: Apr 14, 2013, Organizer: roberb7
ESTABLISHED GROUPS LIST: (List will grow as we discover them)

• SFKossacks Founded by navajo, Formed: May 2, 2005

• Maryland Kos Founded by timmyc, Formed: Feb 23, 2011. Contact: JamieG from Md for a group invite.

• New York City Founded by Eddie C - Contact the group organizer for meet-up events: sidnora

• Baja Arizona Kossacks, Event Organizer: Azazello

• Three Star Kossacks Tennessee, Founded by maryKK, Formed: Apr 8, 2011

• Nashville KosKats, Founded by ZenTrainer Formed: Jan 30, 2012

• Virginia Kos Founded by JamieG from Md, Formed: May 3, 2011

• Kos Georgia Founded by pat208, Formed: Feb 13, 2011

• Colorado COmmunity Founded by Leftcandid, Formed: Feb 13, 2011

• New Mexico Kossaks Founded by claude

• Philly Kos Founded by mconvente Formed: Aug 29, 2011

• DKos Florida Founded by ThirstyGator, Formed: Feb 14, 2011, Currently organizing: Kosmail Vetwife to be included in next event.

• Oklahoma Roundup Founded by BigOkie, Formed: Feb 13, 2011, Currently organizing: Kosmail peacearena to be included.

• DKos Asheville Founded by davehouck, Formed: Feb 13, 2011 - Organizing Assist by: randallt
:: Events Currently on the Books for ALL Kossacks ::

Sunday, Sept 15th

Chicago Kossacks Meet-up at a Powwow!

TIME: 11:30 AM
LOCATION: Chicago's 60th Annual American Indian Center Powwow
Busse Woods Forest Preserve • Elk Grove Village

UPDATE! Chicago Blackhawks 2013 Championship Stanley Cup trophy will be on display at the Powwow from 11:00 AM - 2:00 PM.

ORGANIZER: Send figbash a kosmail to attend.

RSVPs:
1. figbash
2. broths
3. Mr. broths
4. Satya1
5. Liberal Granny
6. Railfan
7. Expat Okie
8. LeftOfYou

Maybees:
peregrine kate
palantir
edwardssl
Millie Neon


Latest diary: Heads Up Chicago. Our Powwow meet-up is on Sunday


Saturday, September 21st

Los Angeles Kossacks Meet-up

TIME: 2:00 PM
LOCATION: The Federal Bar
5303 Lankershim Boulevard • North Hollywood
(One block from North Hollywood Red Line Station)

ORGANIZER: Send Dave in Northridge a kosmail to attend.

RSVPs:
1. Dave in Northridge
2. 714day
3. susans
4. otoelbc
5. jakedog42
6. homogenius
7. Joe Bacon
8. chiwere
9. Gay CA Democrat
10. SanFernandoValleyMom
11. joe markowitz
12. Ducktape

Maybees:
RLMiller
Brecht


Latest diary: LA Kossacks: Meetup: September 21, 2:00 PM, North Hollywood, The Federal





DeKalb, Illinois Kossacks




Saturday, September 21st

DeKalb, Illinois Kossacks Dinner & a Show!

DINNER:
TIME: 5:30 PM
LOCATION: Rosita's Mexican Restaurant
642 East Lincoln Highway • DeKalb

SHOW:
TIME: 7:30 PM
LOCATION: The Stage Coach Players Theater
126 South 5th Street (2 blks. from dinner) • DeKalb

ORGANIZER: Send NormAl1792 a kosmail to attend.

RSVPs:
1. NormAl1792 (on stage as Henry II)
2. winifred3
3. luvsathoroughbred
4. Mr. luvs
5. Amber6541
6. Amber6541's sister
7. 1864 House

Maybees:
edwardssl
jwinIL14
JeffW
Calamity Jean


Latest diary: Northern IL Kossacks Dinner and a Show - Saturday, Sept. 21


Tuesday or Wednesday, September 24th or 25th

Farm Day for Oregon Kossacks! Baby Goat and Goat Cheese Edition

TIME: Anytime, all day!
LOCATION: Oregon Gal's farm
Address given privately • Alsea, Oregon

ORGANIZER: Send Oregon Gal a kosmail to attend.

RSVPs:
1. Oregon Gal
2. Sara R
3. winglion
4. Horace Boothroyd III
5. Blue Jessamine
6. loggersbrat
7. 6412093
8. exlrrp

Maybees:
Cedwyn


Latest diary: Oregon Kossacks: FARM DAY! (with baby goats)




Saturday, September 28th

Indianapolis Kossacks First Ever Meet-up

TIME: 2:00 PM
LOCATION: Shapiro's Deli
808 S Meridian • Downtown Indianapolis

ORGANIZER: Send CityLightsLover a kosmail to attend.

RSVPs:
1. CityLightsLover
2. annan
3. Mokuar
4. Alexandra Lynch
5. dylanfan
6. zenbassoon
7. Hawksana

Maybees:

Latest diary: [Waiting for linked diary]

Saturday, October 19th

DKos Asheville Kossacks Meet-up

TIME: 1:00 PM
LOCATION: The Bywater
796 Riverside Dr. • Asheville

ORGANIZER: Send randallt a kosmail to attend.

RSVPs:
1. randallt
2. davehouck
3. Joieau
4. Gordon20024
5. gulfgal98
6. DawnN
7. Sandy on Signal
8. Mr Sandy on Signal
9. Munchkin
10. Alecia
11. Mr Alecia
12. cultjake
13. flwrightman
14. Otteray Scribe
15. Burns Lass

Maybees:
people power granny
One Pissed Off Liberal
Christian Dem in NC
SteelerGrrl
SteelerGuy
polecat
Audri
Phil S 33
emmasnacker
bobwilk
Elaine


Latest diary: DKos Asheville - Weekly Open Thread




Sunday, October 20th

MEGA Philly/NJ/NYC Kossacks Meet-up!

TIME: Noon
LOCATION: Stuff Yer Face
49 Easton Avenue • New Brunswick, NJ

ORGANIZER: Send mconvente a kosmail to attend.

RSVPs:
1. mconvente
2. belinda ridgewood
3. thankgodforairamerica
4. gchaucer2
5. sidnora
6. rubyr
7. mattc129
8. hayden
9. mallyroyal
10. Avilyn
11. blue jersey mom
12. ericlewis0

Maybees:
aravir and son
ask
Cinnamon
No Exit
andgarden
asterkitty
pfiore8
joanneleon
renzo capetti


Latest diary: Philly/NJ/NYC Mega Meetup! Initial Information & Interest Diary





Friday, October 25th

LAKossacks & SoCal Inland Empire See Lewis Black!

TIME: 9:00 PM
LOCATION: Agua Caliente Casino Resort & Spa
32-250 Bob Hope Dr. • Rancho Mirage

ORGANIZER: Send 714day a kosmail to attend.

RSVPs:
1. 714day
2. jakedog42
3. susans
4. Otoelbc

Maybees:
Shockwave
SoCaliana


Latest diary: L.A. Kossacks, Lewis Black Fans in So Cal

Friday, October 25th

Meet the Daily Kos Editorial Staff!

TIME: 6:00 PM
LOCATION: Daily Kos HQ
Address given privately to RSVP'ers • Berkeley

ORGANIZER: Send navajo a kosmail to attend.
You will need to bring Potluck.

HQ will be providing the main course like before. Please sign up for a beverages or side dishes below.

- POTLUCK SIGNUP BELOW -

Beverages:
16 six-packs of beer
20 bottles of wine [2 down, 18 to go]
4 packs Bottles of water
4 packs Soft Drinks
I'll be bringing my large ice chest with ice, as before.

Appetizers:
Anything goes here. Whatcha' got?

Side Dishes:
5 green salads needed, each to feed 10 [1 down, 4 to go]

Desserts:
6 desserts, a dozen hand-held desserts each

RSVPs:
1. Markos
2. Susan Gardner
3. Meteor Blades
4. Faith Gardner
5. Will Rockafellow
and many more staff... stay tuned
6. navajo
7. Lusty
8. side pocket
9. paradise50
10. smileycreek
11. citisven
12. norm
13. Lorikeet + big bowl of fruit
14. kimoconnor
15. remembrance and TLO?
16. Glen the Plumber
17. madhaus
18. dharmasyd
19. ceebee7 + green salad
20. lineatus
21. Dave in Northridge + 2 bottles of wine
22. linkage
23. LinSea + bottled water
24. Shockwave
25. Eyesbright
26. catilinus
27. FogCityJohn
28. justiceputnam
29. zmom
30. exlrrp +souvenirs ;) !

Maybees:
Cedwyn
LaughingPlanet


Saturday, November 2nd

SFKossacks BBQ in the Wine Country

TIME: TBD
LOCATION: Andrew McGuire's home in the Wine Country
Address to be given privately to RSVPs • Windsor

ORGANIZER: Send navajo a kosmail to attend.


Andrew McGuire is Executive Director of California One Care

RSVPs:
1. Andrew McGuire
2. navajo
3. Shockwave
4. Hunter
5. elfing
6. Hunter/elfling offspring
7. smileycreek
8. paradise50
9. dharmasyd
10. maggiejean
11. norm
12. Lusty
13. dksbook
14. Mr. dksbook

15. kimoconnor
16. jpmassar
17. side pocket
18. Mrs. side pocket
19. ceebee7
20. ceebee7's sister
21. leema (will carpool from Marin)
22. Meteor Blades

Maybees:
Glen The Plumber
remembrance
TLO™

Send navajo a kosmail if you post a diary about an event so we can update our round-up.

Okay. Floor's open.
Tell us what you are doing on this NEW DAY?