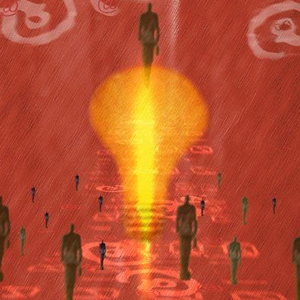 Commentary: African American Scientists and Inventors
by Black Kos Editor, Sephius1


Leonidas H. Berry (July 20, 1902 - December 4, 1995) was an American and pioneer in gastroscopy and endoscopy. He served as the president of the National Medical Association from 1965 to 1966.
Berry was born in Woodsdale, Person County, North Carolina. After graduating from Wilberforce University in 1924, Berry moved to Chicago where he received a second B.S. degree from the University of Chicago, followed by a M.D. degree from the Rush Medical College of the University. In 1933, he also received a M.S. degree in Pathology from the University of Illinois Medical School.
(con't.)
From his Obit:

Dr. Leonidas Harris Berry, a specialist in diseases of the digestive tract who dedicated himself to bringing medical care to black communities that had none, died on Dec. 4 at his home in Chicago. He was 93.

In 1946, Dr. Berry became the first black physician to join the staff of Michael Reese Hospital in Chicago and the first black internist at Cook County Hospital there. He retired in 1975 as chief of endoscopy service and senior attending physician at Cook County.

He was also one of the first black doctors to be admitted to the American Medical Association and served as president of the National Medical Association, a mainly black organization, in the mid-1960's.

....

He was the first doctor to perform gastroscopies, operations involving instruments with which doctors can see inside the digestive tract, at several Chicago hospitals in the 1930's and 1940's. He also devised a gastroscopic instrument.
In addition to his long and distinguished medical career, Berry has been active in teaching, writing, and community public service. The latter has included work in civil rights, on the racial problems of public health, and with the African Methodist Episcopal Church. He was also the author of a genealogical history of his family I Wouldn't Take Nothin' For My Journey: Two Centuries of an Afro-American Minister's Family published in 1982.
In the early 1950s Berry started during his presidency of Cook County Hospital's Physician Association the "Berry Plan", a citywide movement which provided medical counseling clinics for the prevention and follow-up care of young drug users. It was implemented and operated by the Illinois State Department of Health....Read More
~~~~~~~~~~~~~~~~~~~~~~~~~~~~~~~~~~~~~~~~~~~~~~~~~~~
News by dopper0189, Black Kos Managing Editor
~~~~~~~~~~~~~~~~~~~~~~~~~~~~~~~~~~~~~~~~~~~~~~~~~~~

~~~~~~~~~~~~~~~~~~~~~~~~~~~~~~~~~~~~~~~~~~~~~~~~~~~
One last take on these two stories that tie them together nicely. CNN: A tale of two black hairstyles.
~~~~~~~~~~~~~~~~~~~~~~~~~~~~~~~~~~~~~~~~~~~~~~~~~~~~
To some black voters, Dante's afro reflected that this boy and by association his father, respected the civil rights struggle, since the afro is considered an icon for black pride and progress. In other words -- you can trust de Blasio to be sensitive to issues of race that affect New York City, most notably the controversial stop-and-frisk policy. And to white voters and others, Dante's afro was just cool.
But while Dante's afro is being celebrated, in a different part of America last week a little girl in Tulsa, Oklahoma, was reprimanded because her hairstyle violated the policy of her charter school.
Tiana Parker, a pretty, sweet, shy 7-year-old Midwest girl with a big bow over her dreadlocks was criticized because at the Deborah Brown Community School where she is a student, "hairstyles such as dreadlocks, afros, Mohawks and other faddish styles" were not permitted. ...
Tiana's experience, for many, is a symbol that ignorance and bias still pervades American life. The fact that in her natural state, her hair was viewed as rebellious, signals that there is a lot of misperception that we must correct. One way to fix this is for mainstream media to champion more diverse images of black beauty.
Black hair is a repository for America's painful past and promising future. The endless style possibilities of black hair represent America's creative genius, yet its "otherness" is a constant reminder of unresolved inequalities and subtle prejudices.


New York City mayoral candidate Bill de Blasio and family (Mario Tama/Getty Images); Tiana Parker (screenshot from YouTube)
~~~~~~~~~~~~~~~~~~~~~~~~~~~~~~~~~~~~~~~~~~~~~~~~~~~

~~~~~~~~~~~~~~~~~~~~~~~~~~~~~~~~~~~~~~~~~~~~~~~~~~~
Focus Features is developing a film based on the life of Nigerian multi-instrumentalist musician Fela Kuti. Color Lines: Nigerian Poet Chris Abani, Andrew Dosunmu Involved in New Fela Kuti Film.
~~~~~~~~~~~~~~~~~~~~~~~~~~~~~~~~~~~~~~~~~~~~~~~~~~~
Focus Features is developing a film based on the life of Nigerian multi-instrumentalist musician Fela Kuti and already, Andrew Dosunmu has been tapped to direct the project. Nigerian writer Chris Abani is also involved in the project, reportedly having written the latest drafts of the screenplay.
Both men are Nigerian natives. Dosunmu's most recent film was "Mother of George" and his 1999 documentary "Hot Irons" won the award for best film at FESPACO, Africa's largest film festival.
Abani, meanwhile, is a noted poet and novelist who's currently based in Southern California. His first collection of poetry, "Kalakuta Republic", was based on his experiences as a political prisoner in Nigeria.


Filmmaker Andrew Dosunmu, with actress Eniola Dawodu (left) and producer Katie Mustard during the 2011 Sundance Film Festival Larry Busacca/ Getty Images
~~~~~~~~~~~~~~~~~~~~~~~~~~~~~~~~~~~~~~~~~~~~~~~~~~~


~~~~~~~~~~~~~~~~~~~~~~~~~~~~~~~~~~~~~~~~~~~~~~~~~~~
A white middle-class family's decision to move to a poor black township for a month had many debating whether it was about empathy or slum tourism. New York Times: Trading Privilege for Privation, Family Hits a Nerve in South Africa.
~~~~~~~~~~~~~~~~~~~~~~~~~~~~~~~~~~~~~~~~~~~~~~~~~~~
Regina Matshega was gossiping with a neighbor over a fence between their shacks in the Phomolong squatter camp last month when a very unexpected sight suddenly popped into view: two ruddy-cheeked white South Africans, a man and a woman, with two towheaded toddlers running at their heels.
"I couldn't believe my eyes," Ms. Matshega said. "What are white people doing here? They live in the rich places. They never come this side."
The white couple wandered over, past the gutter overflowing with raw sewage, to say hello. They introduced themselves as Julian and Ena Hewitt, a middle-class family that lives in a gated estate in Pretoria, just six miles away. They had moved into a 100-square-foot shack with no electricity or running water next to their part-time housekeeper, Leah Nkambule, to experience what life was like in an informal settlement.
"They said they wanted to see how we are living," Ms. Matshega said. "Can you imagine?"
The Hewitts moved into the shack for the month of August as an experiment in radical empathy. Could a white middle-class South African family make it on $10 a day in the kind of living conditions that millions of black South Africans endure every day? "It is one thing to know from an academic perspective what divides us," said Mr. Hewitt, who also blogged about the experience. "But what is it like to actually live it?"


Candace Feit for The New York Times
~~~~~~~~~~~~~~~~~~~~~~~~~~~~~~~~~~~~~~~~~~~~~~~~~~~~~~
Artist reflects on the way modern and traditional lifestyles both clash and combine in the present. The Guardian: Chairs, slippers and contemporary Ethiopia: the work of Ephrem Solomon.
~~~~~~~~~~~~~~~~~~~~~~~~~~~~~~~~~~~~~~~~~~~~~~~~~~~~~~
Ephrem Solomon's work differs from the prevailing artistic style in Ethiopia in many ways. Although his art is also two-dimensional and on canvas, a strong graphic emphasis makes it stand out from the ever-dominant paintings, be they figurative or abstract.
Solomon was born in Addis Ababa in 1983, and developed an interest in art early. After high school he studied fine art and graphic design, which shows in his portfolio. His works is often very descriptive and literal, focusing on the world around him; the city of Addis, its people, places, spaces and nature. Objects such as the signature chair and slippers are incorporated as a reflection on broader political and social themes.
"My works portrays the distance between what the governed people need and want and what the response is from the governors. I have tried to picture, as precisely as possible, the actual and innocent feeling of the governed," Solomon says.
With a limited colour-scale and somewhat minimalistic style, Solomon combines the tradition of woodcut and collage with graphic design, and creates compelling contemporary artworks that balance different styles, traditions and eras. "In a world where newness has become a value in and of itself, I am more moved by the compliment that what I am doing technically feels like something from the past, while embodying something that is currently relevant," he says.


Exist Yellow Chair, 2013, wood cut and mixed media, measuring 73x73cm. Image: Ephrem Solomon
~~~~~~~~~~~~~~~~~~~~~~~~~~~~~~~~~~~~~~~~~~~~~~~~~~~~~~
Some cash-starved African states are showing an assertiveness that suggests the days of China's unbridled influence as a mega-investor may be waning. New York Times: China Finds Resistance to Oil Deals in Africa.
~~~~~~~~~~~~~~~~~~~~~~~~~~~~~~~~~~~~~~~~~~~~~~~~~~~~~~
In Niger, government officials have fought a Chinese oil giant step by step, painfully undoing parts of a contract they call ruinous. In neighboring Chad, they have been even more forceful, shutting down the Chinese and accusing them of gross environmental negligence. In Gabon, they have seized major oil tracts from China, handing them over to the state company.
China wants Africa's oil as much as ever. But instead of accepting the old terms, which many African officials call unconditional surrender, some cash-starved African states are pushing back, showing an assertiveness unthinkable until recently and suggesting that the days of unbridled influence by the African continent's mega-investor may be waning.
For years, China has found eager partners across the continent, where governments of every ilk have welcomed the nation's deep pockets and hands-off approach to local politics as an alternative to the West.
Now China's major state oil companies are being challenged by African governments that have learned decades of hard lessons about heedless resource-grabs by outsiders and are looking anew at the deals they or their predecessors have signed. Where the Chinese companies are seen as gouging, polluting or hogging valuable tracts, African officials have started resisting, often at the risk of angering one of their most important trading partners.
"This is all we've got," said Niger's oil minister, Foumakoye Gado. "If our natural resources are given away, we'll never get out of this."


Seyllou/AFP/Getty
~~~~~~~~~~~~~~~~~~~~~~~~~~~~~~~~~~~~~~~~~~~~~~~~~~~~~~~~~~
Welcome to the Black Kos Community Front Porch!
Pull up a chair and sit down a while and enjoy the autumn air.