From the front lines. You call Social Security's 800- number to find out about the death benefits you were told in December you couldn't get because DOMA. The agent takes down some details and makes an appointment for you. You then get a letter to confirm the appointment with the subject of your issue listed (Lump-Sum Benefit: Survivor) and a list of what you have to bring and a request to be there ahead of time. Cut-and-dried, no? As it happens, NO, and I'll explain below the great orange wreath.
But First, A Word From Our Sponsor:
Top Comments recognizes the previous day's Top Mojo and strives to promote each day's outstanding comments through nominations made by Kossacks like you. Please send comments (before 9:30pm ET) by email to topcomments@gmail.com or by our KosMail message board.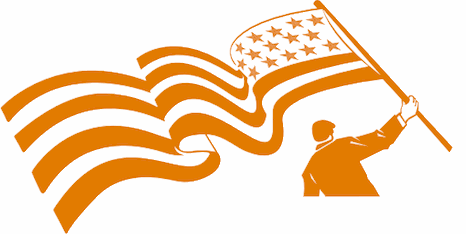 Make sure that you include the direct link to the comment (the URL), which is available by clicking on that comment's date/time. Please let us know your Daily Kos user name if you use email so we can credit you properly. If you send a writeup with the link, we can include that as well. The diarist poster reserves the right to edit all content.
Please come in. You're invited to make yourself at home!
It wasn't actually that complicated. Of course, the Metro LA Transit planner asked me to take a bus that left me a little over a third of a mile from the Social Security Office but 1) I needed the exercise and 2) it isn't brutally hot here today. So I was there at 11:15 for an 11:30 appointment. You don't have to go through a metal detector at the Burbank office the way you do at the Santa Monica/Vine office in Hollywood, and I was checked in for my appointment with a person.
Only a couple of minutes late too (the person). First off, the lump sum death benefit would have been a couple of hundred dollars, limited, of course, by the fact I'm still working. Then, all I had was a copy of the marriage license, I didn't have the original. Not really a problem either, because I know where to go to get one (it's in Van Nuys). But the guy took the marriage license and the death certificate, went to confer with somebody,,filled out an application, went though reciting a statement, and gave me everything back with two copies of the application.
That done, he started to talk. Right now, the only death benefits I could get would be limited, as I said in the last paragraph, by the fact I'm still working. BUT if I wait until 66, even if I'm still working, I can apply for a monthly benefit to supplement my income. Won't be limited by the fact I'm working. So I guess I have a little over three years to get an original of the marriage license.
They're still working things out, he said. But it's VERY clear that the demise of Section 3 of DOMA means that America really has made another stride toward the promise of equality for all.
And now for the stuff that makes this Top Comments:

TOP COMMENTS, September 20, 2013: Thanks to tonight's Top Comments contributors! Let us hear from YOU when you find that proficient comment.
From this just in:
Jed Lewison's front-page piece expressed general outrage over GOP claims that their Ahab-like obsession of defunding Obamacare somehow puts them on the same plane as civil-rights heroes. Kossack DoLooper nails that perfectly in a "shorter" version.
From
serendipityisabitch
:
This comment by joanneleon in Ray Pensador's diary about empathy was right on the money.
From
your humble diarist
:
In gizmo58's diary about technology failure and obsolescence last night, Hey338Too provided an excellent low-tech solution for many high-tech problems.
And the flags
: From
timaeus
:
davehouck's comment about the tone in which Kossacks are discussing Pope Francis in Jen Hayden's diary about his latest remarks
From
nzanne
:
the entire comments thread of acpa's diary about foster parenting.
From
msdrown
:
edwardssl's comment about the RWNJ in his office in StellaRay's diary about Obamacare and what we'll all know about it in October.
TOP MOJO, September 19, 2013
(excluding Tip Jars and first comments):
1) I wonder which one by Azazello — 426
2) How long is this guy going to last? by Bob Johnson — 296
3) I would attach a rotfl to that if it weren't... by Meteor Blades — 224
4) Yup... by RichM — 111
5) Welcome to Daily Kos, Chase! by navajo — 107
6) Has come plenty by jimstaro — 105
7) I agree. by Bob Johnson — 98
8) So, somebody woke up one day and thought.... by Senor Unoball — 95
9) Another example of No Child Left Intact. n/t by cany — 95
10) This thought by janis b — 93
11) I am 100% in support of this project and of... by Meteor Blades — 90
12) Doesn't seem the NRA is doing too good a job, by gustynpip — 88
13) This is the "utopia" that the by TomP — 84
14) He's asking to be primaried by the teabaggers! by sizzzzlerz — 79
15) We've turned back by karmsy — 79
16) This is arguably by fladem — 75
17) And they just "happen" by Cali Scribe — 74
18) Add some rosemary by Diogenes2008 — 74
19) A sage comment. by Wee Mama — 73
20) Every Time I Think of Limbaugh by JekyllnHyde — 73
21) Only? by Pescadero Bill — 70
22) From the Interview: by RickinStLouis — 69
23) How the problem will be solved by disinterested spectator — 69
24) See John Paul the 1st by leu2500 — 68
25) Thank you for these older stories by Lakota Peoples Law Project — 67
26) Valid point by Jeff Seemann — 67
27) hello relatives by Chase Iron Eyes — 65
28) Lucky you weren't abducted. by CwV — 65
29) More coverage: by navajo — 64
30) Having spent a whole lot of time on shooting... by Meteor Blades — 64
For an explanation of How Top Mojo Works, see
mik
's
FAQing Top Mojo
TOP PHOTOS, September 19, 2013: Enjoy jotter's wonderful PictureQuilt below. Just click on the picture and it will magically take you to the comment that features that photo. Have fun, Kossacks!