Every day is a new day and with that, a new opportunity.
EVERYONE is welcome and please join us each morning at 7:30 AM PACIFIC
to tell us what you're working on, share your show & tell, vent, whatever you want...
...this is an open thread. Nothing is off topic.
In Which We Have a Four-Legged Sub Today
It's come to my attention that some of y'all want a Miskwaki update. So, as you can see, I've brought him along to help me sub for navajo today.
Fro those who may not know, this redheaded boy came into our lives on April 17th, when he crossed a downed section of fence in an area of Wings's family land where he'd been abandoned, and made his way deliberately to us. He was all but dead on his feet, and looked it; more about that over the jump, where you should be prepared for one of the photos from that diary, which is heartbreaking. But we couldn't just let him die in agony. So we went to work, doing our best not only to save him but to heal him, all while not knowing whether he'd ultimately even be able to stay.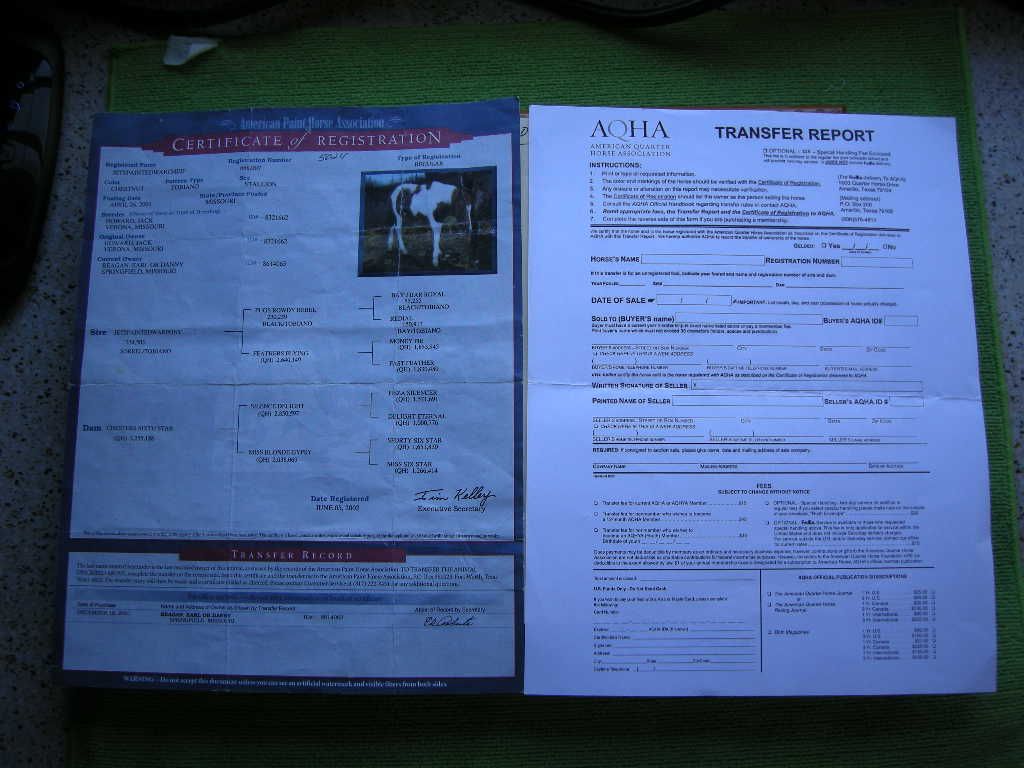 It worked. He's healthy again, and very happy. And when his previous owner decided that he wanted him back, thanks in large part to members of this community, we were able to raise enough simply to buy him outright, and set aside a little extra for the impending vet and farrier's bill — which, given his history of abuse and neglect, are going to be high for a while.
A few weeks ago, it became official: We got title to him. And discovered that we are now the owners of a full-blooded, registered American Quarter Horse, complete with papers. Who knew? Of course, it's not all we learned about him that we didn't know; more about that over the jump, as well.

Latest Updates on Kossack Regional Meet-Up News Below the New Day sunrise cloud
Warning: Graphic photo.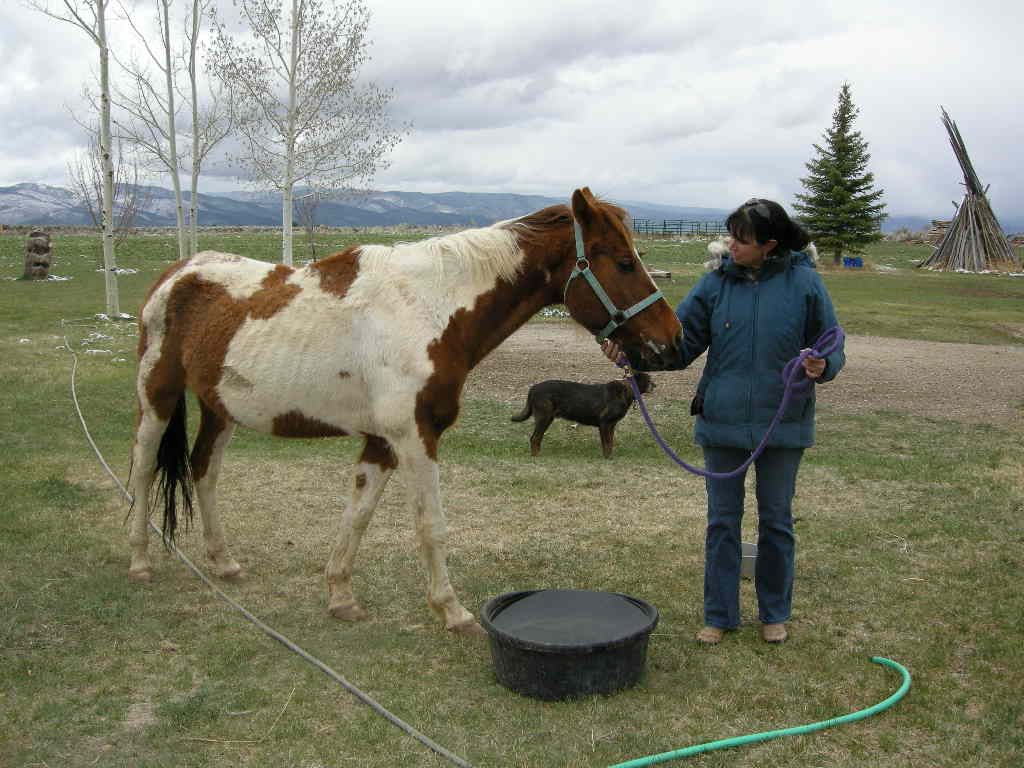 So for those who didn't see the original diary, here's what he looked like on April 18th, the day after he found his way to us. The photo actually makes him look better off than he really was; you can't see the full extent of the damage from prolonged starvation and dehydration, from the lack of any hoof care at all, from the thousands of ticks sucking the life out of him, from the patches of skin torn off his body. And despite how it looks, that's not a smile on my face, but a snarl. Who knew that a camera could make swearing a blue streak look like that? Don't worry; I won't disturb your morning coffee with the words that were coming out of my mouth when Wings snapped that shot.

The possibility of a happy ending for this boy became clear fast, though. Here he is on May 6, a mere two weeks and five days after he first showed up. This is him after a couple of deworming treatments; two or three baths, including de-ticking processes and other efforts; a thorough currying; and, of course, consistent access to food and water.
And love. Like a lot of rescued animals, that seems to be especially influential for him.
He had to stay quarantined in the round pen for a few months; we weren't sure what his exposure might have been to equine diseases or other toxins. But the weather was growing increasingly warm, and he had everything he needed — including the interest of the other horses from a distance. Spock, in particular, was eager to flirt with the new gelding, but she wouldn't actually get to see him up close until August.
By late June or so, he looked like this. He'd had his vaxes; he'd had one hoof trim, courtesy of our farrier who was delighted to see that we'd saved the horse; and he'd survived a brief, mild episode of founder, a couple of mild episodes of colic, and the absolute worst case of colic I've ever seen.
For those who don't know, colic in horses is very different from colic in human infants. They're not the same thing, and in horses, it can easily be fatal. Founder, also known as laminitis, can also be fatal, but it's a longer-term process. Both are extremely dangerous. They can also be interrelated, and play off each other in a vicious circle.
One of our other horses, Cree, also a rescue, is a foundered horse. Laminitis is not usually a one-off condition, but chronic, and it can flare up again based on diet, weather changes, injury or physical stress to the hoof, or other factors. And about six years ago, Cree had a flare that simply would not respond to treatment. We thought we would lose her — and had we not jettisoned all the conventional veterinary wisdom and taken her treatment into our own hands, we would have. As it was, it took eight months to see real progress, and ten months for the flare to subside. But during that year, we became experts in founder (and in colic) in ways that we had not been before, and now, probably collectively know more than anyone in the county about how to treat it. That knowledge has served all the horses well, and Miskwaki is no exception.
Sometime in July, Spock (our "boarder" horse) went to the south end of town for "training" for a couple of months. That opened up a space in the pen and stalls she shared with Harmony, our black and white paint rescue. Harmony is mostly mellow, a little easily spooked when it comes to external influences, and very protective. She became Spock's surrogate mother very rapidly, so she was the logical choice for Miskwaki.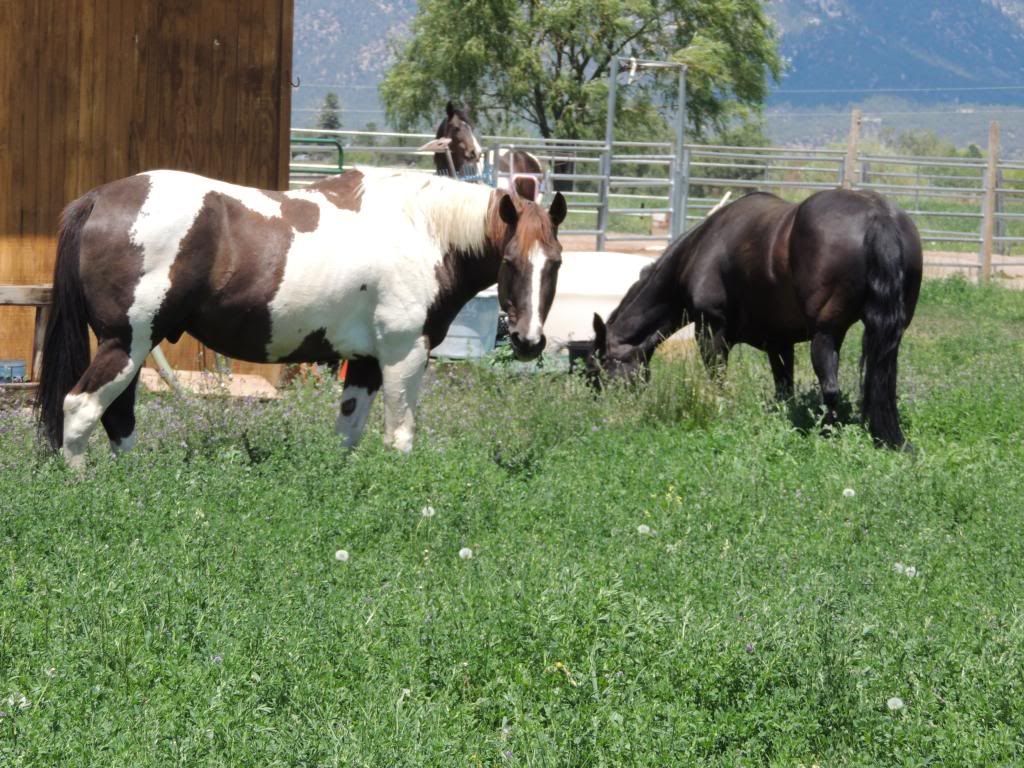 Of course, she — to say nothing of Cree and Shade in the next pen — bullied him mercilessly at first. Assertions of dominance are normal, and can be handled. But for the most part, he integrated with Harmony on the day he was introduced, and they ate out of the same trough almost immediately.
The other two were a little harder, since they're a other and daughter pair, both aggressive, dominant, and stubborn as hell. But the way to a horse's heart is through her stomach. And when Shade discovered that Miskwaki was being allowed outside to graze in the lush alfalfa fields because (unlike her) he would always come back obediently when it was time to return to the pen, she figured out that it was wiser to make friends with him. And so here they are, side by side, doing what horses do best — which is to say, stuffing their faces.
Shortly after that photo was taken, his owner decided that he wanted him back. Failing that, he wanted a large sum of money. Thanks to this community, we were able to raise what was needed and put a little aside, which has since gone to vet and farrier bills, because his body and hooves are still in bad shape from the long-term abuse and neglect. And a few weeks ago, we got the papers and learned that they were "papers."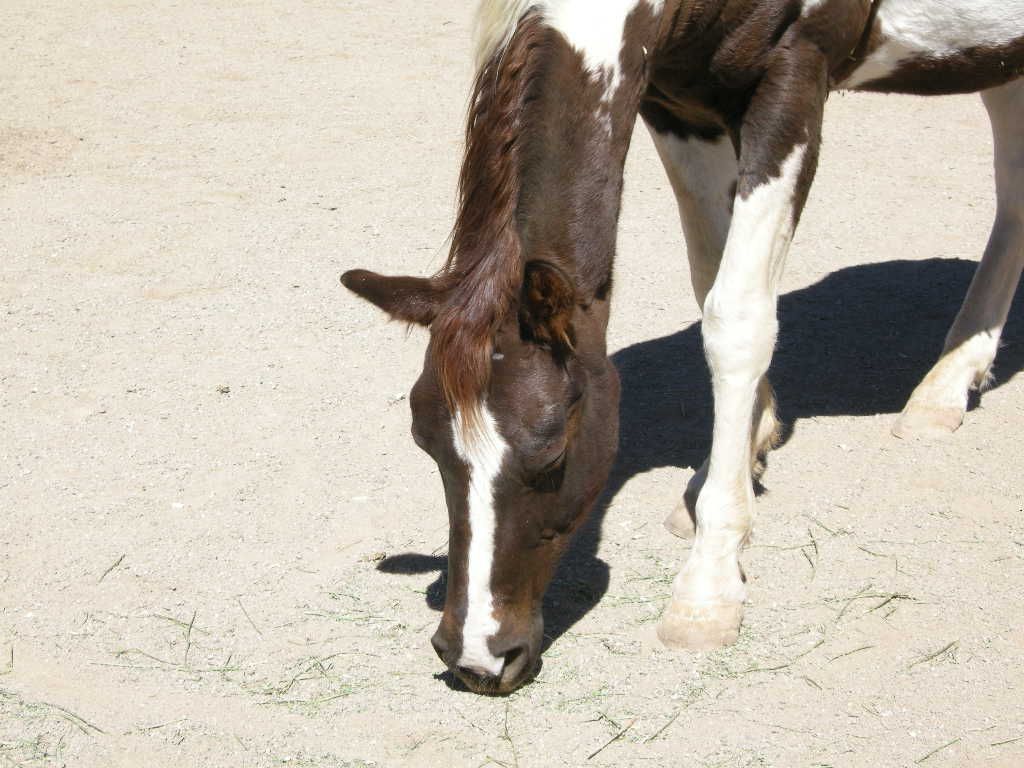 Because Miskwaki, it turns out, is a full-blooded American Quarter Horse, and he is registered, albeit under a different name. His official name, apparently, was supposed to be "Jet's Painted War Chief." What actually appears on his papers is "JETSPAINTEDWARCHEIF." All one word, no apostrophe, and complete with misspelling.
No matter.
In recent years, he was called "Jack," and he doesn't like the name. Part of that whole equine PTSD thing, like the sunglasses (which he is now over, by the way). So I named him based on his color: Miskwaki, the word in my language for "Red Earth."
There were other things we didn't know, too. The vet put his age at seven; he's actually twelve and a half. He was born in Missouri, and wound up in here via a rather circuitous route that ultimately involved gelding and branding before going to his last owner. And last week, we confirmed what we'd suspected: that his teeth were a [very expensive] horror show. That's fixed now.
The other good news? The previous owner, Wings's relative, is repairing his relationship with his elder.
The love of a horse is a magical thing.
What do you love that brings you magic?

:: COMMUNITY BUILDING UPDATES ::
Let's build communities!

Every region needs a meatspace community like SFKossacks.
We take care of each other in real life.
I urge YOU to take the lead and organize one in your region.
Please tell us about it if you do and we're here for advice.
•
THINK GLOBALLY, ACT LOCALLY
>>>Instructions on
HOW TO FORM A NEW DAILY KOS GROUP
NEW GROUPS IN THE PROCESS OF ORGANIZING:


Send a Kosmail to the organizers and ask for an invitation to the group.

• Northern Indiana Area: Kosmail Tim Delaney

• Long Island: Kosmail grannycarol

• Northern Michigan: Kosmail JillS

• Nebraska: Kosmail Nebraska68847Dem

• Westburbia Chicago Kossacks: Kosmail Majordomo

• New York Hudson Valley Kossacks: Kosmail boran2

• North Carolina Triangle Kossacks: Kosmail highacidity

• Caprock Kossacks (Panhandle/Caprock/Lubbock/Amarillo area) : Kosmail shesaid

• West Texas Kossacks (including Big Bend Region and El Paso) : Kosmail Yo Bubba

Note to the above new leaders: Feel free to leave a comment any day reminding readers about your new group. Also, tell us about your progress in gathering members. Kosmail me when you've chosen a good name for your group and have created a the group. Then I'll move you to the NEW GROUPS LIST. When you've planned a date for your first event I'll make a banner for you to highlight your event in our diaries and your diaries.
These are the groups that have started since * NEW DAY * began. Please Kosmail navajo if you have started a group before that.
NEW GROUPS LIST:

• California Central Valley Kossacks - Formed: Jul 29, 2012, Organizer: tgypsy

• New England Kossacks - Formed: Aug 6, 2012, Organizers:
Clytemnestra for Lower New England (Conneticut, Massachusetts, Rhode Island)
nhox42 for Upper New England (Maine, New Hampshire, Vermont)

• Houston Area Kossacks - Formed: Aug 7, 2012, Organizer: Chrislove

• Kossacks in India - Formed: Aug 14, 2012, Organizer: chandu

• CenTex Kossacks - Formed: Sep 9, 2012, Organizer: papa monzano

• Central Ohio Kossacks - Formed: Sep 26, 2012, Organizer: VetGrl

• Kansas City Kossacks - Formed Oct 15, 2012, Organizer: [Founder stepped down]

• Phoenix Kossacks - Formed Oct 16, 2012, Organizer: arizonablue

• Chicago Kossacks - Formed: Oct 31, 2012, Organizer: figbash

• Koscadia the Pacific Northwest coast from Northern California to Alaska
- Formed Oct 17, 2012, Oganizer: Horace Boothroyd III based in Portland, OR

• Boston Kossacks - Formed: Nov 7, 2012, Organizer: GreyHawk

• Motor City Kossacks South East Michigan (Detroit) Area - Formed: Nov 10, 2012, Organizer: peregrine kate

• Pittsburgh Area Kossacks - Formed: Nov 12, 2012, Organizer: dweb8231

• Salt Lake City Kossacks - Formed: Nov 17, 2012, Organizer: War on Error

• Twin Cities Kossacks - Formed: Nov 17, 2012, Organizer: imonlylurking

• Dallas Kossacks North Texas - Formed: Nov 21, 2012, Admins: Catte Nappe and dalfireplug. Please contact them to join the group. An Event Organizer needed.

• The Southern California Inland Empire Kossacks - Formed: Dec 3, 2012, Organizer: SoCaliana

• Los Angeles Kossacks - Formed: Dec 17, 2012, Organizer: Dave in Northridge

• Northeast Ohio Kossacks - Formed: Jan 16, 2013, Organizer: GenXangster

• Kansas & Missouri Kossacks - Formed: Jan 17, 2013, Organizer: tmservo433

• I-77 Carolina Kossacks who live from Columbia, SC to north of Winston-Salem, NC. - Formed: Jan 30, 2013, Organizers: gulfgal98 and eeff

• Indianapolis Kossacks - Formed: Feb 6, 2013, Organizer: CityLightsLover

• Southwest Ohio Kossacks - Formed: May 10, 2013, Organizer: Dr Erich Bloodaxe RN

• Northern Arizona Kossacks - Formed: Jul 5, 2013, Organizer: Sam Sara

• Mexican Kossacks - Formed: Apr 14, 2013, Organizer: roberb7
ESTABLISHED GROUPS LIST: (List will grow as we discover them)

• SFKossacks Founded by navajo, Formed: May 2, 2005

• Maryland Kos Founded by timmyc, Formed: Feb 23, 2011. Contact: JamieG from Md for a group invite.

• New York City Founded by Eddie C - Contact the group organizer for meet-up events: sidnora

• Baja Arizona Kossacks, Event Organizer: Azazello

• Three Star Kossacks Tennessee, Founded by maryKK, Formed: Apr 8, 2011

• Nashville KosKats, Founded by ZenTrainer Formed: Jan 30, 2012

• Virginia Kos Founded by JamieG from Md, Formed: May 3, 2011

• Kos Georgia Founded by pat208, Formed: Feb 13, 2011

• Colorado COmmunity Founded by Leftcandid, Formed: Feb 13, 2011

• New Mexico Kossaks Founded by claude

• Philly Kos Founded by mconvente Formed: Aug 29, 2011

• DKos Florida Founded by ThirstyGator, Formed: Feb 14, 2011, Currently organizing: Kosmail Vetwife to be included in next event.

• Oklahoma Roundup Founded by BigOkie, Formed: Feb 13, 2011, Currently organizing: Kosmail peacearena to be included.

• DKos Asheville Founded by davehouck, Formed: Feb 13, 2011 - Organizing Assist by: randallt
:: Events Currently on the Books for ALL Kossacks ::

Wednesday, October 9th

Twin Cities Kossacks Meet-up with navajo!

TIME: Early Evening, (5:00 PMish) TBD
LOCATION: TBD
[Address] • Minneapolis

ORGANIZER: Send navajo a kosmail to attend.

RSVPs:
1. navajo
2. raptavio
3. left rev
4. angry marmot

Maybees:

Saturday, October 19th

DKos Asheville Kossacks Meet-up

TIME: 1:00 PM
LOCATION: The Bywater
796 Riverside Dr. • Asheville

ORGANIZER: Send randallt a kosmail to attend.

RSVPs:
1. randallt
2. davehouck
3. Joieau
4. Gordon20024
5. gulfgal98
6. DawnN
7. Sandy on Signal
8. Mr Sandy on Signal
9. Munchkin
10. Alecia
11. Mr Alecia
12. cultjake
13. flwrightman
14. Otteray Scribe
15. Burns Lass

Maybees:
people power granny
One Pissed Off Liberal
Christian Dem in NC
SteelerGrrl
SteelerGuy
polecat
Audri
Phil S 33
emmasnacker
bobwilk
Elaine


Latest diary: DKos Asheville - Weekly Open Thread




Sunday, October 20th

MEGA Philly/NJ/NYC Kossacks Meet-up!

TIME: Noon
LOCATION: Stuff Yer Face
49 Easton Avenue • New Brunswick, NJ

ORGANIZER: Send mconvente a kosmail to attend.

RSVPs:
1. mconvente
2. belinda ridgewood
3. thankgodforairamerica
4. gchaucer2
5. sidnora
6. rubyr
7. mattc129
8. hayden
9. mallyroyal
10. Avilyn
11. blue jersey mom
12. ericlewis0
13. Rogneid + husband
14. aoeu

Maybees:
aravir and son
ask
Cinnamon
No Exit
andgarden
asterkitty
pfiore8
joanneleon
renzo capetti
MRA NY


Latest diary: Philly/NJ/NYC Mega Meetup! Additional Call for People Interested in Attending!




Friday, October 25th

LAKossacks & SoCal Inland Empire See Lewis Black!

TIME: 9:00 PM
LOCATION: Agua Caliente Casino Resort & Spa
32-250 Bob Hope Dr. • Rancho Mirage

ORGANIZER: Send 714day a kosmail to attend.

RSVPs:
1. 714day
2. jakedog42
3. susans
4. Otoelbc

Maybees:
Shockwave
SoCaliana


Latest diary: L.A. Kossacks, Lewis Black Fans in So Cal

Friday, October 25th

Meet the Daily Kos Editorial Staff!

TIME: 6:00 PM
LOCATION: Daily Kos HQ
Address given privately to RSVP'ers • Berkeley

ORGANIZER: Send navajo a kosmail to attend.
You will need to bring Potluck.

HQ will be providing the main course like before. Please sign up for a beverages or side dishes below.

- POTLUCK SIGNUP BELOW -

Beverages:
16 six-packs of beer [5 down, 11 to go]
20 bottles of wine [7 down, 13 to go]
4 packs Bottles of water
4 packs Soft Drinks
I'll be bringing my large ice chest with ice, as before.

Appetizers:
Anything goes here. Whatcha' got? [3 down]

Side Dishes:
6 green salads needed, each to feed 10 [4 down, 2 to go]

Desserts:
6 desserts, a dozen hand-held desserts each [5 down, 1 to go]

RSVPs:
1. Markos
Editorial Staff:
2. Susan Gardner
3. Meteor Blades
4. Joan McCarter
5. Hunter
Staff:
6. Faith Gardner
7. Will Rockafellow
8. Jen Hayden
Activism Team:
9. Paul Hogarth
10. Chris Bowers
11. Rachel Colyer
12. Michael Langenmayr
SFKossacks:
13. navajo
14. Lusty + dessert
15. side pocket + two 6pks beer + 2 wines + stuffed mushrooms appetizer
16. paradise50 + two 6pks beer
17. smileycreek + 2 wines
18. citisven + beer + beet dip
19. norm + pumpkin bars
20. Lorikeet + big bowl of fruit
21. kimoconnor + appetizer
22. remembrance and TLO? + 1 wine
23. Glen the Plumber + Pasta Mystery Dish
24. madhaus
25. dharmasyd + brownies
26. ceebee7 + green salad
27. lineatus
28. Dave in Northridge + 2 bottles of wine
29. linkage
30. LinSea + bottled water
31. Shockwave
32. Eyesbright
33. catilinus
34. FogCityJohn
35. justiceputnam + grilled balsamic veggies
36. zmom
37. exlrrp +souvenirs ;) !
38. shanikka + salad
39. DAH
40. BroadBlogs
41. jpmassar + dessert
42. PatG + dessert

Maybees:
Cedwyn
LaughingPlanet



Saturday, October 26th

New England Kossacks Meet-up

TIME: 10:30 AM
LOCATION: Silly's
40 Washington Avenue • Portland, ME

ORGANIZER: Send nhox42 a kosmail to attend.

RSVPs:
1. nhox42
2. rebereads
3. Portia Elm (a potential mileage winner!)
4. bjedward
5. nailbender
6. Bill in Portland Maine
7. Common Sense Mainer
8. mdevine
9. theMarti
10. patmoshimer
11. commonmass
12. Actbriniel
13. LoreleiHI
14. mayim
15. Jane in Maine

Maybees:

Latest diary: C+J Kossack Fall Meetup (Updated 9/25/13)

Saturday, November 2nd

SFKossacks BBQ in the Wine Country

TIME: TBD
LOCATION: Andrew McGuire's home in the Wine Country
Address to be given privately to RSVPs • Windsor

ORGANIZER: Send navajo a kosmail to attend.


Andrew McGuire is Executive Director of California One Care

RSVPs:
1. Andrew McGuire
2. navajo
3. Shockwave
4. Hunter
5. elfing
6. Hunter/elfling offspring
7. smileycreek
8. paradise50
9. dharmasyd
10. maggiejean
11. norm
12. Lusty
13. dksbook
14. Mr. dksbook

15. kimoconnor
16. jpmassar
17. side pocket
18. Mrs. side pocket
19. ceebee7
20. ceebee7's sister
21. leema (will carpool from Marin)
22. Meteor Blades

Maybees:
Glen The Plumber
remembrance
TLO™

Send navajo a kosmail if you post a diary about an event so we can update our round-up.

Okay. Floor's open.
Tell us what you are doing on this NEW DAY?