Happy to announce @GOP offering to pay to keep WWII memorial that WH barricaded open for 30 days.
http://t.co/...
— @Reince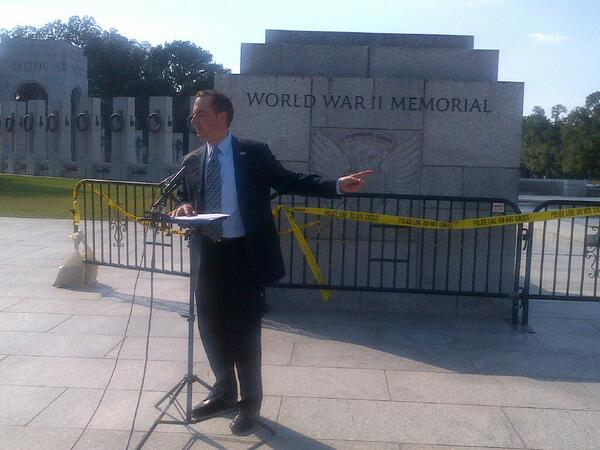 Priorities.
While Reince Priebus holds press conferences announcing that the party will spring for guards to keep one of America's monuments open, local effects of the House Republican shutdown are beginning to be felt.
Head Start, domestic violence shelters, and other critical services are being impacted:

Advocates warned that domestic violence shelters in Montana and Vermont were no longer being reimbursed for their services, and said some shelters could be forced to close altogether. Scientific research across the country — into a type of meningitis in Hawaii; of water quality in Tarpon Bay, Fla. — came to a halt because scientists could not get into their own labs. […]

According to organizers, at least 23 [Head Start] programs in 11 states are now without funding. In Calhoun County, Ala., where a quarter of the residents younger than 18 live below the poverty line, hundreds of poor children were told that their preschools were closed. In tiny Hobson City, volunteers scrambled to take in children at a church instead.
The Emergency Food Assistance Program is under shutdown. It provides about a substantial portion of the food provided to
private food banks
.
Food banks across the country are bracing for the suspension of the U.S. Department of Agriculture's food assistance programs, which have become increasingly important to feed the needy.

As private donations dried up during the recession, the USDA's Emergency Food Assistance Program (TEFAP) and Commodity Assistance Programs have helped charities and non-profits keep their inventories stocked. The USDA warned Monday that federal funds will halt until Congress strikes a deal, leaving food banks wondering if they should start planning for food shortages.
More examples of the impact the shutdown is having below the fold.
"Non-essential" workers at Fort Lee, in Virginia got their furlough notices Tuesday:

For Gauvin, the shutdown comes just six weeks after the end of the summer furlough caused by sequestration during which she lost six days of pay. […]

"We now can go for about two months, going through our savings," Gauvin said. "But we are looking at what kind of lifestyle changes we need to make to keep our children in day care."
E-verify, the government program that allows business owners to verify prospective employee's employment eligibility,
has been shuttered
:
Leyli Jahangiri, Owner of La Bottega on the Bay in Downtown Miami, said "What it does is it doesn't allow me to checkout a potential employee's background so how can I verify? It kinda slows things down in the order of processing of hiring a person."
Sorry,
hunters and other recreation-seekers
:
According to the Fish and Wildlife Service contingency plan all activities are closed on federal lands including hunting and fishing as well as using trails and parking areas until the government closes. In addition, all public buildings are closed including visitor centers.
The shutdown of the Women, Infant and Children program (WIC) leaves Washington state clinics with only
nine more days
of funding.
Due to the federal government shutdown the Washington State Special Supplemental Nutrition Program for Women, Infants and Children (WIC) has funds for about nine (9) days of operations. We do not anticipate closure of WIC clinics or retail stores refusing WIC checks during the nine days of operational funding. We will continue to provide updates if the government shutdown continues.
In San Diego and elsewhere, the IRS may not be doing audits, but they're also not able to clear tax liens on purchased properties, fouling the real estate market. And while servicemen may get their pay, that doesn't mean there will be no impact
on those soldiers
:
[National Treasury Employees Union President Malcom Gettman] lived through the 1995 government shutdown and said the tone from Congressional leaders is entirely different this time around.

"They simply don't like the President of the United States and they're going to take it out on anyone and everyone," Gettman said. […]

Delays in decisions from the Pentagon and Congress needed in the next few days could delay products getting to military personnel in the field.

"If that money is not made available and we can't get do our work here then the Navy suffers," said SPAWAR Employee John Metzger.

"Ships can't operate, aircraft can't communicate. If the shutdown happens, that will be impacted," Metzger said.
Many federal workers, who have already suffered through summer furloughs caused by sequestration, will not able to absorb lost wages indefinitely—
or even for very long
:
A nurse who works at the John F. Kennedy Federal Building in downtown Boston, who asked that her name not be used, said the waiting game to learn whether she will have a job was nerve-wracking.

"It is, because you live paycheck to paycheck," she said, adding that one worker who was sent home earlier in the day was stunned and said, "I feel lost."
No dozen or so contrived, patchwork bills will patch all the damage already being done. For every episode of mock refunding undertaken in the embarrassed House, there are a hundred other priorities being ignored and tens of thousands of jobs impacted. There's no way to turn the shutdown of the entire federal government into anything less than a train wreck.