I post a weekly diary of historical notes, arts & science items, foreign news (often receiving little notice in the US) and whimsical pieces from the outside world that I often feature in "Cheers & Jeers". For example .....
OK, you've been warned - here is this week's tomfoolery material that I posted.
ART NOTES - works by the Canadian photographer Edward Burtynsky - exploring humanity's stressed relationship with the world's most vital natural resource water - are at the New Orleans, Louisiana Museum of Art through January 19th.
HAIL and FAREWELL to the noted chef Charlie Trotter - who changed the landscape of Chicago restaurants - who has died at the age of 54.
TIME MARCHES ON - many of Africa's fastest-growing economies have not relied on oil or mining - in a break from the continent's past.
NOBODY ASKED ME - but while I don't think Chris Christie is likely to be the 2016 GOP presidential candidate .... he might be a vice-presidential candidate for someone like Ted Cruz. Besides ticket-balancing, the one thing he does that all right-wingers like - shades of Spiro Agnew - is that .... he yells at liberals.
Part of the reason why Mitt Romney was (privately) disdained by right-wingers was that they want a yelling conservative .... and Mitt just didn't have it in him. Mitt wanted to rely on others to do that, which was acceptable in the past. But no longer ... wingers want the yelling done by the candidate personally. That's why Christie will be tolerated by the hardcore base ... provided he is not the presidential candidate, but a Spiro Agnew-style Veep.
MEMORY LANE is where the sportswriter and author Mitch Albom treks as he ponders the "death of the stereo system" for college students.
THURSDAY's CHILD is Graham the Cat - an English kitteh who visits each day .... a pet store.
BRAIN TEASER - try this Quiz of the Week's News from the BBC.
SAD TO SEE that the 60 Minutes bogus Benghazi story was peddled by its correspondent Lara Logan - while I don't watch much network news, in the past I had respected her knowledge and willingness to report from danger zones. And several years ago she took - head-on - our old pal Laura Ingraham when she (and other right-wing pundits) started parroting the "You're suppressing all the good news in Iraq: why, a new school just opened!" party line. Sorry to learn that Lara Logan jumped-the-tracks, apparently first doing so a few years ago.
SEPARATED at BIRTH - embattled Toronto mayor Rob Ford and the late comic Chris Farley.
SOME TIME AGO I wrote a Top Comments diary about the NBA Hall of Fame player Bill Russell - a role model for me in many ways. At that time, President Obama called for a statue to be unveiled in Boston, for the 20th Century's most accomplished team athlete. Boston's mayor Tom Menino is leaving office, but was able to see a statue placed in City Hall Plaza this past weekend, with Bill Russell himself looking on.
THE OTHER NIGHT yours truly hosted the Top Comments diary looking at America's first bi-racial comedy duo, Tim & Tom - and so far, regrettably, its last.
FRIDAY's CHILD is an Illinois kitteh placed in a box with the words, "I need help, I'm deaf," written on it and left it at the doorstep of a resale shop - who is now at the local Humane Society where they hope she will be adopted.
WHILE THIS STORY is a bit too local to include (and complex to explain) in this week's poll, it's still juicy. Last week there was a special election here in New Hampshire, to fill a vacant state House of Representatives seat (from the city of Nashua). It's a seat that trends Democratic, but in a special election: anything can happen.
The Democrat was Latha Mangipudi - an immigrant from India, who has lived in Nashua for nearly twenty-five years. Her GOP opponent Pete Silva uncorked this stem-winder:

At a Republican forum, Silva said there were so many people of Indian descent who came out to vote during the primary that "I thought I was in New Delhi." He urged his colleagues to get out and vote to counter the large number of Indian residents in the ward that he predicted would "be coming out of the woodwork ... (I want to) make people aware there's a tide against us this time."
When criticized for his comments, Silva
responded
that people offended by his words were the ones at fault because he spoke the truth. Fortunately, he was given his walking papers by nearly 60% of the voters.
OLDER-YOUNGER SISTERS? - House Democratic leader Nancy Pelosi as well as Barbara Buono - the unsuccessful New Jersey gubernatorial candidate.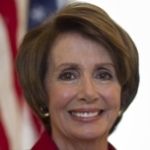 ....... and for a song of the week ............................................... if you grew up watching TV and films from the 1960's on - and especially if your tastes run towards spy/thriller genres - chances are that you've heard the work of Lalo Schifrin - and maybe more than a few times. He began in the field of jazz, and has returned to his classical/opera background more-and-more the past few years, yet it is his work on TV/film soundtracks that have made him a legend.
Born as Boris Claudio Schifrin in Buenos Aires, Argentina (and he legally adopted Lalo, a popular nickname for Claudio) Schifrin grew-up in a mixed Catholic-Jewish family. He began piano lessons at age six with Enrique Barenboim - the father of future conductor Daniel Barenboim - and his father Luis was the concertmaster of the Buenos Aires Philharmonic. He said he saw Gershwin's Rhapdsody in Blue at age twelve, which first introduced him to American music.
But Schifrin was troubled at life in the early 50's under the Juan Peron dictatorship (seeing soldiers goose-step, for example) and decided to leave. He was accepted at the Paris Conservatoire, and had to convince passport authorities that his being accepted there was a tribute to Argentina's government.
After his return, he formed a jazz big band, and it was there that famed jazz trumpeter Dizzy Gillespie heard them and asked Lalo to become his pianist and arranger. Moving to the US in the late 1950's, he toured with Gillespie's band and also recorded Latin jazz solo work. Well-known in jazz circles: in the mid-60's he moved to Hollywood and began to achieve stardom.
His first foray into TV involved arranging the Jerry Goldsmith-written theme song of The Man from UNCLE for its second season. He also went on to either write and/or arrange themes for "T.H.E. Cat" and some early film scores ("Once a Thief", "Murder's Row"). In 1966, he wrote the theme song for Mission: Impossible and with the recent death of its star Peter Graves, you may have heard the show's distinctive 5/4 time signature once again, borrowing the flute/piccolo theme from the "Man from UNCLE". It's one of the most memorable TV themes of all time, especially for an instrumental.
While working extensively in Hollywood, he's released many solo works over the years: concentrating in jazz first, then even dabbling in rock-themed works in the late 1960's. The album title There's a Whole Lalo Schifrin Goin' On seems a bit corny today, but critics have mostly been pleased with his works of all types.
As he has aged, he has returned to his classical roots more often, working with various orchestras around the world, The Three Tenors and in recent years has delved into his heritage with Letters from Argentina - combining Tango, Argentinean Folk music and classical music. He has also released seven albums under the Jazz Meets the Symphony heading.
Still, it's those theme songs that catch your eye. Some examples (besides what's already been noted):
--> TV ... "Mannix", "Medical Center" and "Starsky and Hutch".
--> Film ... "Bullitt", "Cool Hand Luke", the entire Dirty Harry series, "Enter the Dragon", "Amityville Horror", "The Dead Pool", "The Sting II".
At age 81, the winner of four Grammy Awards and nominee for six Oscars, Lalo Schifrin's 2008 autobiography is appropriately Mission Impossible: My Life in Music - yet it's altogether possible his music will be heard for many years to come.
Two works of his I especially like: one is instrumental (as are most of his compositions). After years of starts-and-stops, filming has commenced on a feature-length film version of The Man from UNCLE - for which the original series star Robert Vaughn has said he's been contacted about a cameo role (which he'd be delighted to accept). The original series used different musical arrangements each year, but it was the second season's arrangement by Lalo Schifrin that is my favorite:
One of his first works for the big screen featured lyrics by Dorcas Cochran for 1965's The Cincinnati Kid starring Steve McQueen. And below you can hear Ray Charles sing it.
He came with the name Cincinnati
A kid with no ace in the hole
On a hot poker pot, Cincinnati
Had staked his heart and soul

He played night and day like a demon
And prayed for that one lucky day
When the lush royal flush of his dreaming
Is just a game away

Beyond all the green-felt shadows
His own queen of hearts will wait
But till he's king of the green-felt shadows
She'll wait, and wait, and wait