As you probably know if you clicked on this diary, the Daily Kos community supports a food pantry on the Cheyenne River Reservation in South Dakota called Okiciyap ("we help" in Lakota) the Isabel Community. Join me below to see what the pantry has been up to this year, and what it needs in terms of donations. There's something for all budgets.
UPDATE: meagert has offered to send one of her bridle leather belts to the next three people who donate $100 or more (photo below).
2013 has been a very good year for Okiciyap
This year Okiciyap really came together as an organization. Since many of the main volunteers in the organization were members of Georgia Little Shield's family, it was particularly hard on them to pull out of their grief from her sudden death last spring and get the pantry running...but they DID it! (all the while really missing Georgia).
For much of 2013 year the pantry functioned on volunteer labor and monetary donations from THIS community (along with all the wonderful clothing, books, appliances, laptop and school supplies you've been sending). It got its food from Feeding South Dakota and a local food bank. Okiciyap also received donations of other things such as bath items and other food from National Relief Charities. Another program donated a truckload of furniture. This was all incredible, and exhausting for everyone, since they were all volunteers.

Unloading goods for the pantry
Then Okiciyap received 2 grants! One was a smaller one, a "community fund," with which they buy some of the food and conduct activities. The large one, which is only for a year but can be renewed, was for staff. Okiciyap now has a full-time, paid director, Emily Penick; a full-time youth development coordinator, Krista Chasing Hawk; two part time tutors, Amy Renee Taylor and Charyl Boysen; and maintenance person, Charity Mitchell-Felderand.
NOW they're cooking!! This is sustainability folks!!
Your donations were also in plain evidence when navajo and I went to visit the pantry for the pow wow to honor Georgia. You can see navajo's photo rich diary about the trip here.
Thanksgiving
Last year, we raised funds for turkey dinners for 50 people.
This year not only did they not ask us to raise money for that, here's Emily's report on what they did:

We gave out 75 turkeys and 40 ham boxes...both had all the fixings...the ham boxes we got from Feeding South Dakota as well as 25 turkeys. We purchased 25 and and all the fixings from Country Market in Timber Lake, SD. And we used our "community fund" (not the grant) from CRST to purchase 25 more turkeys with all the fixings at LTM in Eagle Butte, SD.
(the reason they are purchasing from different stores is because they wipe out the entire stock of these small-town grocers, who, of course, love the business) What she also told me was that even with all of this, they also ended up giving out a few frozen chickens, with all the fixins, and still didn't get to everyone. Unbelievable.
List of what everyone gets for dinner
This Christmas
This is how we can help this year. Okiciyap wants to have a healthy, safe and alcohol-free Christmas party for families on December 21st, along the lines of what Georgia organized the first year of the pantry's existence.
Here's a photo from that party:

Any money you donate to the
Okiciyap holiday fund drive
will be used for this Christmas party, including the dinner and gifts for children, elders and volunteers.
By the way, we finally found a passable ChipIn substitute called YouCaring and set up a holiday fund drive on the page we have on that site. There are a few good things about YouCaring: it has a ruler/thermometer for donations, doesn't charge a commission (you'll see an optional donation when you pay) and it links to PayPal. I think you'll like it. You can earmark your donations for a particular use by adding a note in the message section (you'll see what I mean by this below)
Although we are requesting specific things for these age groups, there is still a need for winter clothing for adults in general, so if you want to send that, please don't hesitate.
An important note - I know that a lot of the people from the Daily Kos community who are interested in this project are tapped out right now. Please do NOT feel guilty if you can't give at this time; others can.
Here are 2 no cost ways of helping:
1. Download iGive onto your browser and generating passive donations when you shop online.
2. Write one of these diaries between now and Dec 21st. Using your time to generate donations is a good as sending your own money. On that note, you can forward this one to people you know who might not be Kossacks (!)
Suggestions for Children's Gifts
Okiciyap has identified 40 children who need Christmas gifts. They suggest that gifts that encourage creativity would be the best. These include crayons and coloring books, art sets and games. Boys will always love action figures though.
People have already been sending a lot of hats and scarves, so the focus is now on gloves. There is a greater need for gloves/mittens for older children this year, so get the larger sizes.
Suggestions for Gifts for Elders
Here is what Emily says about this:
we have 5 Elder Natives here in the community and we're not sure what to get them. The tribe gives them each a blanket each year so we can't do blankets...maybe donations to utilities like propane or electric...if they donate money we can get them credit amounts at the store here for when they need things..
If you choose to donate funds, write a note in the message section of the donation from directing saying you want your donation to go to Elder Gifts. If you want to send a gift, let us know in the comments.
Gift Cards for Volunteers
They are also going to give gifts to the volunteers again this year. There should be about 15, but Emily is going to get that exact number this week. Last year we raised over $1200 for volunteer gift cards. I got them through my local bank since it offers them for free to account holders, but this year Emily is going to get them through a bank out there. That simplifies matters a lot.
If you'd like to donate to this fund, when you donate on the Holiday Fund Drive website, leave a note in the message section indicating that you'd like your donation to go to Volunteer Gift Cards.
New incentives!!!
Last month meagert offered to send a bridle leather belt to anyone who donated $100 or more. Only one person has taken her up on that so far, so there are 3 left.

Bridle leather is the most luxurious strap leather available.
The belt edges are hand burnished and waxed. The top finish is buffed to a lustrous shine.
A solid brass buckle is included, in brass or nickel finish. This belt compares with the finest available in mens high fashion shops at literally half the cost.

Made with a single layer of 10/12 leather, this belt will last years.
The 1 1/4" width belt makes for a fine dress belt.

So let us know you've donated $100 to Okiciyap and/or kosmail meagert to discuss his prize of a belt for you.
Here's a photo of the belt you will receive for your donation: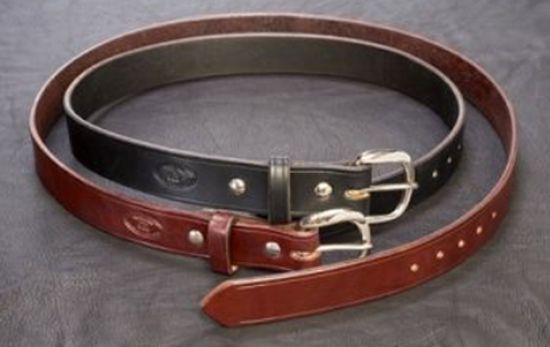 Right now, weck is offering to match the first $20 donation noted after her comment with a $30.
A couple of reminders about why we do this
With 85% of the people on the Cheyenne River Reservation being unemployed at this time of the year combined with cuts to SNAP, more people were going to go hungry this year if it weren't for the existence of Okiciyap. That's why Georgia Little Shield defined the major goal of the pantry as making sure nobody ever goes hungry ever again on her reservation. We honor her memory by raising money toward that goal.
As you can imagine, this is also part of a general trend for increasing food insecurity across the country. In 2009 to 2010, nationwide 20% of families with children had food hardship issues. You can find a good map with updated figures on the Feeding America website. American Indians and Alaska Natives are more likely to have food insecurity issues than the rest of the population. And it's worse for people living in non-metropolitan areas.
The health impacts of this, along with the other problems and structural impediments facing American Indians, are staggering:
American Indians and Alaska Natives die at higher rates than other Americans from tuberculosis (500% higher), alcoholism (514% higher), diabetes (177% higher), unintentional injuries (140% higher), homicide (92% higher) and suicide (82% higher).
Moreover, one of the things that hunger, cold, and poverty can breed is hopelessness among the youth, especially those living in families dealing with alcoholism, domestic violence and other problems. This has lead to astronomical suicide rates among the youth on many reservations, but particularly the Cheyenne River and Standing Rock Reservations. When I visited Standing Rock in 2009, one of the tribal council staff told me that children were using belts to hang themselves inside their closets. So many had attempted or completed suicide that there was a campaign called, "just stand up." Ugh.
THIS is why Georgia Little Shield also wanted a youth development component in the pantry, at the very least so that kids have a safe, warm place to go after school. Their new youth program director, Krista DeAnn, also has lot of traditional knowledge to share.
I was looking at photos for this diary when I came across this one. This was the informal one they had set up in a trailer that Cindy Taylor had lent them for that purpose. If you were wondering how far they've come, a picture is truly worth...
They're letting their little lights shine
Thank you all.
OKICIYAP BACKGROUND


Okiciyap (we help) is a 501(c)(3) non-profit organization, your donation should be tax deductible. Okiciyap, located on the Cheyenne River Reservation in South Dakota, is working to provide a food pantry, youth center, K-12 educational support, GED & Lakota as a 2nd language class support for youth and adults. The word Okiciyap is Lakota for "we help."

Okiciyap lost its founder, Georgia Little Shield in April 2012. Georgia was instrumental in the development of the 501(3)(c) status. In early 2012, she found a building, had it moved and set up to house the food pantry and youth center. Now, the Okiciyap Board is stepping forward to insure Georgia's plans for the Isabel community move forward.

Okiciyap is registered with iGive, which means that your online purchases from participating retailers could automatically generate a donation.

The Daily Kos Fundraising for Okiciyap group was formed to support the pantry. More information is available at the Okiciyap diaries published here at Daily Kos.
Donate Directly to Okiciyap by Check:
Okiciyap
PO Box 172
Isabel, SD 57633




Donate Stuff Directly to Okiciyap:
Okiciyap
506 N Madison Ave
Isabel SD 57633



Books mailed to a 501c charity qualify to use the lowest rate for mailing books/media, called "library media."


Inspiration for the header and footer banner graphics was taken from
the Daily Kos Quilt Guild's auction quilt for Okiciyap