I thought I would do a primer on the upcoming special elections in Kentucky to be held on December 10. By far the most important of the two is in HD-07, where Rep. John Arnold resigned. The other is SD-13, which is an interesting three way race in the urban core of Lexington.
Kentucky Senate District 13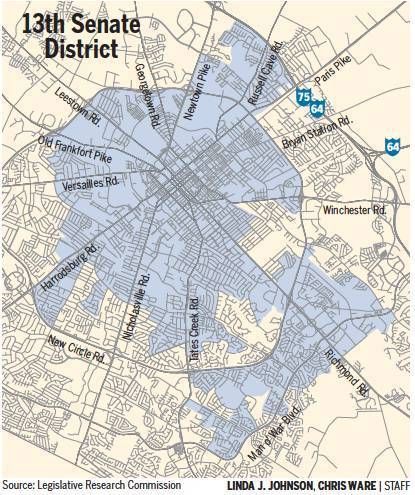 I will only briefly talk about this seat given how firmly Republicans control the Senate. Sen. Kathy Stein (D-Lexington) resigned to become a Family Court Judge in Fayette County. This district is very liberal and Democratic, taking in the bluest precincts in Lexington. President Obama won here by a very large margin, the only Senate district he won outside of Jefferson County. This should be a slam dunk for the Democrats, but the Fayette County Democratic Central Committee chose Reginald Thomas over Urban Councilman Richard Moloney, whose grandfather and uncle held this seat. Unhappy with not getting the nomination, Moloney decided to run as an independent. Republicans chose minister Michael Johnson, who defeated well-regarded Urban Councilman Chuck Ellington II. Johnson has raised only a little more than $6,000, while Moloney has raised nearly $75,000, and Thomas around $122,000. Moloney has went negative on Thomas, raising questions about his leaving him leaving the University of Kentucky School of Law, where he was a professor. He is now a professor at Kentucky State. Thomas has now turned the tables on Moloney, pushing him to state which party he would caucus with. Moloney did not respond, which may be a sign Moloney is trying to take in moderate Democrats and business Republicans who may not be comfortable with the Tea Party aligned Johnson, who is not in league with Thomas or Moloney. In the end, this is likely a race between Moloney and Thomas, but the bad thing for Democrats is the amount of money spent by Moloney and Thomas, much of which could have been used to help other Democrats in 2014, or even in 2013 (especially the $50,000 by the State Party and $10,000 by the Senate Caucus, and that is only as of November 25). Thomas clearly hopes his endorsement by Gov. Beshear and part affiliation will push him over the top.
Kentucky House District 7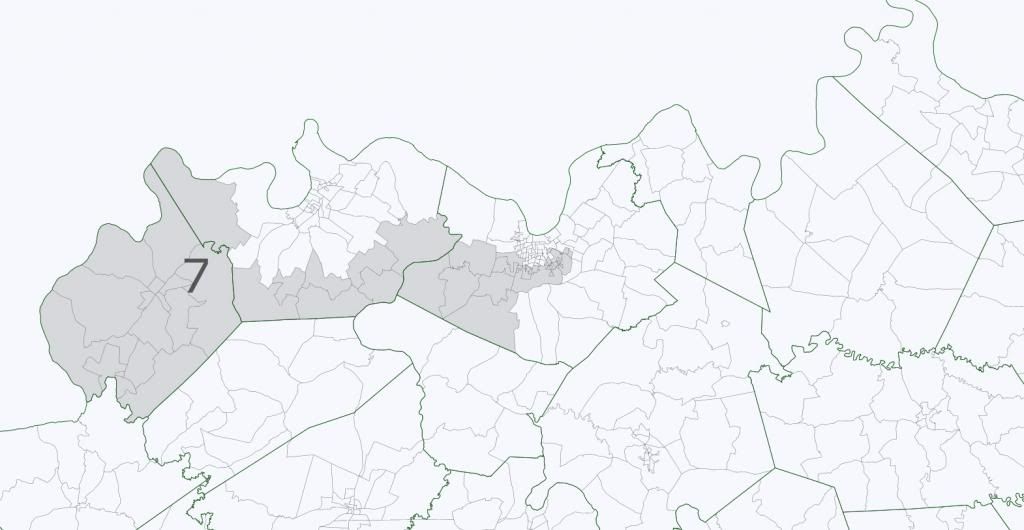 Why are we having a special election here?
During the special session on redistricting, a Democratic member from Louisville got up and without calling him by name, lamblasted Rep. John Arnold (D-Sturgis) for allegations of sexual harrassment against Legislative Research Commission (LRC) staffers. Arnold snuck out of the chamber and disappeared for the rest of the session. The allegations against him continued to mount and Speaker Greg Stumbo (D-Prestonburg) initiated proceedings to have Arnold censured and expelled from the House. Arnold read the writing on the wall and submitted his resignation in September. Gov. Steve Beshear then chose December 10 as the day for the special election, even though he could have called it several weeks earlier. Even with Arnold's resignation, there is a lawsuit against the Legislature and a special committee investigating the matter. Democrats hope there isn't some bombshell that goes off shortly before the election. Right now the House has 54 Democrats and 45 Republicans, so the stakes are high here. A loss for the Democrats could have big ripple effects. Some Democratic House members may choose to retire or even switch parties if there is a loss here. The two names mentioned most often to possibly switch are Rep. Johnny Bell (D-Glasgow) and Jim Gooch (D-Providence), whose district borders this one.
For this election, it will be conducted under the newly passed House map. However, here is how Arnold did under the old map. I will get to how the district changed a little later. Arnold was first elected in 1994, and his last election was quite difficult, with a tough primary and then winning by only 5 votes in the general. Arnold was clearly going to be a target in 2014 even if he had never gotten in trouble. It is pretty clear to me that Arnold would have lost under the new district lines, and by several points. One thing to keep an eye on- watch Davies vs. Union County numbers. Arnold only had an opponent three times, granted each of them was in a good Republican year, but he never carried Daviess County, and his numbers have declined as a percentage in Union County. Arnold also had to survive a bitter primary in 2012 against a challenger from Daviess County, and those scars lasted into the fall.
2012 Election Total Daviess Henderson Union
Tim Kline-R 7,885 (49.98%) 4,000 1,486 2,399
John Arnold-D 7,890 (50.02%) 3,116 1,210 3,564
2012 Primary Total Daviess Henderson Union
John Arnold-D 2,528 233 241 2,054
Jim Murphy-D 1,899 884 274 741
2010 Election- Arnold was unopposed
2008 Election- Arnold was unopposed
2006 Election- Arnold was unopposed
2004 Election Total Daviess Henderson Union
Alan Taylor-R 6,880 (45.93%) 3,554 1,490 1,836
John Arnold-D 8,069 (54.07%) 3,010 1,141 3,918
2002 Election- Arnold was unopposed
2000 Election- Arnold was unopposed
1998 Election- Arnold was unopposed
1996 Election- Arnold was unopposed
1994 Election Daviess Henderson Union
Marty Jacobs-R 3,766 (45.92%) 2,526 431 809
John Arnold-D 4,435 (54.08%) 1,798 456 2,181
How has the district voted in other recent races?
Please note that two precincts in Daviess County, Owensboro #19 and Heartlands were split in the redistricting process, so the numbers in those two precincts are prorated to their shares in HD-07. For this election, the Owensboro city precincts were shifted around to put the Precinct 19 voters in other precincts, and then the Heartlands precinct was split. Heartlands was placed in District 14 and the District 7 voters are in a new precinct called Lake Forest.
2012 President Total Daviess Henderson Union
Romney-R 12,416 (64.36%) 6,873 1,591 3,952
Obama-D 6,575 (34.08%) 3,696 938 1,941
2012 President Dem Primary Daviess Henderson Union
Obama-D 1,693 (39.73%) 625 214 854
Uncommitted 2,562 (60.27%) 682 269 1,611
2011 Governor Daviess Henderson Union
Williams-R 3,123 (34.34%) 2,098 349 676
Beshear-D 5,686 (62.52%) 2,911 802 1,973
Galbreath-I 286 (3.14%) 172 38 76
2011 Secretary of State Daviess Henderson Union
Johnson-R 3,643 (40.89%) 2,410 432 801
Grimes-D 5,263 (59.11%) 2,666 730 1,867
2011 Attorney General Daviess Henderson Union
P'Pool-R 4,099 (45.58%) 2,628 522 949
Conway-D 4,894 (54.42%) 2,483 653 1,758
2011 Auditor of Public Accounts Daviess Henderson Union
Kemper-R 3,926 (45.46%) 2,577 477 872
Edelen-D 4,710 (54.54%) 2,315 703 1,692
2011 Treasurer Daviess Henderson Union
Crosbie-R 3,494 (40.11%) 2,397 410 740
Hollenbach-D 4,887 (56.11%) 2,381 740 1,766
Moellman-L 329 (3.78%) 206 48 75
2011 Commissioner of Agriculture Daviess Henderson Union
Comer-R 5,476 (61.05%) 3,388 710 1,378
Farmer-D 3,494 (38.95%) 1,687 498 1,309
2010 U.S. Senate Daviess Henderson Union
Paul-R 8,289 (55.69%) 4,796 980 2,513
Conway-D 6,594 (44.31%) 3,217 861 2,516
2008 President Daviess Henderson Union
McCain-R 10,959 (56.03%) 6,434 1,405 3,120
Obama-D 6,594 (42.55%) 4,222 1,296 2,804
2008 Senate Daviess Henderson Union
McConnell-R 10,133 (52.30%) 6,171 1,284 2,678
Lunsford-D 9,240 (47.70%) 4,556 1,349 3,335
Party Registration Daviess Henderson Union
Democratic 22,677 (67.93%) 10,218 3,173 8,146
Republican 9,016 (27.01%) 6,477 1,002 1,537
Other 1,691 (5.06%) 1,079 238 374
What is obvious from all these numbers is that when you take federal races out of the picture, Democratic numbers are much better. So the GOP is smart to try to federalize the race. Every state level Democratic candidate won this seat in 2011 except the horribly inept Bob Farmer for Agriculture Commissioner, but Republicans prevailed in federal races. The fact that this seat will be contested in a special election, and not in a federal election year has to make Democrats feel better about this seat. However, Democrats have to be worried about the shift of the district at the Presidential level. While President Obama declined by 8 points in the district as a whole, Union County saw one of the biggest shifts against the President outside of the eastern coalfields in Union County. His numbers here declined by more than 15 points.
Another thing that I would point out is that in the past two Senate elections, this district as a whole was extremely close to the exact percentage of how the state voted as a whole. It was about a point more Democratic in 2008 and nearly hit the exact number in 2010. So this election may give us some clue as to how receptive this district is to how the Senate candidates may play next year, especially given how the Miles and GOP campaigns have went full bore against Obamacare. One thing that makes me feel a little better is that the McConnell puppet posing as a journalist for the Lexington Herald-Leader Sam Youngman, who never seems to write an article not being critical of Alison Lundergan Grimes or Matthew Bevin, while failing to criticize Mitch McConnell, wrote an article saying the race won't mean much for the 2014 Senate race. Since he appears to be conjoined with the McConnell campaign, that leads me to believe that they think Dems have an advantage here.
The Candidates
The Democrat- Kim Humphrey was chosen by the Democrats. She is from Morganfield in Union County and is very active in the community. She has been the county Economic Development Director and currently works for Alliance Coal, which is very important in the Union County, which has nearly 1300 coal jobs, and is now the leading producer of coal in the state. It is also going to be a lot harder to tie her to President Obama- she actually gave money to Mitt Romney in 2012. She has also tied herself very closely to popular Gov. Steve Beshear, who made several campaign stops for her. As of November 25, Humphrey raised $131,095. She has received over $80,000 from state Democratic committees, and several thousand from a number of unions.
The Republican- Suzanne Miles was chosen by the GOP. She is from Daviess County and works for Rep. Brett Guthrie (R-Bowling Green) in his Owensboro office. She previously owned a dress shop and her father was a farmer and was active in the community. A Democratic aligned SuperPAC tried to use her family taking farm subsidies against her, but the numbers didn't add up and one radio station refused to air the add. One thing about Miles- she was a registered Democrat until very recently, but if you look at the registration numbers in the district versus party performance, a whole lot of registered Democrats are already functionally Republicans, they just haven't went to the County Clerk to change their registration, and likely won't- largely because Democrats still dominate most local offices, and the Democratic primary for those offices is essentially the election. Miles is also hoping having the endorsement of the Kentucky Right to Life will help her with turnout in this socially conservative district. As of November 25, Miles raised $128,329. Of that, nearly $70,000 has came from the House Republican campaign committee, and she has also thrown in $20,000 of her own money.
The District
Here is a link to the new House district plan: http://www.lrc.ky.gov/...
This is a rather odd district. It takes in all of Union County, and then takes in Southern Henderson County before it ends up in Southern Daviess County, and even in the city of Owensboro and its suburbs. Redistricting may not have looked like it made many changes here, but it did. Most of Western Kentucky had sluggish population growth over the last decade, and Union County actually lost population. The shifts in population to the Golden Triangle meant the region would lose one district, which ended up being HD-10 in Hopkins County. This had ripple effects across the region. This meant that unless Union County would be joined by other new counties, it was going to have to see some adjustments. The Henderson based HD-11 had to expand, so HD-07 lost precincts in Henderson and Daviess Counties to that change. HD-12 gained more of Hopkins County, so it pulled back from Southern Daviess County. At the same time, Rep. Jim Glenn (D-Owensboro) and Rep. Tommy Thompson (D-Owensboro) were fighting to get all of the best precincts they could find. The result was Arnold was a loser. He used to have some really favorable precincts on the western half of the city of Owensboro. Most of those were lost to Glenn, who had a close call in 2012. These population changes also had another big effect- the majority of voters in the district now live in Daviess County.
The only whole county in the district is Union County, where the Ohio River takes a bend. This is a county much like a lot of other small counties in Kentucky, where most people know each other, and where a major factor for some people's votes is who you are related to. The Democratic candidate, Kim Humphrey is from here, and in fact is distantly related to former Rep. Arnold. One prominent person whose family is from the district is Attorney General Jack Conway, who often cites this in campaign speeches. Despite this, he only beat Rand Paul here by three votes. The county is very conservative, but it is also heavily Democratic. Over 80% of voters here are registered Democrats, and Democrats hold every single local office in the county. The county is different in another way from most of Western Kentucky, in that there is a large number of Catholics in the county, around 30% and nearly as many as Southern Baptists. The economic engine of Union County is coal, and the Western Coalfields have been doing much better than their counterparts in the eastern part of the state. And Union County has been leading the way. In the last quarter, more coal was extracted from Union County than any other county, topping even Pike County. It is certainly no coincidence that Democrats chose someone who works for a coal company, which makes it a lot harder for her to be attacked on the issue. However, Republicans will certainly try to use coal against Humphrey because she is a Democrat. The recent announcement by the Tennessee Valley authority that they are looking into shifting some coal fired plants in the region to natural gas have to make people in the area nervous. One other interesting thing about the county is that there is a large motorcycle rally in Sturgis every year. It is known as "Little Sturgis".
Henderson County has eight precincts in this district. The good thing for Democrats is that like Union County, every single elected official in the county is a Democrat and over 70% of the registered voters in these precincts are Democrats as well. The main purpose of these precincts is to link Union and Daviess Counties and find somewhere to put remaining Henderson County voters. These precincts are not quite as Democratic as the county as a whole. They are about 3-4 points more to the GOP. Despite the small nature of this part of the district, Gov. Beshear made two stops here.
The big prize is Daviess County. There are about 22 precincts here, and this is where Suzanne Miles is from, and where she needs to win in order to offset an expected win from Kim Humphrey in Union County. The bad thing for Democrats is that these precincts are not in downtown Owensboro, and some of these precincts are very large. These precincts are on the outskirts of the city, in the suburbs and in some of the rural areas, and many of them are quite Republican. Even with the Democratic victories in 2011, while Gov. Beshear won these precincts, the races for most of the rest of the ticket were pretty close. Another thing to keep in mind about Daviess County, though it might puritan to the areas closer to downtown is that Daviess County is about 20% Catholic and 30% Southern Baptist. Not quite as much as Union County, quite a bit larger than in most of the Western part of the state. There are several precincts to keep a close eye on, and most them are really bad for the Democrats. These are the precincts that Miles needs big margins: Owensboro #15, #39, and #41, and the big one for the GOP- South Seven Hills, which is has a Republican registration edge, is large, and could give Miles a several hundred vote victory. The only pretty good precincts for Dems seem to be Owensboro #10, Southtown, and Saint Joseph, and they be no match for South Seven Hills. A very late blow to Democrats here could be that the coal fired Big Rivers Power Plant just announced the layoff of 165 workers, thanks to two aluminum smelting plants switching over to natural gas fired power plants.
What is going to happen?
That is a good question. There are many cross currents here. Registration heavily favors Democrats, but recent trends and redistricting favor Republicans. Then you add in the bad weather this weekend cut down on door knocking this weekend (though it increased phone banking for those that did it). Schools were still closed in all parts of the district Monday, and Tuesday will be rather cold, with a chance of more snow. Despite the numbers putting Daviess County in the majority in the new district, Dems did nominate a Union County candidate. Their formula seems to be pretty simple- get an enormous margin out of Union County and win Henderson by small margin in Henderson County, by a total combined margin more than they lose Daviess County by. When it comes down to it, it really seems like a turf battle.
If you look at fundraising, both candidates are very close, and both parties are throwing in quite a bit of money. Gov. Beshear campaigned here for Humphrey, but it seems that most of the major figures in the state have stayed away. Alison Grimes was here for a Tri-County Democratic rally in October, but hasn't been back. Mitch McConnell has not campaigned for Miles, nor has Rand Paul. Humphrey has gotten some help from former Sen. Wendell Ford, and Miles from her boss, Brett Guthrie. However, this race has not received the attention that the one in June received, likely because this seat is in Western Kentucky, while HD-56 was in the Lexington-Capitol Region. This race should be pretty close, and may come down to which county has the higher turnout.
What is the impact of the race?
Currently, Democrats have a 54-45 edge in the House. A Dem win means the GOP needs a 6 seat gain to win the House, a loss cuts that to 5, though most people think of the GOP can get to 49 seats that they will get a couple of Democrats to switch sides. One of the important things for Democrats is in 2014 is limit open seats. The filing period is going on right now, and if Democrats lose this seat, some members may decide to start taking other jobs and not run again in belief that the party will lose the House anyway. A win will allow leaders to convince members to seek reelection. Most state party leaders think that if they can hold the House in 2014, that they can regain some ground in 2016 when they expect Hillary Clinton to lead the ticket. They will just feel lucky they survived the Obama Presidency without losing the House. And speaking of 2016, if the GOP wins the House, expect them to change election laws to allow Rand Paul to run for President and the Senate at the same time. Right now, he has to pick one to file for in January 2016. Another thing to consider is that the Dem map creates several open seats as it pairs several Republicans. Winning an open seat here helps Dems recruit candidates, and hold down their number of retirements.
If Democrats lose this seat, it will be a further blow to Western Kentucky Democrats. District 1 through 22 under the current map are more or less the region of Western Kentucky. Before the 2002 elections, Democrats held 20 of them. Right now, there edge is down to 12-9. If you keep HD-07 as a Democratic seat for discussion purposes, that means that of the 11 seats Dems have lost since that time, seven of them are from Western Kentucky, which was once the bedrock of Democratic majorities in Kentucky.