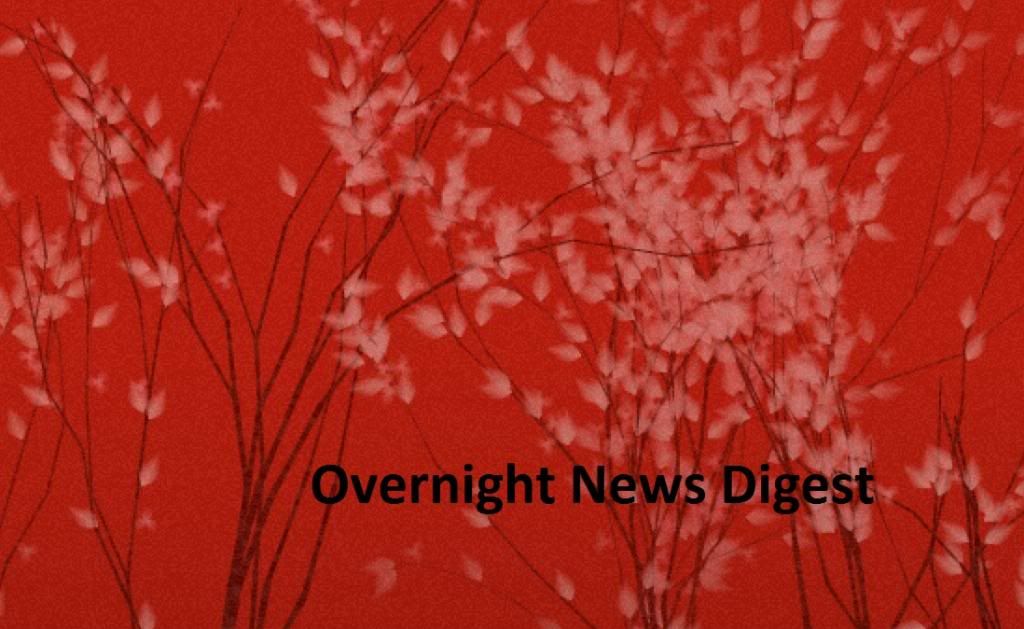 Since no one has put one up, I thought I would fill in for tonight. So I did this quick and dirty, and hope I'm doing it sufficiently right.
OND is a regular
community feature
on
Daily Kos
, consisting of news stories from around the world, sometimes coupled with a daily theme, original research or commentary. Editors of OND impart their own presentation styles and content choices, typically publishing each day near 12:00AM Eastern Time.
OND Editors consisting of founder Magnifico, regular editors maggiejean, wader, Man Oh Man, side pocket, rfall, and JML9999, alumni editors palantir, Bentliberal, Oke, jlms qkw, Interceptor7, and ScottyUrb, guest editor annetteboardman, and current editor-in-chief Neon Vincent, along with anyone else who reads and comments, informs and entertains you.
From the Washington Post: Hospice firms draining billions from Medicare
Hospice patients are expected to die: The treatment focuses on providing comfort to the terminally ill, not finding a cure. To enroll a patient, two doctors certify a life expectancy of six months or less.

But over the past decade, the number of "hospice survivors" in the United States has risen dramatically, in part because hospice companies earn more by recruiting patients who aren't actually dying, a Washington Post investigation has found. Healthier patients are more profitable because they require fewer visits and stay enrolled longer.
From
CNN
:
Poll: This is a 'do-nothing' Congress
The worst Congress ever.

That's the verdict from two-thirds of Americans about the track record of the 113th Congress, according to a new national poll. And a CNN/ORC International poll released Thursday also indicates that nearly three-quarters of the public say that this has been a "do-nothing" Congress.

Two-thirds of those questioned said the current Congress is the worst in their lifetime, with 28% disagreeing.

"That sentiment exists among all demographic and political subgroups. Men, women, rich, poor, young, old - all think this year's Congress has been the worst they can remember," CNN Polling Director Keating Holland said. "Older Americans - who have lived through more congresses - hold more negative views of the 113th Congress than younger Americans. Republicans, Democrats and independents also agree that this has been the worst session of Congress in their lifetimes."
From the
New York Times
:
Deal to Move Okinawa Base Wins Approval
A long-simmering dispute between the United States and Japan over the fate of a Marine base on Okinawa seemed to have been resolved on Friday when the governor of Okinawa gave his approval to move the base to a remote area.

The agreement would bolster efforts by the Pentagon to rebalance American military forces across the Asia-Pacific region and by the Japanese prime minister, Shinzo Abe, to raise his country's strategic posture and check the growing military influence of China.
From
Billboard
:
Rap Genius Gets Squashed by Google for Backlink Scheme
Google has removed Rap Genius' site from its search results following disclosures that the New York lyrics site has tried to game the search engine with a backlink scheme.

The scheme, detailed in a blog post earlier this week by John Marbach, involved getting bloggers to insert backlinks to Rap Genius' lyrics for the new Justin Bieber album, "Journals." In exchange, Rap Genius promised to Tweet a link to the blog post containing the links. Such deals are verboten in Google's book because they can lead to irrelevant or low-quality search results. Rap Genius apologized for the scheme, while simulatenously pointing the finger at rival lyrics sites, saying "We effed up, other lyrics sites are almost definitely doing worse stuff, and we'll stop. We'd love for Google to take a closer look at the whole lyrics search landscape and see whether it can make changes that would improve lyric search results."
From
Wired
:
The Most Amazing Images NASA Took of Earth From Space This Year
NASA's fleet of satellites and its astronauts aboard the International Space Station took a slew of incredibly beautiful images of Earth this year. From erupting volcanoes and wildfire scars to idyllic islands and surreal cloud formations, here are our favorites.

Above, Pavlof volcano in the Aleutian arc erupts in this image captured by astronauts on the International Space Station on May 18, 2013.
From
NBC News
:
Backlash at Japan after PM Shinzo Abe visits controversial war shrine
Japan faced an international political and economic backlash Thursday after prime minister Shinzo Abe visited the controversial Yasukuni shrine which honors the nation's war dead – including those convicted of war crimes.

The United States expressed disappointment at the move, while Japanese auto makers were braced for a consumer kickback that could dent sales, particularly in China.
South Korea termed the visit a deplorable and anachronistic act that damaged ties between the two countries and summoned a top Japanese diplomat in Seoul to protest
"We cannot withhold regret and anger over the visit," said Minister of Culture, Sports and Tourism Yoo Jin-ryong, according to Reuters. In a statement, the U.S. Embassy in Tokyo said Japan's leadership had "taken an action that will exacerbate tensions" with neighbors.

China's foreign ministry called the visit a "brazen" act. "The Chinese government expresses strong indignation at the Japanese leader's trampling on the feelings of the people of China and the other war victim nations and the open challenge to historical justice...and expresses strong protest and serious condemnation to Japan," it said.
From
CBS News
:
Retailers race to clear inventory after lackluster holiday season
Retail shopping was up 2.3 percent this holiday season, according to initial numbers from MasterCard SpendingPulse -- lower than the 3.9 percent increase in holiday shopping the National Retail Federation had projected. If this first snapshot holds, it would be the first time holiday shopping grew less than 3 percent since 2010.

Deep discounts and extended hours could not get Americans to spend as much as stores expected this holiday season, so now retailers are cutting prices even more. Even along Chicago's exclusive Michigan Avenue, stores were offering 75 percent off Thursday. "Retailers overshot the mark, in terms of apparel supply," said retail analyst Craig Johnson. "So there's an imbalance of supply and demand in apparel, leading to all the dramatic promotions you're seeing today."
From the
Sydney Morning Herald
:
Egypt's military gambles with repression
In the wave of bombings and targeted assassinations that has swept Egypt since August, Thursday's bomb blast on a busy street in Nasr City, east of Cairo, caused only a modest amount of damage. Five people were injured, one seriously, the health department reported, and there were no deaths – nothing like the carnage caused by the massive explosion in the northern city of Mansoura earlier this week in which 16 people, mostly policemen, were killed and more than 130 injured. But it was the third time in the last four months that Nasr City, just half an hour from downtown Cairo, has been targeted, exposing what some experts say is a weakness in the country's overstretched security services that has allowed the chaotic terrorist attacks of the North Sinai to reach Egypt's capital.

The violence came a day after Egypt's military-backed interim government announced it had designated the Muslim Brotherhood a terrorist organisation, freezing the assets of its many charities and threatening harsh penalties for those associated with the Islamist movement. It came in a week in which the government announced fresh terrorism charges against the former president and Brotherhood leader, Mohamed Mursi, along with other senior figures in the movement. And it came just days after the jailing for three years of three secular leaders of the January 25 revolution – Ahmed Maher and Mohamed Adel, as well as Ahmed Douma – under Egypt's harsh new anti-protest law.
From
Slate
:
No More Women's Rooms: Why Bathrooms Should All Be Gender-Neutral
Gender-divided bathrooms have long been a point of contention for queer people, especially those identifying as trans*. For those whose gender identity or presentation defies the clear-cut gender binary, the necessary urge to relieve oneself often ends with a painful resignation to either male or female when in public. The result is discomfort for everyone involved: When I androgynously walk into a restroom and am greeted by a negative reaction from another bathroom patron—which has ranged from startled gasps to being shoved back into the stall—I assume their outrage is of the same degree as my frustration at knowing I'm not fully welcome in either restroom.

Campaigns to make gender-neutral bathrooms available have been waged across the country over the last few years. Interestingly, though some have been launched to ensure equality in specific locations, such as Multnomah County, Ore., and Philadelphia, activism aiming to establish gender-neutral bathrooms generally focuses on schools and colleges. These campaigns range from one led by a 16-year-old in Vermont to a recent wave of activism at universities and colleges.
From
Rolling Stone
:
Miley Cyrus Defends Introducing Joe Jonas to Weed
Miley Cyrus defended introducing Joe Jonas to pot when they were teenagers, telling the New York Times, "If you want to smoke weed, you're going to smoke weed. There's nothing that two little girls are going to get you to do that you don't want to do… We were so young that it's actually like, 'How did you get peer pressured by me?'"

The question referenced Jonas' confessional published by New York earlier this month. Throughout the new interview, Cyrus offered a clear, level-headed look at her own career, especially when she examined her place in pop culture after a year in which she regularly found herself at the center of various media controversies, starting with her salacious performance with Robin Thicke at MTV's Video Music Awards. "There was a thing that Kurt Cobain said, something like, 'There's a special place in hell for people that glamorize drugs,' and I never want to be that person that's, like, talking to 16- and 17-year-olds and being like, 'Smoke weed,'" Cyrus said.
From
Defamer
:
Kanye West Celebrates Christmas With Boobs and a Birkin Bag
American artist George Condo, known for collaborating with Kanye West on his "My Beautiful Dark Twisted Fantasy" album art, also collaborated with West on this grotesque hand-painted Birkin bag for Kim Kardashian's Christmas present. I spy four breasts, one butt crack, and maybe some pubes.