This is an Open Thread / Coffee Hour and all topics of conversation are welcome. And as a suggested topic, today lets talk about Rationing.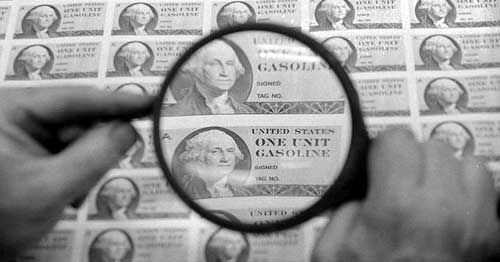 From Wikipedia: Ration stamps printed, but not used, as a result of the 1973 oil crisis
This is an Open Thread / Coffee Hour. How are you doing today? What is for dinner? What is on your mind? All topics of conversation are welcome. If you are new to Street Prophets please introduce yourself in the comments below.
Rationing is the controlled distribution of scarce resources, goods, or services. Rationing controls the size of the ration, one's allotted portion of the resources being distributed on a particular day or at a particular time. - From Wikipedia

In summer 1941 the British appealed to Americans to conserve food to provide more to go to Britons fighting in World War II. The Office of Price Administration warned Americans of potential gasoline, steel, aluminum, and electricity shortages. It believed that with factories converting to military production and consuming many critical supplies, rationing would become necessary if the country entered the war. It established a rationing system after the attack on Pearl Harbor. Of concern for all parts of the country was a shortage of rubber for tires since the Japanese quickly conquered the rubber-producing regions of Southeast Asia. Although synthetic rubber had been invented in the years preceding the war, it had been unable to compete with natural rubber commercially, so the USA did not have enough manufacturing capacity at the start of the war to make synthetic rubber. Throughout the war, rationing of gasoline was motivated by a desire to conserve rubber as much as by a desire to conserve gasoline.
A helpful video about how to identify and use your ration coupons
Many levels of rationing went into effect. Some items, such as sugar, were distributed evenly based on the number of people in a household. Other items, like gasoline or fuel oil, were rationed only to those who could justify a need. Restaurant owners and other merchants were accorded more availability, but had to collect ration stamps to restock their supplies. In exchange for used ration stamps, ration boards delivered certificates to restaurants and merchants to authorize procurement of more products.

The work of issuing ration books and exchanging used stamps for certificates was handled by some 5,500 local ration boards of mostly volunteer workers selected by local officials.

Each ration stamp had a generic drawing of an airplane, gun, tank, aircraft carrier, ear of wheat, fruit, etc. and a serial number. Some stamps also had alphabetic lettering. The kind and amount of rationed commodities were not specified on most of the stamps and were not defined until later when local newspapers published, for example, that beginning on a specified date, one airplane stamp was required (in addition to cash) to buy one pair of shoes and one stamp number 30 from ration book four was required to buy five pounds of sugar. The commodity amounts changed from time to time depending on availability. Red stamps were used to ration meat and butter, and blue stamps were used to ration processed foods.