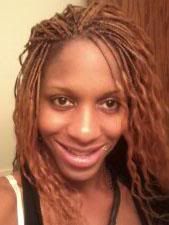 Cece McDonald, a transgender woman who stabbed a bar patron to death after being the victim of a racially- and homophobically- and transphobically-generated attack outside a Minneapolis bar in June of 2011 and was sentenced to 41 months in a men's prison in St. Cloud, was released on Tuesday after serving 19 months. She had also been given credit for nine months of pre-trial time served.
McDonald will be on parole in Hennepin County for the remainder of her sentence, which will end in February of next year.
On June 5, 2011 McDonald and some friends walked passed the Schooner Tavern when bar patrons started shouting racial, homophobic and transphobic epithets. One woman broke a bear stein and sliced McDonald's face with it. The wound later required 11 stitches. During the ensuing brawl, Dean Schmitz, 47, ended up stabbed in the gut by a pair of shears belonging to McDonald, who was a fashion student. McDonald pleaded guilty to the reduced charge of second-degree manslaughter in a plea deal which also involved paying for Schmitz' funeral expenses.
Schmitz' autopsy revealed that he had Nazi tattoos.
In court McDonald said:

I'm sure that to Dean's family, he was a loving, caring person. But that is not what I saw that night. I saw a racist, transphobic, narcissistic bigot who did not have any regard for my friends and I [sic].

--Cece McDonald
Cece was
retrieved from the prison
by Laverne Cox, star of the series
Orange is the New Black
, who is producing a documentary on her, slated to be released later this year:
Free Cece
.
CeCe's out, and she's happy to be out. She's looking good and had a lovely return trip home to be with her close buds and family.

--Roxanne Anderson, program director for the Twin Cities-based Trans Youth Support Network
A welcome-home party was planned for this evening at Intermedia Arts in Minneapolis.
Just as we celebrate CeCe's return home, we're also reminded that attacks against transgender people continue. Just last week, Jewlyes Gutierrez, a transgender student in Hercules, Calif., was charged with battery for defending herself against violent school bullies. Here are two transgender women, women of color, and young people who, just for being who they are, were mercilessly attacked.

--Mara Keisling, executive director of the National Center for Transgender Equality
We send CeCe our warmest well-wishes on this joyous day. It's time we stop re-victimizing young transgender women of color by pushing them into the criminal system. We all need to come together and find ways to prevent the extraordinarily high rates of violence and discrimination against trans women so that there will be no more cases like CeCe's.

--Masen Davis, executive director of the Transgender Law Center