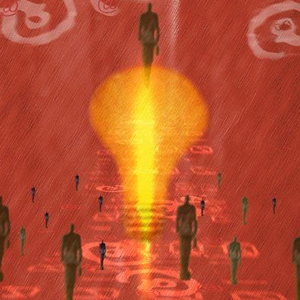 Commentary: African American Scientists and Inventors
by Black Kos Editor, Sephius1


Annie J. Easley (born April 23, 1933) is an African American computer scientist who worked for the Lewis Research Center of the National Aeronautics and Space Administration (NASA) and its predecessor, the National Advisory Committee for Aeronautics (NACA). She was a leading member of the team which developed software for the Centaur rocket stage and one of the first African-Americans in her field.
Annie J. Easley was born to Samuel Bird Easley and Mary Melvina Hoover and was raised in Birmingham, Alabama. In the days before the Civil Rights Movement, educational and career opportunities for African American children were very limited. African American children were educated separately from white children and their schools were most often inferior to white schools. Annie was fortunate in that her mother told her that she could be anything she wanted but she would have to work at it. She encouraged her to get a good education and from the fifth grade through high school, she attended a parochial school and was valedictorian of her graduating class.
After high school she went to New Orleans, Louisiana, to Xavier University, then an African-American Roman Catholic University, where she majored in pharmacy for about two years.
In 1954, she returned to Birmingham briefly. As part of the Jim Crow laws that established and maintained racial inequality, African Americans were required to pass an onerous literacy test and pay a poll tax in order to vote. She remembers the test giver looking at her application and saying only, "You went to Xavier University. Two dollars." Subsequently, she helped other African Americans prepare for the test. In 1963, racial segregation of Birmingham's downtown merchants ended as a result of the Birmingham campaign, and in 1964, the Twenty-fourth Amendment outlawed the poll tax in Federal elections. But it was not until 1965 that the Voting Rights Act eliminated the literacy test.
Shortly thereafter, she married and moved to Cleveland with the intention of continuing her studies. Unfortunately, the local university had ended its pharmacy program a short time before and no nearby alternative existed.
In 1955, she read a local newspaper article about a story on twin sisters who worked for the National Advisory Committee for Aeronautics (NACA) as "computers" and the next day she applied for a job. Within two weeks she was hired, one of four African Americans of about 2500 employees......Read More
~~~~~~~~~~~~~~~~~~~~~~~~~~~~~~~~~~~~~~~~~~~~~~~~~~~
News by dopper0189, Black Kos Managing Editor
~~~~~~~~~~~~~~~~~~~~~~~~~~~~~~~~~~~~~~~~~~~~~~~~~~~

~~~~~~~~~~~~~~~~~~~~~~~~~~~~~~~~~~~~~~~~~~~~~~~~~~~
The woman behind 'The Bondwoman's Narrative'. The New Republic: The True Story of America's First Black Female Slave Novelist.
~~~~~~~~~~~~~~~~~~~~~~~~~~~~~~~~~~~~~~~~~~~~~~~~~~~
he New York Times ran a front-page story in September reporting a scholarly discovery pertaining to American slavery and its nineteenth-century literature. The Times recalled that, back in 2002, Henry Louis Gates Jr., the literary historian, announced that he had purchased at an auction a book-length manuscript called The Bondwoman's Narrative, which bore the coolly sensational byline "Hannah Crafts, A Fugitive Slave Recently Escaped from North Carolina." Gates published the work, and contributed an introduction recounting everything he knew about the manuscript 
and its author.
He knew that a previous owner of 
The Bondwoman's Narrative was a well-
regarded librarian at Howard University, who, by relying on her instincts, judged the manuscript to be authentically what it seemed to be. Gates wanted proof, however, and he assembled a team of curiously specialized investigators, who examined the manuscript from several angles: its paper, which appeared to be from the 1850s (in the judgment of a specialist on paper); and ink, evidently from the same period (in the judgment of an ink specialist); and the text itself, its prose, historical references, 
assumptions, and ideas. The several inquiries converged on a single conclusion, namely that the manuscript had indeed been written by an escaped slave from North Carolina, who must have been a woman and must have composed it sometime 
between 1853 and 1861.
The publication of the manuscript with Gates's explanatory introduction made for a dramatic event, and not merely on antiquarian grounds. Great oppression is always surrounded by a cordon of silence, and, in the case of Southern slavery, the cordon was exceptionally tight. Even the slaves who escaped to the North and managed to compose autobiographical exposés discovered that, once their memoirs had gotten into print, the books themselves fell under attack, as if pursued by a breed of bloodhounds skilled at hunting down texts. The slave narratives were said, by the apologists for slavery, to have been doctored by white abolitionist editors, or to be outright hoaxes—documents manipulated or invented by the militants of the abolitionist cause for the purpose of maligning the philanthropic nature of Southern slavery, or for the equally deplorable purpose of defending, by means of invidious comparison, the unjust capitalist depredations 
in the North.


Sybille Schenker, New Republic
~~~~~~~~~~~~~~~~~~~~~~~~~~~~~~~~~~~~~~~~~~~~~~~~~~~
A mixed legacy to say the least. The Grio: Shirley Temple and Bill Robinson broke some racial barriers while upholding others.
~~~~~~~~~~~~~~~~~~~~~~~~~~~~~~~~~~~~~~~~~~~~~~~~~~~
Child star Shirley Temple Black's life may have taken different turns in adulthood, including ambassador stints to Czechoslovakia and Ghana, but, in death, her on-screen relationship with tap dance master Bill "Bojangles" Robinson is one of her most enduring.
Numerous obituaries never fail to mention the two, although of the more than thirty feature films she appeared in, only four were with Robinson. Their first, The Little Colonel in 1935, and their second teaming for The Littlest Rebel, also in the same year, stand out as the most memorable.
The pairing of the elderly Robinson with schoolgirl Temple was a Hollywood milestone. In her 2012 Huffington Post piece "Shall We Dance? Shirley Temple and Bill Robinson: Hollywood's First Interracial Couple," Constance Valis Hill, author of Tap Dancing America, A Cultural History, referencing the staircase tap dancing scene in The Little Colonel:
"She took his hand and learned his steps, and they danced their way into cinema history as the first interracial tap-dancing couple, albeit a 6-year-old white girl and 57-year-old black man."
Donald Bogle, in his classic book, Toms, Coons, Mulattoes, Mammies & Bucks: An Interpretive History of Blacks in American Films, writes, "Theirs was the perfect interracial love match. For surely nothing would come of it. Indeed audiences so readily accepted them as a pair that in their biggest hit together, The Littlest Rebel, Robinson played her guardian, certainly the first time in the history of motion pictures that a black servant was made responsible for a white life." Bogle goes on to call Robinson's role as "Uncle Billy" in The Littlest Rebel, "the perfect—perhaps the quintessential—tom role."
And it is plenty disturbing. Temple plays Virgie Cary, the daughter of a Confederate captain and Uncle Billy is his and essentially her slave. Along with the other slaves, Uncle Billy holds the Yankees or Union soldiers in disdain and even uses his masterful dancing to raise money for Virgie to travel to Washington D.C. and ask Lincoln to pardon her father.


Shirley Temple Black and Bill Robinson
~~~~~~~~~~~~~~~~~~~~~~~~~~~~~~~~~~~~~~~~~~~~~~~~~~~


~~~~~~~~~~~~~~~~~~~~~~~~~~~~~~~~~~~~~~~~~~~~~~~~~~~
Bob Marley's granddaughter has become involved in a campaign to protect the site of Jamaica's first Rastafarian community. BBC: Row over status of first Rasta village.
~~~~~~~~~~~~~~~~~~~~~~~~~~~~~~~~~~~~~~~~~~~~~~~~~~~
Donisha Prendergast and other supporters are occupying a tabernacle - a Rastafarian place of worship - near the village established by Leonard P Howell in the 1930s, according to the Jamaica Gleaner.
The campaign wants the property - a hilltop called The Pinnacle west of the capital, Kingston - to belong to the Howell family and the community. Prendergast told the newspaper: "We are not going anywhere, one by one we are filing in, we are going to camp out and reason."
It appears that the Rastafarian community may have no title to the land, but they claim they are entitled to use it due to their historical and cultural connection to the site. A quarter-acre plot on The Pinnacle has been declared a national monument, the Jamaica Observer says. But the campaign is calling for the whole area to be preserved.
The dispute over ownership on The Pinnacle has been the subject of long-running controversy, with Howell's descendants fighting court cases against local developers.


Donisha Prendergast says the supporters will "camp out and reason"
~~~~~~~~~~~~~~~~~~~~~~~~~~~~~~~~~~~~~~~~~~~~~~~~~~~
A Senegalese restaurateur and former Iron Chef contestant wants to bring the West African grain to American consumers. Guardian: Fonio: the grain that would defeat quinoa as king among foodies.
~~~~~~~~~~~~~~~~~~~~~~~~~~~~~~~~~~~~~~~~~~~~~~~~~~~
Fonio will be the next quinoa in America, if Pierre Thiam has his way. The chef and restauranteur has big plans for the little grain. In 2008 Thiam published a Senegalese cookbook – Yolele!, which translates to "let the good times roll" in the Wolof language – so that western cooks could easily prepare Senegalese dishes. He even battled celebrity chef Bobby Flay over papaya (and lost) on the garish, dry ice fog infused Iron Chef show, a show whose brashness is an odd fit for Thiam's affable, calm demeanor. Since the late 1990s he's been cooking high-end Pan-African influenced food for his catering company, serving a range of clients from the Clinton Foundation to Mos Def.
His next project is fonio. Fonio is a kind of millet that has a nutty flavor – a cross between couscous and quinoa in both appearance and texture. It has been cultivated in West Africa for thousands of years, and is a favorite in salads, stews, porridges and even ground into flour. It's gluten-free and nutritious because of two amino acids, cystine and methionine, which make it a favorite to be baked into bread for diabetics, those who are gluten intolerant or have celiac disease. It is, in short, the perfect new grain for juice-cleansing, diet-conscious yogis … if they can get their hands on it.
Thiam, a chef and entrepreneur from Senegal living in New York City, is preparing to import fonio by the end of 2014 for mainstream US consumption, working with a women-owned and -operated collective in Senegal near the Mali and Guinea border. Fonio will start its US journey, as so many immigrants do, in New York. In the city's Little Senegal neighborhood, you can order fonio á la sauce mafé, peanut beef stew with fonio.


Pierre Thiam in his natural element. Photograph: Nina Roberts
~~~~~~~~~~~~~~~~~~~~~~~~~~~~~~~~~~~~~~~~~~~~~~~~~~~

~~~~~~~~~~~~~~~~~~~~~~~~~~~~~~~~~~~~~~~~~~~~~~~~~~~
Five of the six Olympic women bobsledders are African American, as former track stars take over the sleds. The Root: How Bobsledding Became a Black Winter Sport.
~~~~~~~~~~~~~~~~~~~~~~~~~~~~~~~~~~~~~~~~~~~~~~~~~~~
Willie Davenport was born in central Alabama and was a college track standout in Baton Rouge, La. He qualified for four consecutive U.S. Olympic track teams as a hurdler, winning the gold medal at 110 meters in Mexico City in 1968 and a bronze eight years later in Montreal, and, in 1982, was inducted into the National Track and Field Hall of Fame. Davenport would later become a very successful track coach.
All of which makes it extraordinary that, arguably, Davenport's greatest Olympic legacy may have been in the Winter Olympic sport of bobsled. After his hurdling career ended, Davenport accepted an invitation to train with the U.S. national team in Lake Placid, N.Y., where the 1980 Winter Games would be staged. He wound up, at 36 years of age, making the Olympic bobsled team as a push athlete and managed a respectable 12th-place finish in Lake Placid.
Amid the "Miracle on Ice" frenzy at that Olympics, bobsled was not even a blip on the American sports radar. However, Davenport's Lake Placid run proved to be a historic milestone, impacting both the sport of bobsled and the overall fabric of the Winter Games: Davenport and his sled-mate Jeff Gadley, a college decathlete, became the first black men ever to compete at the Winter Olympics.
While black athletes remain a small minority among Winter Olympians, their numbers have been increasing steadily with some highly visible success. And nowhere is that more evident than in bobsled. Davenport blazed a path that is still being followed today, revealing bobsled as a sport that was receptive to crossover athletes. In his icy wake, the U.S. bobsled federation would lure NFLers like Herschel Walker, who won football's Heisman trophy as a running back at University of Georgia, and Willie Gault, who won a Super Bowl ring as a wide receiver with the Chicago Bears. Gault made it to Calgary in 1988 as an Olympic alternate, while Walker was the back half of a two-man sled that finished seventh at the 1992 Albertville Games.


Olympic bobsledders Aja Evans and Elana Meyers
GENE SWEENEY JR/GETTY IMAGES


~~~~~~~~~~~~~~~~~~~~~~~~~~~~~~~~~~~~~~~~~~~~~~~~~~~
Welcome to the Black Kos Community Front Porch!
Pull up a chair and sit down a while and enjoy the company.