Good morning, and is this thing on? Welcome to Saturday Morning Garden Blogging.
While you folks to the east have been buried in snow this past week, Denver's bout of cold finally broke. It's been sweater weather here, with the high nudging near 60°.
And every time the snow cover clears in the front yard, more spring bulbs are peeping out of the soil.
The warm weather is forecast to continue for several days, so we may get the back yard melted out, too.
Soon it will be time to start the tomato, eggplant and pepper seedlings.
But first we have the 9th Anniversary Edition of Saturday Morning Garden Blogging next week. And I'm getting kind of worried.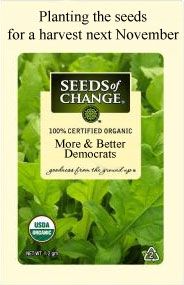 I check the kosmail every day, but we have received no messages with information on candidates for local elections to include in next week's 9th Anniversary Seeds of Change fundraising opportunity.
Perhaps it's just the perpetual problem of primaries and local elections in mid-term years: no one pays attention until it's too late for us to shape who will appear on the November ballot. We're fighting an uphill battle, so I need your help.
I'll be posting diaries through the week to whip up (or at least try to whip up) some interest. I'd appreciate if other garden bloggers would also post diaries through next week. Here's the gist:

• Candidate name and position sought for a municipal, county or state office.
• Some background on the candidate and why you support them (and/or a statement from the candidate);
• Link to website for donations;
• Embed information for any graphic or photo you want included;
• Submission of information by Thursday, February 20, 2014

If you are able, please use ready-to-plug-in formatting so I or another editor can just cut and paste into the diary — I've put up the blank diary so we can start getting it organized — if we get enough submissions to need to get organized!
.
That's what's happening here. What's going on in your gardens?