It's tourist season on Maui now. And we all breathe a sigh of relief because the daily smoke and ash from sugarcane burning is on hiatus. For three months we can breathe without choking on smoke that HC&S (Hawaiian Commercial and Sugar) creates with their antique plantation operation on 37,000 acres of this small island.

Perhaps the "visitors" (as we call tourists) are unaware of cane burning but that's no secret to the residents and causes one of the biggest controversies - pitting the International Longshore and Warehouse Union (ILWU) against the citizens who suffer from their employer's bad environmental practices.
There is, however, a more insidious and almost invisible source of pollution that is silently raining toxics, SOx and NOx down on the children of Wailuku and Kahului - HC&S's coal operation.
According to Henry Curtis of Life of the Land, filings show that HC&S is fires its boilers with about 20-25% coal. About 65% of their fuel is sugarcane bagass (the waste from the sugarcane).
This is in stark contrast to other U.S. sugarcane mills who use almost no fuel outside of their bagass which fires their sugar boilers.
Ah. But those mills don't sell electricity to outside entities and HC&S does. In fact, the HC&S electric sales are extremely lucrative and may form the real profit of their entire "agricultural" operation.
And, to date, they've sold this electricity as "renewable". Worse, the local electric company curtails wind turbines to use HC&S coal energy (which is about 50% more expensive than the wind energy.)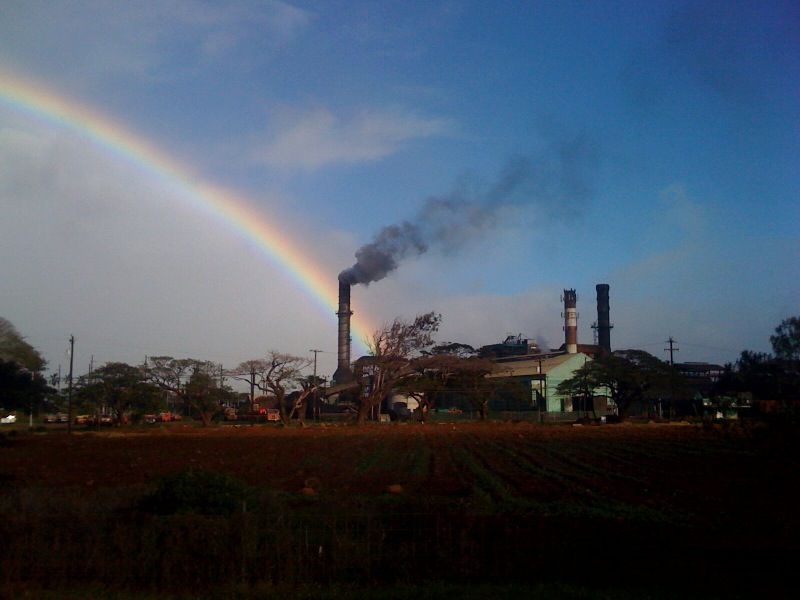 According to Curtis, the Sierra Club has filed an intervention with the Hawai'i Public Utilities Commission. Curtis explains the argument:
The Sierra Club also raised another key issue. If the facility can run on bagasse for its own internal needs, but adds coal to produce stable power for the MECO grid, then "buying power from HC&S is actually increasing the state's reliance on fossil fuels even though Pu'unene burns 'primarily' bagasse."
Thus it appears that HC&S is selling coal energy - not renewable energy.
But HC&S has gotten away with no continuous stack monitoring and appears to have been out of compliance with the Clean Air Act for considerable periods of time because they claim they are a renewable energy generator. Their plants are old (1952, 1973) and grandfathered in. There is some question as to whether they are actually meeting even these older regulations in force at the time the plants were completed.
The EPA has opened an investigation of HC&S's operation.