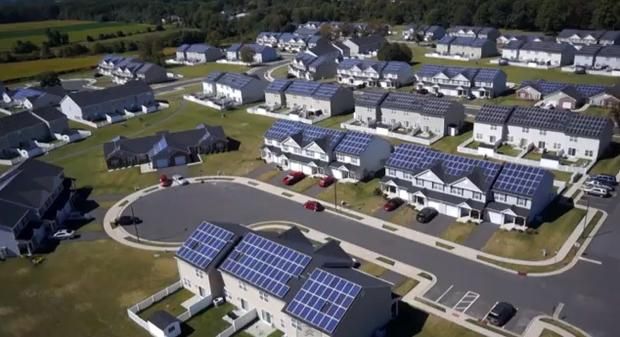 1,000 homes in Fort Dix, New Jersey now have solar roofs funded by Mosaic's "crowdfunding"
Lyndsey Gilpin, of Techrepublic, lets us know How crowdfunding solar power is democratizing the way we finance clean energy. Gilpin tells us Billy Parish dropped out of his junior year at Yale to found the Energy Action Coalition. When he was 21, Rolling Stone named him a "Climate Hero." Most recently Billy Parish teamed up with Dan Rosen to found Mosaic, a web based company enable the "crowd funding" of solar energy projects.

Less than 24 hours after Oakland-based Mosaic allowed crowdfunding campaigns in January 2013 in which investors could pitch as little as $25, they raised enough money to fund four clean energy projects in California for affordable housing projects. More than 400 investors raised $313,000. The investors, on average, paid about $670 each.

Last week, Mosaic launched a new platform on their site, allowing people to finance solar arrays on homes, in addition to the commercial projects already being funded. Since its initial launch in 2010, company has raised more than $7 million in investments through crowdfunding with a 100 percent payback rate. In its seed rounds, Mosaic raised $3.4 million from venture capitalists. In 2012, Mosaic received a $2 million grant from the Department of Energy.

The biggest project to date is installing solar panels on 1,500 military homes in Fort Dix, New Jersey. Another successful project included installing a solar roof on Pinnacle Charter School in Denver, Colorado, which doubled as clean energy education for the students.

Mosaic makes its money by charging a 1 percent fee on each project and a fee for each origination loan. Gilpin reports investors earn 4.5% to 7% return on investment.
In the spirit of full disclosure, I have no connection to this company, employees, or author of this report, although I'm tempted to invest in one of these projects just to learn more about how the whole system works.
This is a long article with lots of details the more interested readers may appreciate. I hope this brightens up you day.