Secretary of Interior Sally Jewell, and Senator Jon Tester hosted a round table discussion with interested outdoors people at the headquarters of the Rocky Mountain Elk Foundation (RMEF) in Missoula Montana Saturday afternoon.
In Secretary Jewell's words, "I'm here with the Rocky Mountain Elk Foundation hearing about what's important to them, about the conservation of public lands, our management of the public lands for the long term health of wildlife as well as the people that live here and the people that come and recreate here,"
Ms. Jewell is a prolific tweeter and a workaholic. The tweets she writes are signed SJ. Like her predecessor she seemingly works every day of the week and all day, probably flies at night. If I'm remembering correctly the Secretary stopped by a ranch and also dropped by Bozeman to give a talk to the Subaru set.
The secretaries talk in Bozeman centered around 3 issues, doing less with less money due to funding shortfalls, less young people interested in the outdoors, and climate change. Questions from the audience were about public access to land, potential coal mining on Indian reservation, and Vegas diverting water from the Missouri which is kind of far fetched. Never can tell what sorts of questions pop up out of the general audience. No one brought up wolves. Also boat traffic in National Parks, and new National Monuments in MT, (no because no recommendations from MT congressional delegation) Also discussion of energy issues and other tribal issues.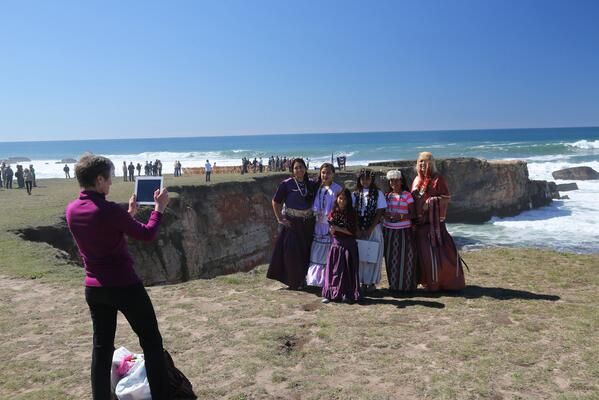 a photo of the secretary taking a photo
The Rocky Mountain Elk Foundation is probably the fastest growing conservation organisation in the US enjoying it's fifth straight year of record membership. They have a simple business model of hosting dinners for their members that cost a hundred dollars a head. The organization's primary mission is to purchase and improve habitat in areas elk inhabit. (They used to call this sort of work "conservation") RMEF as they are known also makes direct grants for research. They get all kinds of accolades for spending almost all their money on actual conservation not PR or advertising or salaries.
The fact that a Democratic senator and a Democratic Secretary of Interior were the guest of the RMEF at their headquarters means nothing in a political way. RMEF is truly non partisan. RMEF is also low key and strives for consensus. No screaming headlines, or scandals, the RMEF quietly does the hard work that is conservation day in and day out.