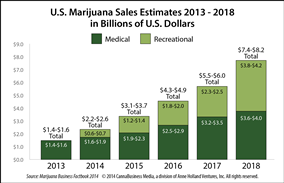 Anne Holland of Marijuana Business Daily reports a New Forecast: U.S. MMJ and Recreational Cannabis Sales to Hit $8 Billion by 2018.

U.S. retail cannabis sales will rise more than five-fold over the next five years, from an estimated $2.2-$2.6 billion in 2014 to $7.4-8.2 billion in 2018, according to new financial data released today in the 2014 edition of the Marijuana Business Factbook.

Although the 2014 estimated sales are right in line with predictions from last year's edition of the Factbook, the 2018 forecast has risen by roughly $2 billion. This lift is largely due to the impact of last August's Cole Memorandum wherein the federal Department of Justice stated it would take a hands-off approach to the cannabis industry as long as companies obey local laws and state regulations and oversight are strict. ... "You could call it the $2 billion memo," remarked Chris Walsh, editor at CannaBusiness Media.

"This total is conservative – the reality of retail sales could be larger," Walsh continued. "Nor does it include wholesale cannabis sales, or the billions of dollars in ancillary cannabusiness revenues such as growing equipment, real estate, legal fees, testing labs, paraphernalia, etc."

Estimates of marijuana sales in the U.S. black market are in the range of $40 billion, leaving much room for growth in the legal market. One question remaining to be settled is whether the extensive regulations and high taxation many states are placing on their legal medical and recreation marijuana sales leave many users finding it easier and more convenient to remain in the black market.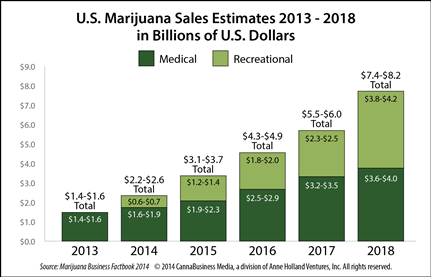 Many of the same folks who complain all day long about excess government regulation seem to know no bounds in their support of regulations when it comes to the "budding" marijuana industry. In some states, every plant requires a special tag, all plants need to be on 24/7 videotape to surveillance websites, all owners, workers, formers, etc must submit to extensive back ground checks, the number of participants is highly limited.
Some one needs to tell these folks to "chill out dudes." Yes, it's high time they take some chill-laxitives, and let these new industries grow naturally. HoundDog adopts his best Governor Christie, oops I mean Tony Soprano, impression, "Those are some nice projections you got there, what a shame if they was to go up in smoke."
My last comment bemoaning excess regulation in the cannabis industry does not mean I'm not concern about "unsavory" elements getting in the industry. We certainly wouldn't want to see something like this.
3:06 PM PT: Please check these other posts I've done today, that quickly feel off the list. The one on the CIA was recommended by our site expert Bobswern and made it briefly to the Rec list. Thanks.
U.S. MMJ and recreational cannabis sales to reach $8 billion by 2018
Bridgegate committee receives names of 75 interviewies from Gibson, Dunn & Crutcher - open thread
A classified report says CIA's 'harsh interrogations' exceeded legal authority, say McClatchy
Industrial agriculture is killing Monarch butterflies says Ellen Moyer