Many of the dozens of environmentally related posts that appear at Daily Kos each week don't attract the attention they deserve. So, in 2006, a new weekly feature was launched to highlight those diaries. Initially called Eco-Diary Rescue, the name was change to Green Diary Rescue after a couple of years. After nearly 17,000 green diaries had been rescued, the name was changed again to
Spotlight on Green News & Views
. The spotlight appears twice a week, on Wednesdays and Saturdays.
Inclusion of a diary in the Spotlight does not necessarily indicate my agreement with or endorsement of it.
Breaking news on Bundy Ranch
—by
nachtwulf
: "It seems that all of his claims are apparently lies. He claims that his family has been using the land since the 1870s, from which his erroneous claims derive. His family actually bought the ranch in 1948, provably, and didn't get cattle until the 1950s. And they bought the water rights to their own property but no grazing rights to the Federal land. Imagine that."
"Working to Save the Amazon & Its Communities": Ecuador, Chevron, & The Yasuni-ITT Initiative, Pt. 1
—by
Randle Aubrey
: "Even the most stalwart of proponents of corporate benevolence are occasionally forced to concede that no major multinational corporation is above a certain level of malfeasance, especially when it comes to the petroleum industry. The global demand for oil is so high that companies will go to disturbing lengths to obtain it, committing all manner of abuses while the general public largely turns a blind eye, easily swayed by multi-million dollar PR campaigns and the promise of cheap fuel for all. Nowhere in recent years has this been more apparent than in the nation of Ecuador, and few companies have committed more atrocities in the name of oil than industry titan Chevron has within Ecuador's borders, according to Flora Lu, professor of Environmental Studies at UC Santa Cruz, Nestor Silva, a PhD Anthropology Student at Stanford University, and Pablo Fajardo, the now-famous Ecuadorian attorney who won a landmark class action lawsuit against Chevron in 2011."
The Daily Bucket : Last Whales of Autumn
—by
Wood Gas
: "These Humpbacks are the last I saw in the fall, a group of three had passed traveling south earlier the same day, that was Sept. 5, 2013. I posted a picture in a comment on the Daily Bucket soon after. These are photos of the same pair, taken from my boat earlier that day. The first humpback I saw returning was sighted April 13, 2014. Clarence Straits, Alaska. [...] Viewing whales from a boat. Treat you neighbors respectfully, don't chase them, do not approach too closely. Sitting still with motor idling so they can track you easily and letting the whales come to you is the best and safest way to observe closely. They can and do avoid boats, but if you see a ring of bubbles immediately in front of the boat a little reverse might be in order, quickly."
You can find more rescued green diaries below the sustainable squiggle.
Earth Day 2014
Earth Day is one day of 365. What about polar ice cap day, rainforest day, corporate plunder day?—by Meteor Blades: "While Earth Day organizers refused checks from Standard Oil, Monsanto and Procter and Gamble, among others, many political activists on the Left viewed the whole affair with suspicion. They saw environmental advocacy in general as a diversion from 'real issues,' such as poverty, racism, the Vietnam War and the imperialism that engendered it. Indeed, just a week after that first Earth Day, on April 29, the U.S. sent troops into Cambodia and, within three weeks, six students had been killed during protests at Kent State and Jackson State Universities. Environmental matters were for many protesters a low priority. But Nelson, an avid opponent of the war, didn't see it that way. After the Cuyahoga River caught fire in 1969, he had come up with the idea for Earth Day based on the anti-war college campus teach-ins he had witnessed. He got Denis Hayes—who eight years later would be my boss at the Solar Energy Research Institute—to coordinate Earth Day doings, Instead of putting out a national agenda for Earth Day, Nelson argued that it should be a grassroots affair with activities set in motion in local communities, not by professional organizers based in Washington, D.C."
MA-Sen: Ed Markey (D) Calls Out Climate Denying Kochs, Pushes For Action On Climate Change—by poopdogcomedy: "Received this e-mail today from Senator Ed Markey (D. MA): Our planet has a fever. A recent report from the Intergovernmental Panel on Climate Change confirms that climate change is happening, that man-made factors are now the primary driver of it, and that if we don't take action soon, our window to reverse the effects of climate change will slam shut. We need to: Increase the production of clean energy technologies to end our dependence on dirty energy like coal and foreign oil. Fix our energy infrastructure, like patching leaky natural gas pipelines, to reduce our impact on carbon emissions while protecting consumers and creating jobs. Hold ourselves to a higher standard of renewable energy use and lead the rest of the world by example."
Sign the petition: Stop Big Oil's assault on the rainforest—by AshleyAllison: "Jaime Vargas, an Ecuadorian tribal leader, stood proudly in the howling wind and rain to send us this urgent plea: 'Big Oil will stop at nothing to destroy our sacred rainforest home. But with your help we can save it!' Jaime and his Achuar people are guardians of a spectacular land teeming with one-of-a-kind plants and animals. But Ecuador's president, Rafael Correa, is racing to sell off the Achuar's rainforest home and the neighboring Yasuni National Park to greedy international oil companies."
Who Speaks for Earth on Earth Day, 2014?—by RandW: "Carl Sagan asked, 'Who speaks for earth?' This Earth Day, who speaks? Who raises their voice for earth? On a sunny Saturday, in conjunction with the San Francisco Earth Day Festival, a thousand feet marched up Market Street for an 'Earth Day Action Parade' for environmental and climate justice. It was a call to action for the earth. [...] Earth Day in San Francisco, once again, had citizens in action, raising their voices for the earth. Mr. Bill McKibben added his voice. It was a start."
"The Government Wouldn't Help Me, So I Decided To Do It Myself." ~ Lois Gibbs—by Marcia G Yerman: "On Earth Day, April 22, the American Masters series on PBS is presenting A Fierce Green Fire, a documentary which timelines the environmental movement's past five decades. Beginning in the 1960s, the one-hour film is chock full of backstory that contextualizes where the struggle is today and how it evolved. There is supporting materials online—including a web-exclusive entitled, 'Women in the Environmental Movement.' [...] Among the individuals on the environmental landscape, Chapter 2's profile of Lois Gibbs captures the quintessential behavioral shift that was part of the 1970s. Gibbs, a 'homemaker,' learned that her community's children were in mortal danger because the town's elementary school was built on a toxic dump — 20,000 tons of chemical waste to be exact. Her 7-year-old son was having health problems and she couldn't find assistance. Gibbs was dismissed by the school's superintendent as, 'One irate, hysterical housewife with a sickly kid.' However, when she started canvassing her neighbors, she learned that her child wasn't the only one with medical problems."
Earth Day 2014: Time to focus on solutions to climate change—by VL Baker: "All is not well with our Mother Earth this Earth Day. We must focus on solutions to the crisis of our warming planet if our species is to escape this century safely. Of course, we must address fundamental changes to our economic and political systems. This takes time of which we are in short supply if we are to heed the warnings of the scientific community. There is much we can do to push those changes forward but there are also individual changes that need to be made. Our agricultural system must be reformed and we can be a part of that change by the dietary choices we make three times each day. This gives us an immediate and simple action which in concert with many can go a long way in preparing us for a new safe future.
The industrial food system, especially livestock production, is a major cause of climate change and has contributed to the massive public health problem of the creation of "super bugs" that are resistant to conventional antibiotics. And because at least one-third of the world's grain is fed to livestock rather than to humans it makes less food available to humans and contributes to food insecurity."
Earth Day, 2014—by Dan Bacher: "Here is an excellent article about Earth Day, then and now, from Dan Gougherty, editor of www.ElkGroveNews.net."
Climate Chaos
CO2 concentration exceeds 400 ppm at Mauna Loa Observatory all month—by HoundDog: "Happy Earth Day. We Just Reached Another Scary Climate Change Milestone, is an excellent article by Kate Sheppard, on carbon Dioxide concentrations that have been measured above 400 parts per million at the Mauna Loa Observatory, in Hawaii for all of the last month. The late renowned scientist, Charles David Keeling, began keeping daily measurements of atmospheric carbon at Mauna Loa in 1958ma and his record is known as the 'Keeling Curve.' 'This is higher than it's been in millions of years,' said Pieter Tans, a senior scientist with the National Oceanic and Atmospheric Administration's Climate Monitoring and Diagnostics Laboratory."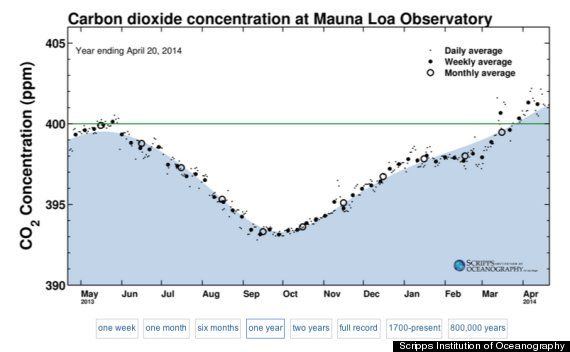 Nate, The Don't Worry Be Happy Weatherman, Silver Will Turn That Global Warming Frown Upside Down.—by pollwatcher: "Some of the most recent science in the study of weather and climate involves the link between weather events and Global Warming. Over the last few weeks we've seen some pretty strong warnings from science based organizations like the IPCC and the American Assn. for the Advancement of Science about the grave impacts that Global Warming is about to have on our civilization.
But Nate Silver takes a different approach, a kind of happy-go-lucky approach to weather and climate. While the rest of the world frets over rising oceans, super droughts, melting ice caps ... Nate's website is kind of reassuring, calming, there's a silver lining around that dark mesoscale supercell coming right at us."
James Hansen at MIT—by gmoke: "James Hansen visited MIT on April 15 and April 16 and gave two public talks. One was for Fossil Free MIT (http://www.fossilfreemit.org), a new student group concerned with divestment, on the politics of climate change, 'Combatting the Climate Crisis: the Path from Science to Action,' and the other was for the climate science community on 'Ice Sheet Melt, Sea Level and Storms,' the subject of a paper he is now working on. The good news is that, according to Hansen, we do not have to worry about catastrophic methane releases from the tundra or ocean clathrates as the paleoclimate record shows there were no such releases in higher temperature periods. The bad news is that, according to a paper Hansen is now working on, we do have to worry about the effects of ice sheet melt on ocean currents and thermoclines as well as the possibility of dramatic wind intensity increases in storms."
Food, Agriculture & Gardening
Poultry Litter—by Robocop: "Although passages like this one from Upton Sinclair's 1906 publication, "The Jungle" led to the creation of the USDA, the meatpacking industry has 'recovered' to a large degree from regulations it endured for about 60 years. The Iowa Beef Packers (IBP) revolutionized the industry in the 60′s by moving its plants from urban areas to rural sites, far from union strongholds, which have been obliterated, and prying eyes. They then proceeded to hire immigrant workers from Mexico, and introduced a new division of labor that eliminated skilled butchers. Other companies, in order to compete successfully, were forced to adopt these new business methods. Today, the top four meatpackers—IBP, ConAgra, Excell and National Beef—control close to 90% of the market. Meatpackers once again suffer from low wages and dangerous conditions. And because profit margins are slim in the industry, the big four companies strive to keep all costs as low as possible."
FDA proposal sparks outrage from brewers and farmers—by Jen Hayden: "The practice of using spent grains for feed has long been seen as both a sustainable practice, keeping tons of grain out of landfills, and an economic boon for farmers, who pay little or nothing for the high quality grains. But now the FDA has proposed a new rule that has both brewers and farmers outraged: The proposal would classify companies that distribute spent grain to farms as animal feed manufacturers, possibly forcing them to dry and package the material before distribution. The equipment and set up to do that would cost about $13 million per facility, said Scott Mennen, vice president of brewery operations at Widmer."
The Global Politics of Food Prices—by marc brazeau: "Joshua Keating at Slate has an excellent piece on the role food prices have political stability and the drivers in the rise in food prices since 2000. That trend is result of the intersection of having maxed out on the amount of food we can produce and the growing global middle class demand."
Kitchen Table Kibitzing - 4.21.14 What's blooming in your garden right now?—by paradise50: "I'm going to post pics of the things blooming right now in your yard. Some of these pics were taken yesterday and others today. Today we have an overcast sky with rain off and on in the forecast beginning tonight. Several flowering things are happening at unusual times, meaning way too damned early. It is what it is. Here is what's left of the lilacs. They normally are only hitting their peak about now through early May. This year, they are about 90% done already. Another plant that bloomed early and is now almost done is our wisteria. It is about 3 weeks ahead of schedule. It got clobbered early in it's blooming by a strong hail storm and so it was about 50% of normal this year. The hail just pummeled it. We've reluctantly decided we will have to remove it this summer because the darn thing is too destructive."
Daily Bucket: My Brown Thumb—by Lenny Flank: "OK, I admit it--I have a brown thumb. Putting a houseplant in my care is a virtual death sentence. Give me a plant, and odds are that within a few months it will be wilted, brown, and dead. It's a curse. In my own defense, though, some of it hasn't been my fault—on occasion the people I have asked to water my plants while I'm away on vacation have been ... well ... less than diligent, and several times I've come home to a shelf full of dead and dying plants. But it's true—I myself can be a bit neglectful, and forget to water them. For a long time. A really long time. :( Nevertheless, I keep trying. Whenever I'm passing the 'gardening' section somewhere and see a plant that I like, I bring it home and give it a try. Many times, the poor plant soon lives its last. But over the years, through the sheer process of natural selection, I've managed to put together a collection of plants that have, so far, survived my brown thumb."
Celebrate Earth Day with Meatless Monday!—by VL Baker: "Tomorrow 4/22 is Earth Day 2014. This gives us the perfect opportunity to actually do something about climate change. There's no better time to join the Meatless Monday movement. Global climate changes–from Greenland's melting ice sheet to rising sea levels are in the headlines now. And a major contributor to many of these ecological harms, particularly the increase in greenhouse gases, is industrial animal food production."
Energy
Fracking in Florida sanctuary? Environmental agency won't say for sure. Only fined $25,000.—by floridagal: "Oil company drilling in sanctuary fined $25,000 for violation that could be fracking. The Texas company that stirred controversy by applying to drill for oil in Florida panther habitat was doing more with one of its wells than what its state permit allowed. I didn't even know there was oil drilling going on in Florida. Guess I am very naive. [...] There's a whole lot going on in Florida in secret ways right now. One Tampa home builder did not disclose until closing that drilling rights beneath the homes had been sold already."
SOLAR ROADWAY via Indiegogo—by prettymeadow: "A couple in Sagel Idaho (Scott and Julie Brusaw) have developed a solar roadway and they are trying to raise funds on indiegogo. The Solar Roadway seems like a great way to give the country it's energy needs and at the same time eliminate the need for snow plows and some signage as the roadway itself can have wording entered onto it via computer and a series of L.E.D. lights. I plan on going to see the solar parking lot they have created at some point this year when I go north on a camping trip this summer. They are located about 135 miles north of where I live, so I don't go up there that often, but I may need to plan a trip sooner rather than later. The city of Sandpoint, Idaho, is planning on putting in a test area of this new, and revolutionary roadway."
Federal judge rules Minnesota cannot bar purchases of coal-fired electricity from North Dakota—by Meteor Blades: "In a 48-page ruling Friday, U.S. District Court Judge Susan Richard Nelson agreed with North Dakota plaintiffs and shot down a part of a 2007 Minnesota law designed to boost renewable energy. Democratic Gov. Mark Dayton has vowed to appeal and fight North Dakota's efforts to sell more coal-fired electricity to Minnesota. The law at issue is Minnesota's Next Generation Energy Act, a key element of which was to reduce the state's use of fossil fuels by 15 percent of 2005 base levels by 2015, 30 percent by 2025 and 80 percent by 2050. Utilities were not to be allowed to buy more coal-fired electricity unless emissions were completely offset. North Dakota sued in 2011, saying the law violated the Constitution's interstate commerce clause."
Fracking
BREAKING: Jury awards $3 million in first fracking case—by TXsharon: "When you present the evidence to six people who know nothing about fracking, they find fracking guilty. I wrote a diary on Daily Kos when Lisa Parr's doctor found drilling chemicals in her blood and lungs. That was back in 2010 when I still had hope that fracking could be done right. I've learned since then that it can't. Today, a jury of their peers awarded Bob and Lisa Parr $3 million dollars in their fracking lawsuit against Aruba Petroleum. The Parr's attorneys said this was the first fracking case to ever go to trial."
A visit to the front in the war against rural America—by Katman: "Last week I took advantage of the beautiful Montana spring weather to drive over to Belfry. There I could see for myself the site of the well that was recently permitted by the Montana Board of Oil and Gas Conservation (BOGC). It was one of those incredible Montana days when Winter and Spring intersect. The temperature was near 70, yet the snow was piled high in Red Lodge, where it was the end of ski season. As I dropped down 2000 feet into Bridger the snow disappeared and it was spring. In Belfry the Beartooth Mountains dominate the landscape, standing watch from nearly 13,000 feet. In one direction I could see the ski runs above Red Lodge, and in another the breathtaking Beartooth Pass that leads to Cooke City and Yellowstone Park. On the clearest days the Grand Tetons lend their wispy beauty from 200 miles away. It's hard to imagine that this gorgeous scene could be the latest front in the war that pits the oil and gas industry against rural America. But it's true: this is Ground Zero for the entry of fracking into southern Montana."
Good Thing It's Not Us, Right?—by richturc125: "An observation worth noting … and pondering, from Ellen Cantarow: Now, a new generation of downwinders is getting sick as an emerging industry pushes the next wonder technology -- in this case, high-volume hydraulic fracturing. Whether they live in Texas, Colorado, or Pennsylvania, their symptoms are the same: rashes, nosebleeds, severe headaches, difficulty breathing, joint pain, intestinal illnesses, memory loss, and more. 'In my opinion,' says Yuri Gorby of Rensselaer Polytechnic Institute, 'what we see unfolding is a serious health crisis, one that is just beginning.' So how do we square this with all the skip-past-the-facts Happy Talk nonsense fossil fuel industry shills routinely dispense to an unknowing public and lazy, cowardly media about this magnificent testament to the greatness of free market ingenuity and technological prowess?"
Keystone and Other Fossil Fuel Transportation
Reject and Protect - NoKXL Fighters Arrive at the Washington Mall - A Photo Diary—by mimi: "This morning the Cowboy Indian Alliance officially opened the Reject and Protect tipi camp on the National Mall. The stage is 100 yards from the Smithsonian Metro Station and thus very easy to reach for anybody, who wants to participate with in the procession [on April 26]."
'Moccasins on the Ground' Aims to Shield People from 'Black Venom' of Keystone XL—by Renewable Rider: "First Nations people started the Keystone XL fight in the U.S. by waking up the world to the survival threats posed by Canada's poisonous tar sands mining. Indigenous leaders now vow to end the Keystone XL fight by vanquishing, once and for all, the northern leg of TransCanada's "black venom" tar sands pipeline. Oyate Wahacanka ('Shield the People'), a project of the Rosebud Sioux Tribe, has erected tipi spirit camps along the northern route of Keystone XL to 'stop progress along the pipeline right-of-way.' Should it need to, the tribe intends to use its 'legal and moral authority' to nonviolently prevent the construction of the tar sands project. [...] Under the tireless leadership of Lakota matriarch Debra White Plume, Owe Aku ('Bring Back the Way') has organized an extended series of 3-day 'Moccasins on the Ground' nonviolent direct action training camps to prevent the construction of Keystone XL North. I had the distinct honor to participate in one of these life-changing gatherings last summer."
Nebraska governor asks state supreme court to overturn lower court ruling on Keystone XL route—by Meteor Blades: "In February, Lancaster County, Nebraska, Judge Stephanie Stacy declared unconstitutional and void the 2011 law transferring authority to the governor for approving the routing of the Keystone XL pipeline. [...] On Monday, Republican Gov. Dave Heineman asked the state supreme court to [...] overturn Stacy's decision. The court may not hear the case until at least September, and probably won't rule until after mid-term congressional elections in November."
Eco-Related DC & State Politics
PA-Gov: PA Dems Call Out Tom Corbett's (R) Lies On Marcellus Shale Numbers—by poopdogcomedy: "Received this e-mail today from the Pennsylvania Democratic Party regarding Governor Tom Corbett (R. PA) and the Marcellus Shale: Maybe you've picked up on it as we have but it can be caught in his re-election announcement, campaign ad, and public speeches. The 'it' being Tom Corbett's adversarial relationship with the truth. Take, for instance, his claims about the Marcellus shale industry. Fact checks repeatedly call out Tom Corbett's crass exaggeration of the number of jobs the industry employs. His lie places the number eight times the real figure."
Governor Brown celebrates John Muir Day as he pushes twin tunnels and fracking—by Dan Bacher: "Governor Jerry Brown issued a proclamation on April 21 celebrating "John Muir Day" - at the same time he is fast-tracking the construction of the environmentally-destructive peripheral tunnels under the Sacramento -San Joaquin River Delta and promoting the expansion of fracking in California. [...] While Brown celebrated Muir's legacy, the record to date in his third term as governor is hardly one that Muir would approve. Brown has signed several good environmental bills, including a bill limiting the number of crab pots used by commercial fishermen and the Human Right to Water bill package, both bills that Arnold Schwarzenegger repeatedly vetoed. However, on the biggest and most controversial issues regarding our oceans, estuaries and freshwater resources, including water exports, fish restoration, the peripheral tunnels, marine protection and fracking, Brown has been firmly on the side of corporate interests that seek to privatize and exploit public trust resources.
The Great Outdoors
Earth Day, Some Things Worth Fighting For—by GreenMother: "A big pink moon shining through the Elms and Pecans. Be sure and treat yourself to night time nature walks. You can hear the nocternal creatures at their business whether it be owls, or opossums or racoons, and in the summer and spring, one will hear a variety of amphibian calls."
The Daily Bucket - 2014 Desert Run—by enhydra lutris: "Desert California—This year's desert run. We try to get down to the desert in our 19 foot travel trailer (and before that, various tents) every year. This year we made it. The general idea is that this is a running narrative of this years' desert run, Where we spent multiple days at one locale, generally only new information will be presented on days subsequent to the first. Overall, there were some of the highest winds I recall for the Indio-Borrego area in decades of visits, with many successive wind warning to wind alert days. This kept us from making a lot of our regular hikes, day trips and related observations."
The Daily Bucket - Desert Photos Side 1—by enhydra lutris: "Anza-Borrego Desert:"

Prickly pear
Critters
An Easter PHOTOdiary: Peeps & climate change—by Eclectablog: "Spring came incredibly late to southern Michigan this year so on Good Friday, my wife Anne and I put our kayaks in the Huron River and set out to document the effects of global climate change on the wildlife of our area. What we found was both stunning and shocking. As we started our journey, we knew something was different. Never before had we seen remnants of snow piles in the forest and along the riverbank this late in the season. And we were not the only ones eager to finally get out to enjoy the warmth.These are Map Turtles (Graptemys). They emerge in the spring after several months of hibernation deep in the mud of the river bottom. But this year, they were weeks late in emerging. And, if you ask me, they seemed a little 'friskier' than usual, too."
Map turtles
A rare win for ocean life-Interior delays decision on Seismic airblasts in the Atlantic.
—by
Pakalolo
: "The decision whether to go ahead with seismic tests for oil and natural gas off the Southeast coast has been further delayed, without a deadline reports Charleston's The Post and Courier. Oceana.org was focused and critical to get this delay. Other environmental groups and activists, including many Daily Kos members, have publicly commented and raised hell to the powers that be on how catastrophic this plan would be to life in the Atlantic ocean and the communities that depend on them. The cities of Carolina Beach, Bradley Beach, Redbank, Caswell Beach, Nags Head, Cocoa Beach, St. Augustine, Cape Canaveral and St. Petersburg have all voted against seismic blasting off their coastlines. The momentum and fury of coastal residents up and down the Eastern seaboard was generated after the U.S. government had released it's final proposal to allow the use of controversial seismic airguns to look for oil and gas deposits deep below the ocean floor in an area twice the size of California, stretching from Delaware to Florida. The final proposal allowing the catastrophic plan to take place was released 2 months earlier."
Dawn Chorus: Nemesis—by lineatus: "If you've spent any time birding seriously, you almost certainly have a nemesis. It usually isn't super rare - it's understandable if you miss out on a one-day wonder, and one miss does not a nemesis make. It takes at least a double-dip (or triple-dip or dip-times-20) to make a nemesis. Lots of people do see the bird, but not you. Such a bird for me was the Black Duck - I've been looking for them for at least 15 years now every time I visited family back east. Casually at first, but increasingly obsessing with each additional trip and miss. (Pretty odd to have Falcated Duck and Baikal Teal on my waterfowl list before seeing a Black Duck.)"
Newly discovered 150 mile mule deer migration—by ban nock: "I never thought mule deer migrated other than elevation changes to get out of the deep snow. That's been the conventional wisdom as far as I could remember. Recently some scientists doing research on muleys down in the Red Desert made this amazing discovery. The Red Desert is roughly the area between Rawlins and Rock Springs. In Wyoming north of the Utah/Colorado/Wyoming border. It's a little lower than the surrounding sage brush and the topography offers some shelter from the fierce winter winds."
Max and the author's socks.
The Cat as Naturalist: A Tribute to An Esteemed Colleague
—by
matching mole
: "I learned a lot about the natural history of our yard from Max. I had seen a short-tailed shrew, probably in distress, on our driveway. From Max I learned that they were common under the mulch. He would stop suddenly and bring his paw down on the wood chips to the sound of squealing below. He was cautious about grabbing them, presumably having learned of their venomous bite earlier in his life. Small rodents such as voles were grabbed instantly if I didn't prevent it. These small mammals weren't stalked, they were encountered haphazardly and captured with lightning reflexes and keen senses. Even under the snow. There was a lot of hidden life in the yard. And he was good at catching it even when I always made him let them go. Rabbits were a different matter. Adults were uncatchable but supremely fascinating. Nothing made his evening more than an opportunity to stalk a rabbit. It quickly became apparent that he was never going to get close to catching one and I let him enjoy himself and the cost of a few minutes of disturbance to the grazing rabbits."
Water & Drought
Bureau to release fish pulse flows on American River—by Dan Bacher: "The Bureau of Reclamation will release "fish pulse" flows, designed to get juvenile salmon downriver to the ocean, from Nimbus Dam from April 21 through April 25. The increased flows were made at the request of the state and federal fish agencies, according to Randi Field, Bureau spokesman."
Sustainability
For Earth Day: Recycling Tips—by Wee Mama: "What better way to celebrate Earth Day than to learn new ways to recycle? Here are a few I've garnered across the years. Newspapers: amazing garden mulch. A layer of newspapers will block weeds better than almost anything else I've tried. With a bit of time they decompose to wonderful loam. You don't need to worry about lead anymore because it isn't used in newspaper ink now. A light topcoat of something that is nicer to look at can finish the newspapers off for the aesthetically minded. There is nothing that I've used that is better for turning bad lawn into good flowerbeds or vegetable garden. [...] Dryer lint: I use dryer lint to make firestarters."
National Parks & Other Public Lands
EXPOSED: The Source Of Cliven Bundy's Crackpot Constitutionalism—by News Corpse: "Now we have evidence of where Bundy may have picked up his constitutional delusions. In a recent media appearance, Bundy was proudly displaying a copy of the Constitution in his shirt pocket. After searching for the distinctive cover of the document in Bundy's pocket, the publisher turned out to be the innocuously named National Center for Constitutional Studies (NCCS). However, the NCCS is not the commendable educational organization it purports to be. It began life as the Freemen Institute, a vehicle for the far-right, Mormon, anti-commie, history revisionist, W. Cleon Skousen. Skousen taught that the Constitution was inspired by a God who intended America to be a Christian nation. He also professed the canon of white supremicism that Anglo-Saxons are descended from a lost tribe of Israel."
Desert Tortoise has state protection, Mr. Bundy—by Blue Tortoise: "Clive[n] Bundy's claim, backed by his supporters, is that he only recognizes State authority. The BLM is following a federal court order to remove cattle in response to a Center for Biological Diversity lawsuit, brought on in order to protect Mojave Desert Tortoise habitat. Well, Mr. Bundy, what do you say to the fact that the Mojave Desert Tortoise has had state protection for 40 years, and is in fact the official State Reptile?"
Cliven Bundy and the BLM Showdown - a Case of Double Standards, Hypocrisy, and Bad Media Coverage—by melshim: "If there is anything that the Cliven Bundy's showdown with the BLM and Fox News coverage of the story revealed, it is that hypocrisy, double standard, and white privilege are still part of our society. This is so because had Mr. Bundy being a nonwhite person the BLM would have enforced the law long ago without any interference from Fox News and from armed militiamen. Ed Schultz on his MSNBC Talk Show said, 'The garbage that Hannity and Huckabee are throwing out there is anti-American. It circumvents a representative government. Armed insurrection against the government. This is what they are advocating.'"
Transportation & Infrastructure
Sunday Train: What's in SUPERTRAINS for Small Town and Rural America?—by Bruce McF: "Note that the plan set down is not a centralized, top-down plan. It involves states, one at a time or in groups, sitting down, deciding what kind of improved rail service would benefit them, working out a desired alignment, and going through the process to get it added to one of the existing systems of HSR corridors."
Eco-Philosophy & Eco-Essays

How Green is Your Money? Uniting Economic Populists and Environmental Activists with SolarCoin
—by
Eric Stetson
: "It's not often that we can do something we believe in and get paid for it, but there is now an organization that pays people to generate solar electricity. The idea for SolarCoin was born in 2011, when cofounders Nick Gogerty and Joseph Zitoli wrote an academic paper proposing a new currency backed by solar energy. When the digital currency called Bitcoin took off last year, they realized that the same technology could be used to power their own idea for an environmentally friendly alternative currency in which the money supply is issued as a reward to people and businesses for generating solar power."
Miscellany

I've got Orchids up the Wazoo Two
—by
Eddie C
: "Just when you thought it was safe to go back to the garden...Orchids 2. Personally I think this is the NYBG's best orchid show ever but I have to admit, I feel that way every year as closing time approaches."
America's green jobs failure—by Laura Clawson: "Remember green jobs? They were supposed to be a win-win for America, simultaneously creating new skilled jobs and moving us toward sustainability. But, as Michelle Chen details, the momentum has died. [...] It's really sad. This is valuable work that business and government alike should be investing in—and it is an investment, something that will yield massive benefits over the years. And while the potential for a lot of jobs right now was overhyped, there should, in the long run, be jobs in green energy and retrofitting and more—and they should pay well, not be just another class of new low-wage work. But all this promise is falling victim to climate change denial, Republican refusal to invest in America's future (or at least its non-military future) and shortsightedness on the part of business."
Earth Day Greenwash: API Front Group Iowa Energy Forum Sponsors Pro-Keystone XL Event—by Steve Horn: "American Petroleum Institute (API) deployed one of its paid consultants—former Obama Administration National Security Advisor General James 'Jim' Jones—to deliver an Earth Day address in the home state of the presidential caucuses at Drake University in Des Moines, Iowa. James Jones used his time on the podium to promote the Keystone XL tar sands pipeline, which another James—retired NASA climatologist James Hansen—once called a 'fuse to the biggest carbon bomb on the planet.'"
Restore the Delta Partners with Global Arts-Activist Collective—by Dan Bacher: "Based out of small-town Machias, across the country in rural Maine, the Beehive Design Collective is an all-volunteer organization of activists, artists, educators and organizers. Their main focus is creating and presenting graphic works about global issues. These portable murals are teeming with intricate images of plants and animals, illustrating surreal but meticulously researched scenes of sociocultural realities in the modern world."
Could It Be True? Tree-huggers at the National Review?!?!?—by lartwielder: "I don't know how I ended up there, but I just stumbled onto this: National Review article 'Obama's Earth Day Travels Will Generate 868 Tons of Carbon.' There really wasn't any point to the article except to talk about how much more carbon Obama was going to be dumping in the air than most other people, but what the author seemed not to realize that by pointing it out, he was making a big deal out of the fact, and, that, therefore implied that he was concerned about it ..."
Middle-aged fat lady on a bicycle—by cordgrass: "First off, my particular situation is very conducive to bike riding. The parking where I work is $30 a day and my employer does not cover it. My employer does cover half of my monthly commuter rail pass. For the last several years I have been using a combination of rail, subway, bus, walking and parking at the commuter rail station to get to work. The parking at the commuter rail station costs $4 a day. In addition, my ride to the commuter rail station is very short and through a residential neighborhood. I only have to cross one busy street, and I usually walk my bike across that intersection. So all of those things conspire to make commuter bicycling very compelling for me—I'm not judging anyone who would have a longer or more dangerous bicycling commute. I'm lucky."