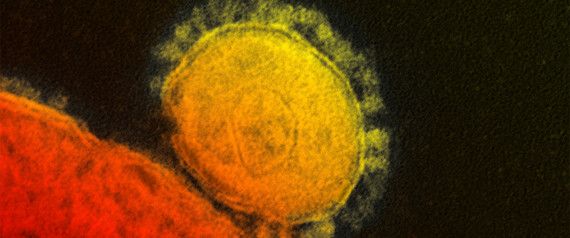 Photo Credit: NIAID via The Canadian Press/AP
Doug Stanglin of USA Today writes Second U.S. case of deadly MERS virus found in Florida

The second imported case of the deadly MERS respiratory virus in the United States was confirmed in Orange County, Florida, Monday and involves a health care provider from Saudi Arabia who arrived in the United States on May 1, the the Centers for Disease Control announced Monday.

The patient, who lives and works in Saudi Arabia, traveled from Jeddah, Saudi Arabia to London then on to Boston, and finally to Orlando, Fla. CDC director Tom Frieden said the patient entered the hospital on May 8.

He said Florida health officials initially determined that the virus was MERS and the the CDC confirmed the finding Sunday night.

The first case in the U.S. was unrelated according to the CDC, occurred in Indiana. That patient has recovered. All contacts have been traced with no secondary cases and the original patient no longer shows any sign of the contagious virus.
MERS is a corona virus related to the common cold and the SARS, aka severe acute respiratory syndrome.
No vaccine exists for MERS. The current outbreaks seems to have started in Saudi Arabia and has spread to United Arab Emirates, Kuwait, Qutar, Oman, Tunisa, Malasia, Jorda, Italy, France and he United Kingdom infecting over 400 and killing about 100.
Scientist suspect camels were the first reservoir animal in Saudi Arabia. Apparently, a case of the virus has been confirms in a bat as well.
Moments like this make me proud to be a Democrat and part of a political part that has supported investments in science, education, and public health institutions such as the Centers for Disease Control, The World Health Organization, The National Science Foundation, and The National Institute of Health which are working hard to protect all of us from viral contagions such as MERS.
How much more challenging can it be to take politicians such as Senator Marco Rubio of Florida and so many of his Republican colleagues seriously when the deny climate science? On what basis then to join the CDC in their heroic front line battle to protect Floridians from these dangerous viral epidemics if Rubio rejects the same basic scientific methodologies that modern biology and health sciences are based on? Will Florida media ask Senator Marco Rubio is he will show up at the next CDC press conference in Florida dress in the outfit of a witch doctor to ward off evil spirits to protect citizens of Florida from the threat of this virus?
Because from what we can tell so far, this seems to be Rubio's plan for address the potentially devastating impact of rising sea level change on Florida's coast line. In the 21st century we need political leaders who understand and support science. Ignorance is no excuse for jeopardizing Florida's public safety.