The March for Democracy to get money out of politics. started today at LA City Hall. We walked about 12.5 miles to Burbank City Hall. OPOL diaried about it 2 days ago;
Something big is brewing in California
Here is Kai Newkirk speaking. He is the one who put this march together as the leader of 99 Rise.
Marianne Williamson also spoke at the kickoff event and she speaks at the next LA Kossack meeting next Saturday.
Derek Cressman, my favorite candidate for CA Secretary of State also spoke and he marched with us.
And we marched and marched in the hot sunny day. Last time I walked so long in one day was 40 years ago.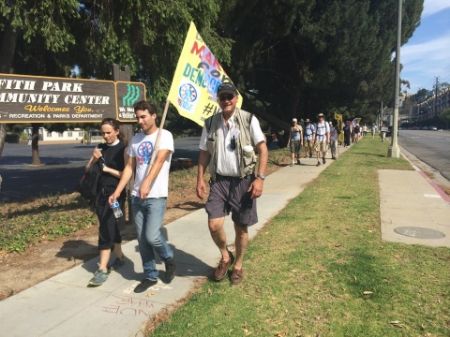 And we made it to Burbank. Tomorrow we march to Sylmar and then on to Sacramento. I will go as far as Sylmar and I'll rejoin the march in different segments and in the last one to Sacramento on June 22. Where Dolores Huerta is waiting for us. The march she organized with Cesar Chavez was the inspiration.