Yesterday Sunday was the 9th day of the March for Democracy from Stallion Springs to Arvin. On Tuesday night they arrive in Bakersfield about 25 miles from Arvin. On June 22 they arrive in Sacramento. IMO, they have done the most difficult segment through the mountains. They still have hundreds of miles to go but the terrain will be easier.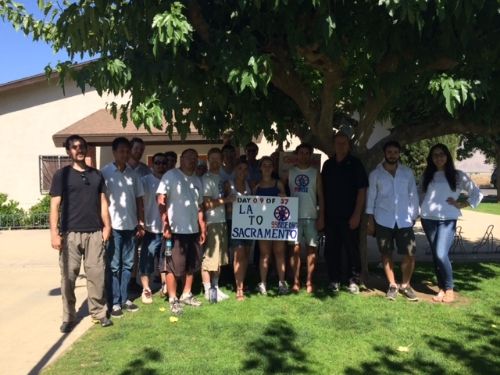 This are other diaries written about the march;
By OPOL; Something big is brewing in California
By Words in Action; If You Don't Like Money in Politics
By me; March for Democracy Day 1 March for Democracy Day 3 and 4
I marched Day 1 and Day 2. Along the way I'm pitching in with logistics support.
I went to Arvin with Michelle of MsGeekMedia to conduct an interview with Kai Newkirk, the leader of the march. (BTW Michelle has been a bit inactive but I believe she'll return as her old self Pris from LA)
If you want to understand what this March for Democracy is all about watch this short interview;
As Kai said, whatever you can do is welcome. Check out the 99 Rise website to learn more.
March Stops