The March for Democracy arrived in Merced yesterday.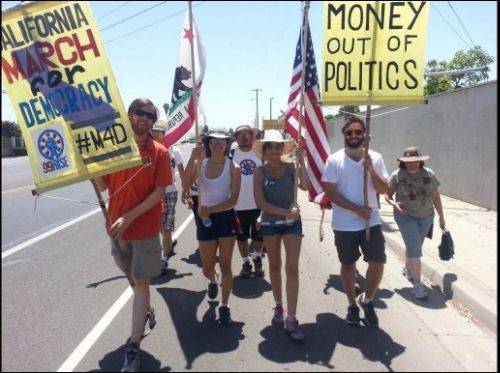 The idea is simple. Go to Sacramento and ask for a resolution to end the corrupting influence of money in politics by doing these 3 things;
1. Pass a resolution for a federal constitutional convention to address the issue with an amendment.
2. A voter instruction in the ballot to let everyone in California decide that we need this amendment, the 28th Amendment.
3. Passing the Disclose Act, which is already moving through the legislation in Sacramento.
Hear Kai Newkirk of 99Rise explain it in more detail;
I will walk with them on June 21 (when Dolores Huerta will speak) and 22 when they get to Sacramento. I'd love to see other Kossacks there too.
Or maybe you can drop by and walk a mile with them when they get by Stockton.
Past diaries;
By OPOL; Something big is brewing in California
By Words in Action; If You Don't Like Money in Politics
By Dave in Northridge; May 17 - The California March for Democracy Kicks Off (UPDATED with Route Map)
March for Democracy Day 3 and 4
March for Democracy - Day 9 - Interview with Kai Newkirk
The March for Democracy arrives in Bakersfield and Dolores Huerta joins them
Day 18 - Lawrence Lessig joins the March for Democracy towards Visalia
March Stops