The Chicago Tribune just published a series of articles on oil trains passing through Chicago in ever increasing numbers. Kudos to Richard Wronski for the fine series.

As many as 40 crude oil trains, each carrying a million or more gallons of the flammable liquid involved in several recent fiery derailments, roll through the Chicago area weekly, documents obtained by the Tribune show.

Although mile-long trains hauling scores of black tank cars have become a common sight in the past year, the documents provide the first public tally of the volume of such shipments passing through the nation's busiest rail hub.
Thanks to the great North American oil rush, railroads are investing a ton in new rolling stock to carry crude from oilfield terminals to refineries. They need all new rolling stock because the old tanker cars had a nasty habit of going napalm upon derailment. Out of the goodness of their heart after the
Lac-Megantic incineration
, they will now only use lined (less likely to explode) tankers. According to the US Department of Transportation, the old cars were "susceptible to damage and catastrophic loss of hazardous material."
The Tribune series raise some interesting issues, starting with the size of the oil-by-rail boom. Oil tanker traffic through the Chicago rail hub jumped off the charts in the past year. My favorite quote:

Aurora Mayor Tom Weisner says he's not surprised at the numbers, adding he sees BNSF crude oil trains every day from his office window. Noting that Bakken crude shipments have increased more than 4000 percent since 2008, Weisner said, "I would say our chances of having some kind of issue in Aurora have gotten worse by about 4000 percent as well."
In other words, oil transport has become a very big revenue generator for the rail industry. The trend line is astonishing.
Their numbers continue to rise. U.S. railroads hauled more than 400,000 carloads of crude oil in 2013, up from 9,500 in 2008, according to the Association of American Railroads, and the load has grown in 2014.
For all that increased traffic, you might think that the railroads would want to work with municipalities with tanker traffic to create emergency response plans. In the real world, tanker traffic has been declared a state secret.

The railroads said they consider information about the number of crude oil carrying trains and their routes to be "highly confidential data." The BNSF, for example, cited multiple federal statutes in its letter to the state and insisted that for business and security reasons, only emergency responders like fire departments should know where and how often these trains travel.
Some states have kept all information on oil train traffic from the public, places like Ohio, Pennsylvania, Nebraska, and Oklahoma. New Age Corporate Libertarian Paradises. Illinois, home and hub for several of the largest rail lines, has also sided with the railroads.
Although it released data on the number of trains, the Illinois Emergency Management Agency said it withheld maps of the routes partly because the material contained "trade secrets or (proprietary) commercial or financial information."
New York is one of the states that
ruled against
the rail industry's demand for secrecy about the oil-by-rail boom. So did the U.S. Department of Transportation last month.
Federal officials reached a similar conclusion in June, ordering railroads to give state officials details about oil-train routes and volumes so emergency responders can be better prepared for their duties.

Railroads sought to keep the information secret, arguing that information on oil train routes and volumes are security sensitive. The issue followed a string of fiery accidents. A derailment and explosion in Quebec last July killed 47 people.
The Tribune found that almost no local emergency services are prepared to handle a large scale "catastrophic loss of hazardous material." Sounds like emergency responders have a big job ahead of them.
Few Chicago-area fire departments are equipped to respond effectively to the kinds of roaring infernos that have occurred when multiple tank cars carrying flammable liquids derail and explode, the Tribune reported in May.
The Tribune article focused on traffic volume and potential threats to public safety. Two additional implications could have been raised. One is that all this new freight traffic will create additional barriers to expand passenger rail. In the Chicago area, the commuter rail lines use the very same tracks as the oil trains. The second is the climate change elephant in the room.
In the Chicago area, a lot of people live near the tracks now filled with oil trains. It just so happens that my son's condo looks out over a major rail artery west of Chicago. I thought I would share a few pictures.
At least once a day you can see an oil train parked on the tracks that run through the village. Here is one of them.
Looking west: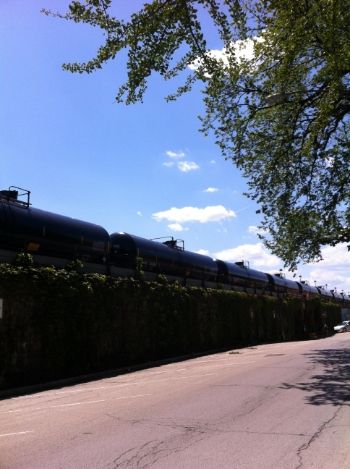 Looking east to the Chicago border:
In the bottom right of every car is a red flammable diamond with the number 1267 in the middle. 1267 is railroad code for crude oil.
This particular train stretched for over two miles. I know that because it spanned across the entire village. As a matter of fact, this one even stretched into the next township.
What a backward energy policy we have in this country. And thanks to corporate rule by the fossil fuels industry, future generations will be cast into the gates of climate change hell. Bless their tiny little hearts.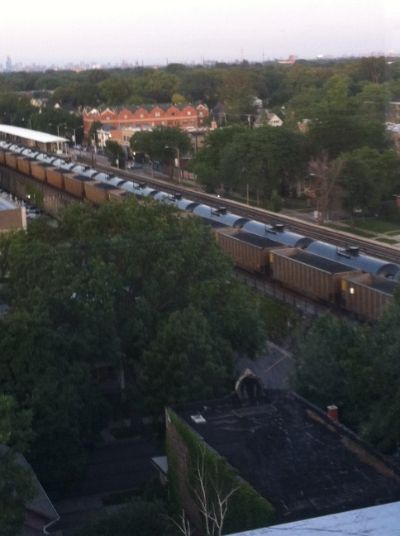 Did I mention that the oil trains and Chicago Transit Authority lines run in close proximity in places?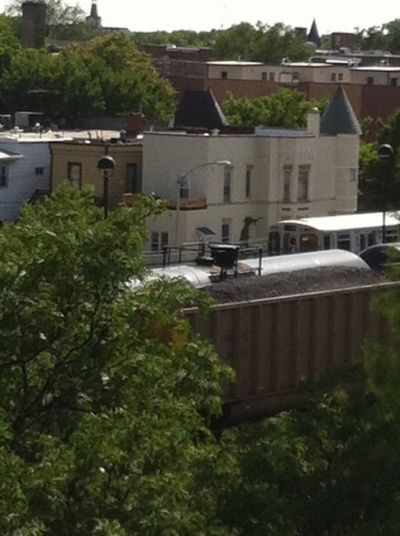 What could possibly go wrong?