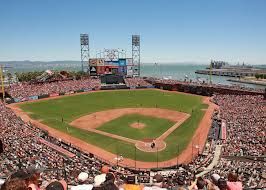 OhBoyOhBoyOhBoy! I get to go to the ball game on Tuesday! To beautiful AT&T Park in San Francisco. I love this ball park (except for the corporate name, of course.) And I love the Giants.
As you can see by Itzl's concerned look, this group is for us to check in at to let people know we are alive, doing OK, and not affected by such things as heat, blizzards, floods, wild fires, hurricanes, tornadoes, power outages, or other such things that could keep us off DKos. It's also so we can find other Kossacks nearby for in-person checks when other methods of communication fail - a buddy system. Members come here to check in. If you're not here, or anywhere else on DKos, and there are adverse conditions in your area (floods, heatwaves, hurricanes, etc.), we and your buddy are going to check up on you. If you are going to be away from your computer for a day or a week, let us know here. We care!
IAN is a great group to join, and a good place to learn to write diaries. Drop one of us a PM to be added to the Itzl Alert Network anytime! We all share the publishing duties, and we welcome everyone who reads IAN to write diaries for the group! Every member is an editor, so anyone can take a turn when they have something to say, photos and music to share, a cause to promote or news!
OK, we do have a diary schedule. But, when you are ready to write that diary, either post in thread or send FloridaSNMOM a Kosmail with the date. If you need someone to fill in, ditto. FloridaSNMOM is here on and off through the day usually from around 9:30 or 10 am eastern to around 11 pm eastern.
Monday:
BadKitties
Tuesday:
ejoanna
Wednesday:
Caedy
Thursday:
art ah zen
Friday:
FloridaSNMOM
Saturday:
Dave in Northridge
Sunday:
loggersbrat
We almost always take the Larkspur Ferry to the park.

The ferries dock right near the Park.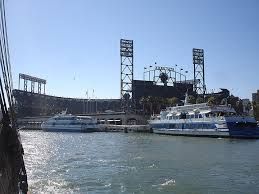 And these specially-scheduled boats are chock-full of Giants fans, all in great moods on the trip to SF.
The Park itself is now a landmark on the SF waterfront: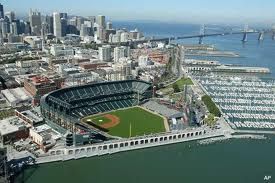 With whimsical details like the giant Coke bottle and the equally enormous glove: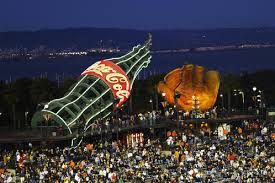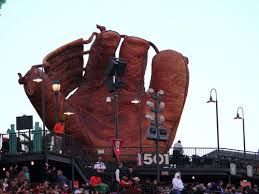 And whom, pray tell, are the Giants playing tonight? Why the Pittsburgh Pirates, that's who! They have a gorgeous ballpark too, PNC Park (Haven't been there yet.)
But their main attraction for me is the marvelous Andrew McCutchen. I don't usually give shout-outs to non-Giants MLB-ers, but for A.M., I make an exception.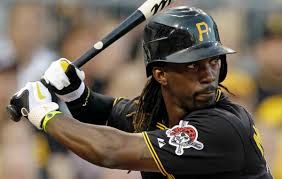 He is terrific.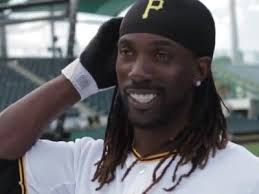 But of course I root for him only when the Pirates are playing some other team, like, you know, The Dreaded LA Dodgers.
If the Giants win, as we ferry home, we'll enjoy the view of the light display on The Bay Bridge even more. . .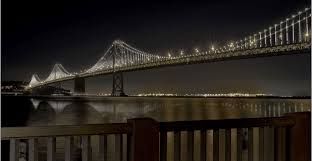 But win or lose, it's a magical ride: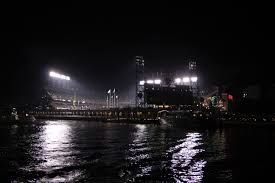 From a magical place, day OR night!