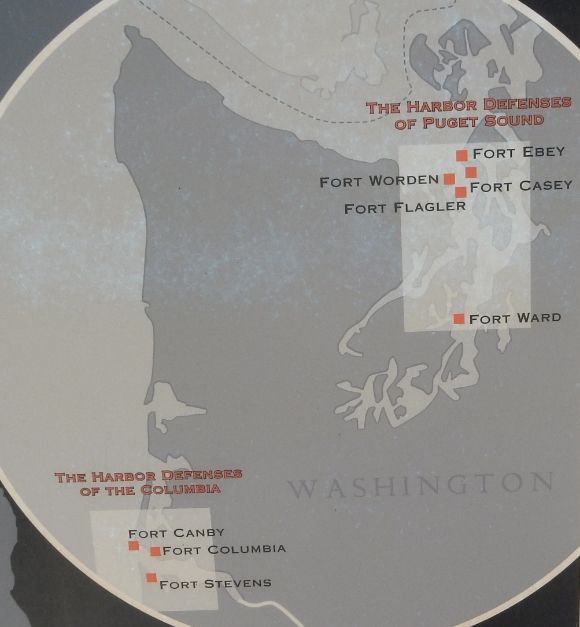 Fort Canby, Fort Columbia, and Fort Stevens were established as the harbor defenses of the Columbia River. From the mid-nineteenth century until the end of World War II, these forts protected the Columbia River from enemy warships. Relying on the world's best and most modern military technology of the time, the forts housed big guns.
Construction of Fort Canby began during the Civil War in 1863 and the first troops arrived the following year. It was originally named Fort Cape Disappointment and then in 1875 it was renamed Fort Canby to honor General Edward R.S. Canby who was killed during the army's conflict with the Modoc Indians.
The fort's original fortifications consisted of three earthwork batteries—Lighthouse, Left, and Center—which were armed with smoothbore canons aimed at the mount of the Columbia River. The three batteries were meant to house 22 guns, ranging from an 8-inch bore to a 15-inch bore.
The fort's defenses included Rodman guns and several 10-inch Parrott guns. The 10-inch, 617 pound shells fired by the Parrott guns were designed to penetrate the exterior armor of enemy ships. "Big Betsy," a 15-inch Rodman gun, was a smooth-bore type that dominated artillery design in the nineteenth century. The first time "Big Betsy" was fired it broke the glass in the nearby Cape Disappointment Lighthouse.
Following the Civil War, the fort was neglected and its armament became obsolete. In 1896, the Army began a project to renovate and modernize the fort and its guns. Two new batteries—Battery Harvey Allen and Battery O'Flyng—were constructed using concrete. Five new rifled guns were installed.
In 1921, a new mortar battery—Battery Guenther—was added to the fort. Four 12-inch mortars from Battery Clark at Fort Stevens were installed.
In the era between World War I and World War II, Fort Canby was staffed by a sergeant and two enlisted men as it was in caretaker status. In 1941, the fort was reactivated. The fort remained an active military post until 1948. At Battery Harvey Allen, visitors to the Cape Disappointment State Park can wander through the old ruins of the fortification.
Today, the cement ruins of Fort Canby are a part of Cape Disappointment State Parks. Tourists can explore the cement ruins reminiscent of European castles and ancient Roman edifices. Like the ancient Roman ruins, it will stand in 2,000 years as a monument to American civilization and its achievements. Shown below are some photographs of the ruins.