Colleen Hanabusa is doubling down on her support for dirty coal emissions in her challenge against environmental champion, Senator Brian Schatz.
Claiming (falsely, as it turned out) that implementing the EPA tougher coal-fired boiler standards would "cost 800 jobs" at the dirty HC&S sugar mill on Maui, Hanabusa broke with most Democrats and all of the Hawaii delegation (including the Representative from Maui) and voted for the GOP's "Regulatory Relief" act - yet another GOP attack on the EPA.
BACKGROUND
The sugar plantation (HC&S) is the only remaining operation of its kind left in Hawaii. High land, labor, and water costs make any commodity that competes worldwide infeasible, which is why the other plantations are gone. (We'll explain why HC&S is still in business lower down.) Niche products that trade on the Maui name are much more profitable.
All sugar plantations in the U.S. create 99% of their process heat and plant electricity by burning bagass (after-process sugar cane residue)
HC&S stays profitable by burning coal and selling electricity to the local utility - not because of its sugar operation, which on its own would not be viable.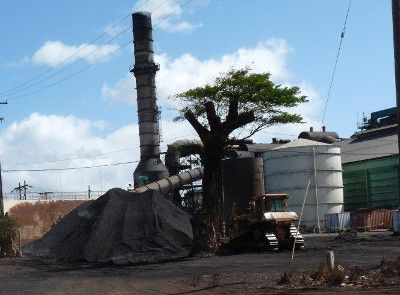 Interveners in their most recent Power Purchase Agreement with the local utility maintain that the electricity is not "renewable" since the amount of electricity being sold exactly equals the amount of coal HC&S burns. If HC&S were not burning coal, there would be no excess electricity to sell - just as the other U.S. plantations have no excess energy available.
That hits HC&S in the wallet because non-renewable energy fetches a lower price. More importantly their contract which idled the wind turbines in favor of HC&S coal generated power is out the window. They'll have to sell their power when the wind is inadequate. That is why they lowered their electricity sales from 9% of Maui's load to 5%. Another blow to their bottom line.
HANABUSA STANDS WITH TEAPARTY TO "FIGHT THE EPA"
"I think that one of the things that we needed to do here was to take that vote, and to make a strong showing, and to show that it was bipartisan. It wasn't just Republicans who were fighting the EPA." (From the Star Advertiser)
Schatz shot back
:
"The EPA has shown a willingness to be flexible when it comes to Hawaii. And if she wanted to get the attention of the EPA, there was no need to undermine the Clean Air Act and vote with tea party Republicans."

"[she] continues to think that we have to make a choice between a clean environment and a strong economy. And she's flat wrong. That is not the choice that we have to make. We can and should fight for clean air and clean water and strong economic growth at the same time."
Hanabusa is reaping the rewards of voting for an industry bill as the mill's union, ILWU, is one of the very few unions to sign up behind her. Most other unions are backing the genuinely pro-labor, Brian Schatz.
HC&S GETS CITED UNDER 1974 STANDARDS
Never mind the 2015 standards. Turns out the new EPA rule which HC&S doesn't have to obey until 2015 is irrelevant because they've just been cited for not even having the required pollution control from 1974 in place!
On June 24th, 2014, the Hawaii Health Department cited HC&S for excess emissions and reporting violations for alleged incidents between 2009 and 2013 in Puʻunēnē on Maui. They were fined $1,335,000 and will continue racking up fines until their emissions equipment is brought up to standard (not 2015 rules - the older rules.)
TAIL WAGGING THE DOG
By its own admission HC&S would be out of business if it couldn't sell its coal-produced electricity to the local utility. The sugar plantations in the U.S. got a special carve out that exempts them from most of the EPA emissions standards.
If HC&S were just burning bagass like the other U.S. plantation mills, they wouldn't be subject to the coal emissions rules (1974 or 2015.) But HC&S's sugar operation appears just to be an excuse to produce utility electricity without putting in adequate (and expensive) emissions control equipment. Problem is, that they decided to burn coal to produce that excess electricity for sale.
Given their recent citation, it appears the Hawaii State Department of Health has figured out that HC&S isn't burning bagass alone and that they've been burning coal on the sly without proper emissions control. And burning a heck of a lot of coal!
HC&S COAL EMISSIONS HARMING HEALTH
Modeling by the Sierra Club of the NOx plume shows that the emissions hit residents of Kahului and Wailuku heaviest. These towns are primarily ethnic Hawaiian and, ironically, plantation workers and their descendents. In fact the plantation's "Dream City" for their workers is square in the path of the plume.
So we, the people of Maui, want to say a sarcastic "thank you" to Colleen Hanabusa. Thank you for contaminating our local children with heavy metals. Thank you for letting our kids breath lung-searing SOx and NOx. Thank you for joining the GOP and voting against our own Representative Mazie Hirono who supported us in getting tougher standards on coal emissions.
And most especially thank you for siding with industry against our health.