Reprint rights to this article are hereby granted.
You may post all of it or part of it to the blog of your choice.


[UPDATE BELOW]
I ran across some information that offers another way to think about and remember Mike Brown and his ongoing contribution to society.
Mike was a big guy who his family called their "Gentle Giant." He was built to be a high school football player -- direct from central casting -- but Mike was too timid for the sport. According to friends and family, he had never been in a fight in his life. And, of course, it logically follows that Mike Brown had never had a criminal record or a single run-in with the police. He lived with his parents and threatened and intimidated no one. At school, he was that kid who was full of jokes and trying to make others laugh.
Still... Mike Brown was a big guy. And he was black, living in a majority black town of 21,000 residents ruled by a white police force.
Although his home town, Ferguson, has a poverty rate about twice Missouri's average, it could boast some major industries where many were employed, including the world headquarters of Emerson Electronics, a $24 billion company. Also in Ferguson is Express Scripts, a national pharmacy benefits manager that employs thousands in the St. Louis area.
There were opportunities in place -- and ten days before he was shot to death -- Mike Brown achieved the greatest victory of his young life:
He earned his diploma on August 1st, through sheer dogged persistence. Not only that -- Mike was accepted and enrolled into a vocational school specializing in air conditioning and heating, a career journey into the future, which was to begin just days after he was murdered by the Ferguson police.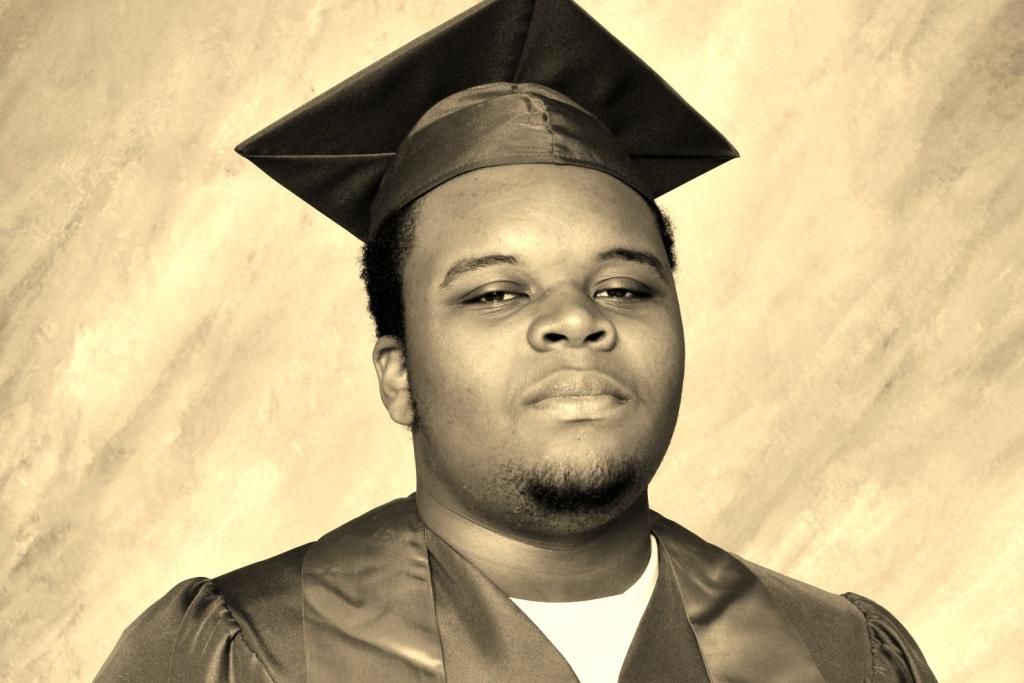 Mike's graduation photograph was taken in March 2014, still many months ahead of when he would be able to graduate in August. Imagine the "why" of this fact:
The grinding poverty in Mike's world only allowed Normandy High School to acquire two graduation gowns to be shared by the entire class. The students passed a gown from one to the other. Each put the gown on, in turn, and sat before the camera to have their graduation photographs taken. Until it was Mike's turn.
But Mike wouldn't be graduating in May with the rest of his class. There were additional class credits he needed to acquire and final exams yet to pass. So, Mike worked throughout the summer, every single day, to earn that diploma. According to his teacher, John Kennedy, Mike pushed himself hard:
Mike Brown didn't have it easy, Kennedy said.

At the school's alternative program, Kennedy was always the first one in the building. The place would be empty. He'd unlock the doors at 7 a.m. and he'd always find Brown standing there, smiling. Classes didn't start until 8 a.m. But Brown was there. First one in the door.

On Tuesday, Kennedy, who has taught at Normandy for 19 years, struggled to reconcile that memory with how his former student was now part of a national debate, his death the spark for unrest in the streets. It wasn't supposed to turn out like this. Not for Mike Brown.
This is a brief glimpse of Michael Brown's life and achievements. In a haunting Facebook post, just days before his murder, Mike Brown wrote: "If I leave this earth today, at least you'll know I care about others more than my damn self."
::
His death is another issue entirely and can only be understood against of the backdrop of poverty and racism in America. There are plenty of discussions going on here and across the nation about that.
None of these discussions will change anything in America any more than the endless discussions about Sandy Hook changed anything. It's war. The American Civil war. And it has been raging for 160 years.
The question then arises: "Why bother to blog about it? What is the point?"
Quite coincidentally, I ran across a statement today on another blog, where the owner answered that question. I was very moved by what he had to say:
Today is my 70th birthday. That means for me that it is time to think about the last part of my life….



My generation has left an awful legacy to the young. As you well know dear Reader, there is little that any one person can do to change things….

But, life is fluid and even tiny changes in one part of the universe can affect other parts in ways we cannot possibly comprehend.

When we act, we do it because we hope and believe that a known effect or effects might come from our actions.

So it is with no more than faith that I throw my blog, this tiny pebble in the ocean of human thought, hoping that somehow, something I say may indeed make it better for generations to come.

Therefore, I am going to throw The Tiny Pebble, below, into the ocean of opinions about whether or not the US and its militarized police are engaged in a civil war against minorities and the poor in America.
Who knows? It might make a difference.
St. Louis County Police Chief Jon Belmar
has become the target of an Anonymous cyberwar.




Photographs taken inside Police Chief's home show a Confederate flag displayed on the living room wall.
In the dark hours leading into Tuesday morning, someone posted a photo of Belmar's house on Twitter. Then his home address and phone number.
By afternoon, eerie photos started to circulate on social media, including pictures reportedly taken inside his home.
Below is a picture of his son, Colin, fooling around in Chief Belmar's living room. Let us add this photograph to the fodder of the discussions going on around the country. St. Louis County Police Chief Jon Belmar certainly believes he is still fighting the Civil War for the South.
Do you?
Hi Colin..nice confederate flag you got there. Is that your dad's. Jon, you call yourself chief of police? #Ferguson pic.twitter.com/bLz0FdmC61
— TheAnonMessage (@TheAnonMessage) August 12, 2014
::
Anonymous has acquired the police dispatch tapes recorded during the police murder of Michael Brown. They will reportedly be released sometime this morning.
[UPDATE] -- 12PM PST -- Dispatch tape recorded during the shooting of Michael Brown has been released by Anonymous:
In reaction to the Ferguson police stonewalling of the investigation into the police shooting of Michael Brown, hacktivist group, Anonymous, began its own internal investigation of the police department. On Sunday night, they released an array of information and photos to the public about the police involved in Michael Brown's murder, as well as a video message to Ferguson police.
In this video, a self-declared spokesman for Anonymous warned Missouri police "we are watching you very closely."
"If you abuse, harass or harm in any way the protesters in Ferguson we will take every web-based asset of your departments and governments offline," said a disguised voice, speaking over news footage of protests.
"That's not a threat, it is a promise."