Of course I don't actually believe in hell, but we probably deserve to go there.
Let me explain. Yesterday, as I was having lunch in a little Polish diner in my neighborhood, a photograph in the Times caught my eye. The story it was attached to literally brought me to tears, angry, angry tears.
Let's face it. We've earned the world's scorn.
Bomb Damage to Iraqi Boy's Eyes Is Worse Than Expected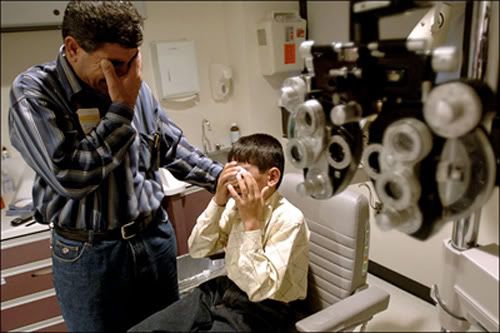 Ayad al-Sirowiy and his father, Ali, after learning that Ayad's right eye was damaged beyond repair and that his left eye may need surgery.
More on the flip...
Ayad al-Sirowiy, the 13-year-old Iraqi boy who came to America last week with a burned face and big hopes, hit a major setback yesterday.
While being examined for a possible cornea transplant, Ayad learned not only that his right eye, which was visibly injured by an American cluster bomb, was damaged beyond repair, but also that his left eye had tiny bomb fragments in it and might require emergency surgery to save his sight.
....
"Things are not good," said Joe Tom Easley, a retired law professor who is serving as Ayad's sponsor.
Mr. Easley worked for more than a year to bring Ayad from southern Iraq to the United States for medical treatment after he read that Ayad had been badly burned and blinded in one eye by an American cluster bomb. The injury led to relentless teasing, with other children in Ayad's village, including his own 6-year-old sister, calling him Mr. Gunpowder because of the blue-black shrapnel pieces embedded in his face.
American Army doctors examined Ayad within months after he was hurt in April 2003 but failed to detect the rising pressure in his right eye. The pressure was caused by bomb fragments that scarred his eyeball and left thick, milky scar tissue over his cornea, which trapped an abnormal amount of fluid inside his eye.
Esen Akpek, a cornea surgeon at the Wilmer Eye Institute at Johns Hopkins in Baltimore, examined Ayad yesterday and said that if he had been given eyedrops soon after the injury, the pressure would not have built and destroyed his optic nerve.
"It's frustrating," Dr. Akpek said. "The doctors over there could have saved this eye."
Dr. Akpek said there was now a chance Ayad could become totally blind, because his left eye, which was thought to be unscathed, has a piece of shrapnel embedded in the retina.
When Dr. Akpek broke the double dose of bad news to Ayad and his father, Ali, who has accompanied him on his trip, the two started sobbing.
"It was horrible," Dr. Akpek said.
....
Ayad was so ashamed of his scars that he quit school. On the rare occasions he leaves home, he twists a scarf around his face and never takes off his wraparound sunglasses.
His father, a struggling date farmer, was as angry as he was disappointed yesterday.
His hopes had been steadily building for the past year since Mr. Easley reached out to him.
Now he wants to go back to Iraq.
"Let me take my son home," Mr. Sirowiy said. "And if it's O.K., I want to leave now."
"In a democratic society some are guilty, but all are responsible."
This war will be a bloody stain on this nation for as long as this nation exists. This war was and is a criminal act. The victims are both Iraqi and American.
What is so frightening to me about America's attitude towards this war, and pretty much all wars, is that wars are things that happen somewhere else to other people. We don't really have a national memory of what it's like to have a modern army tear-assing through our cities and towns. There are plenty of people in Moscow or Paris or London or Saigon or Sarajevo who know what it's like to have a war happen in your neighborhood. It's too easy for Americans to be war supporters because they don't happen here. We fight wars elsewhere.
I think such attitudes also reveal the utter moral bankruptcy of the so-called "flypaper theory". It's absolutely stunning to me that so many people in this country can make the argument that "we're fighting them over there so that we don't have to fight them over here" without ever really thinking about what that really means. Iraq was not an al-Queda hotbed before our invasion. Iraq was not plagued with suicide bombers and power mad mullahs. Now it is. What kind of society can rationalize turning another nation in to a living hell in the hopes of making themselves feel safer?
What kind of nation can justify dropping cluster bombs on children or destroying a city of 300,000 people while turning that nation into a bloody playground for terrorists?
A nation I barely recognize anymore.
We are all going to hell.