1- CANADIAN CHORDS ON A DARK, WET AND WINDY NIGHT
2- IN THE STYLE OF 1950'S EAST GERMANY.
3- AH, THAT PEACEFUL LIFE IN THE FRENCH SUBURBS
4- JUST ANSWER ME ONE SIMPLE QUESTION.
5- THE THIRTY SOMETHING DEMOCRATS.
6- 1,1000 LAWYERS!
7- SEVENTEEN THINGS YOU MAY NOT HAVE KNOWN NOR WANT TO KNOW ABOUT FRENCH INTERIOR MINISTER NICOLAS SARKOZY.
8- EERIE!
CANADIAN CHORDS ON A DARK, WET AND WINDY NIGHT
Two weeks ago it was to the wild badlands of North Manchester that this Welshman went, unarmed and without police outriders for security, to listen in awe to John Prine.
Yesterday, the journey was simpler. A new theatre/arts complex has opened in Caernarfon, down where the fishing docks used to be on the edge of the Menai Straits and just three miles from my home.
I went to listen to a Canadian singer/song writer, Tia McGraff.
Tia is building a big reputation for her work.. She was featured live on Bob Harris's leading country music programme on the BBC earlier in the week - which guarantees a growing following in the UK. You can catch the online show until Thursday here; she is about half an hour into the programme.
I like country singers with a hard edge and a sharp political and social eye for what is going on around them. Yet all of us need periods of reflection on our relationships and how we deal with life and how life deals with us. This is mainly what Tia gave us on Saturday night. Not that Tia doesn't observe and feel things in others intensely as well, as her song Life Lines on her album "Outside of the Circle" shows.
To say "It was all enjoyable" I guess sounds a bit prosaic. It's not meant to be. That is what it was, in all its fullness: extremely enjoyable. With that little extra that lets you know you are hearing something a bit special.

She sang sweetly and she sang strongly, at times with passion and at times with a quiet longing in a way that offset the wet, cold night outside. She even dared enter sacred territory for this Welshman by singing Mr Bojangles and I was truly captured by her version, as I was by her signature song Jewel's Café
I guess I should talk more about her singing because it deserves the attention but instead I will just tell you that I also thought she was beautiful as well. You know this Welshman - always a pushover for a pretty face. But hey, there are truly beautiful girls in Canada - something that I had almost forgotten since I had that thing for Margot Timmins of the Cowboy Junkies. I must say an evening listening to Tia left me feeling a bit more on the upbeat side of life than I do after playing a track or two of The Trinity Session - much as I like that record late at night after enough wine to mellow the soul.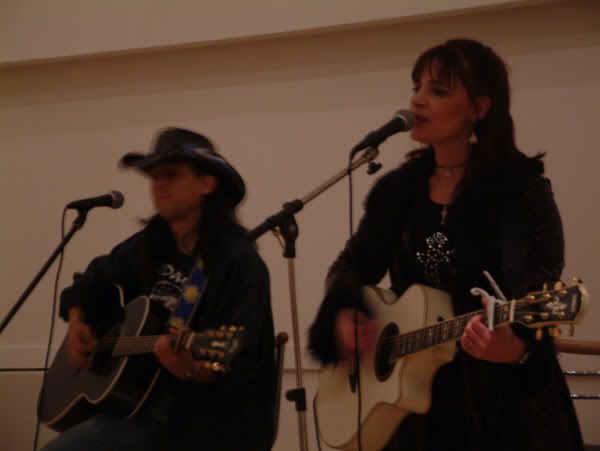 Her partner and accompanying guitarist Tommy Parham is a nice guy, too. I even forgave him his pride in the genuine Texas origins of his strangely decorated Stetson hat. Didn't expect any Lone Star State affection from a Virginian now. I suppose that ol' Confederate thing still retains some hold. A few caustic remarks by me about George Bush, however, seemed to cause no obvious rancour and Tia wrote "Peace" on my CD so, whether there was common ground on all of this or not, that makes her O.K. in more ways than just three for me.

IN THE STYLE OF 1950'S EAST GERMANY.

A word about the new theatre in Caernarfon. Although I acknowledge that it is lot better inside, I cannot imagine an uglier, box-like exterior than this example of brand new Welsh civic development. I have been ranting about it all week. It is downright dismal.

On a prime site on the edge of a beautiful piece of coast, they put up this dull, ugly building dedicated to the arts that should have been one that inspires. It will be duller still when the ravages of the Welsh winter have finished with the shiny new wooden cladding of its walls. Why wood when the area is built of fine native Welsh stone? It would depress a tax collection official working for the IRS if this was the office that greeted him each morning.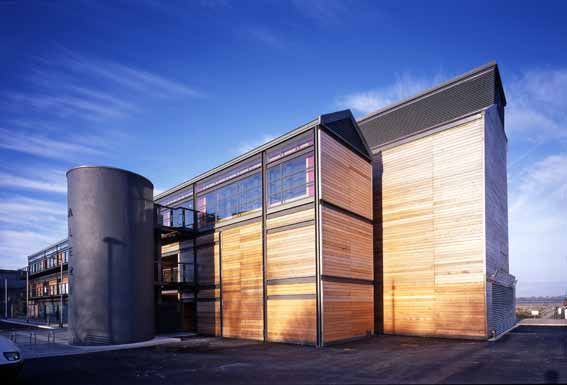 I keep thinking of all those great new public buildings in France. Forget for a moment the singular aberration of the suburban Paris banlieue drabness. I cannot imagine a Frenchman allowing such a barren statement of architecture that is so bereft of soul and spirit. Right alongside it is Caernarfon's magnificent castle, a European Heritage Site. Utter sacrilege.

This new complex was designed by an architectural practice in Scotland. I thought it was only the English who hated the Welsh.

AH, THAT PEACEFUL LIFE IN THE FRENCH SUBURBS

Taken from Intransit Internationals website, which "offers relocation services to Paris France for executives, individuals, and companies."

Welcome to Our Paris Suburbs Tour Map
The suburbs of Paris are very popular areas for families and those in search of a quieter life. Click on the tour map.
Found here whilst Google researching the word "banlieue" for the previous item

JUST ANSWER ME ONE SIMPLE QUESTION.

How come we are six hours ahead of Eastern Time but weeks behind on the new West Wing episodes?

Thanks everyone for revealing to me who angered President Bartlett by leaking the security secret weeks before I get to know it happened. That's one cliff-hanger that ain't gonna hang anymore when the episode is finally screened in the UK.

THE THIRTY SOMETHING DEMOCRATS.

O.K. So I have fallen for Tia McGraff. That doesn't mean to say I have fallen out of love with Bettany Hughes, my lovely Oxford educated historian. I have just sort of added to her. I'm also going to add someone else. When you reach my age, it is the sort of thing people let you do.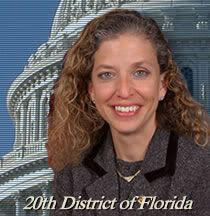 I heard Rep Debbie Wasserman Schulz talking during the "30 Something Hour", during which these young democrats talk for an hour on the House floor about issues that affect the next generation of Americans. These are not typical speeches heard in the U.S. House of Representatives but rather a back and forth discussion in which members will read personal accounts from next generation Americans that highlight their hopes and problems.
Started by Nanci Pelosi, Debbie, along with people like Representatives Tim Ryan and Kendrick Meek is a founder member of the "30 Something" Group. They are worth listening to because they dictate the subjects that they talk about and it is not just an excellent discussion but shows they are a lot closer to the everyday needs of ordinary people than the formal demands of House business normally allows them to show. A useful reminder for those progressives who feel that there is a huge divide between them and the Democratic party leaders.
I liked everything Debbie said so, by winning my mind, she was certain to win my heart. I'll deal with minor problems like husbands later.
You can hear sample past discussions here and here.
I was so impressed I emailed them, just to let them know they were being heard even across the Pond. They responded immediately and now I get forewarnings of their discussions, as well as such things as the contents of letters to George Bush from Pelosi and Reid. Nice.
If you like what they say and how they say it, you can e-mail the 30 Something Members at 30SomethingDems@mail.house.gov and get on their mailing lists. It is obvious that they really do like knowing that people out there are listening and that the special efforts by these young Democratic representatives are appreciated.
1,1000 LAWYERS!

Is that how many are employed defending Saddam Hussein?

1,100 Lawyers Leave Saddam Defense Team

Sunday November 13, 2005 2:46 PM
By JAMAL HALABY
Associated Press Writer

AMMAN, Jordan (AP) - Some 1,100 Iraqi lawyers have withdrawn from Saddam Hussein's defense team, citing insufficient protection following the slayings of two peers representing co-defendants of the ousted Iraqi leader.
1,100 lawyers!! That's may be even more than the number of lawyers posting on Daily Kos in any one hour. How do they ever agree? We know what arguments and dissension just one such lawyer on our front-page here, in the form of Armando, can create! 1,100 Armandos! An unbelievable thought.

SEVENTEEN THINGS YOU MAY NOT HAVE KNOWN NOR WANT TO KNOW ABOUT FRENCH INTERIOR MINISTER NICOLAS SARKOZY.

These are the items that stuck in my cluttered mind after listening to a profile by a French journalist about the French Riot Czar and potential presidential prospect Nicols Sarkozy, broadcast on Sunday by the BBC.

1-Born of a Hungarian aristocratic father, who fled that country and ended up in France
2-Brought up after her divorce by his Jewish Greek mother who was a lawyer and a member of the French bourgeoisie
3-Educated with rich kids but never rich like them
4-Unlike most of the French ruling class, he did not go to the Ecole Nationale d'Administration, but trained as a barrister. As such he is an outsider.
5-He is diminutive in stature
6-In a country where you don't say things like this, he has stated his ambition to become President of France since he was fifteen (some unkindly say he has nursed these ambitions since the age of five)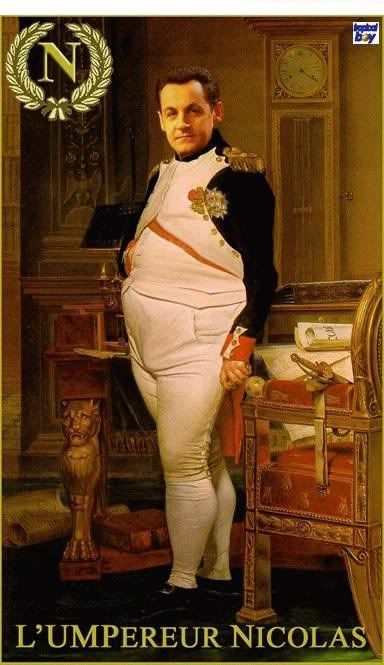 7-Twice betrayed his political mentors - the first time to become a mayor and the second time, big mistake, when he deserted Chirac and supported his opponent in the 1995 Presidential race.
8-Is a political pragmatist in a country where the philosophy of pragmatism is regarded as being as UnFrench and as questionable as using English words like "le Weekend"
9-Allegedly, ruthless, charming, pleasant and bad tempered in equal measure.
10-Married his second wife and installed her in an office next to his own and wanted a "Tony and Cherie" and "Bill and Hillary" media profile because that is what modern politicians do, right?.
11-Subsequently, divorced a second time
12-A few weeks ago, announced he is into a new permanent relationship but I daren't say with whom because, with him now believing that the sought-for media attention to the last marriage was mistake, he has seriously threatened to sue anyone discussing his new partner.
13- According to his biographer, he is a great admirer of Tony Blair!
14-He is an Atlanticist, but did not support the USA over the Iraq war.
15-He supports Anglo-Saxon Free Market economics and wants to get rid of the French budget deficit, the interest payments on which are now so high that they exceed the annual tax revenue
16-He called the rioting youths "scum" but is in favour of positive-discrimination for Muslims and is dedicated to improving their employment opportunities.
17-Some say he has an inner need that is still seeking to get the attention of the "absent father" of his childhood. Uh,huh! More of that father/son thing, eh?

I'm sure that the BBC programme had more politically perceptive things to say but, heh, this is a gossip column

Things are improving in France according to AP News today. Just a school and a sports center were burned down overnight. Oh, and a few cars, of course: "If the downward trend continues, "things could return to normal very quickly," National Police Chief Michel Gaudin said, noting that French youths burn about 100 cars on an average Saturday night." What?! One hundred every normal Saturday night? Now that is burning some rubber. It could become an Olympic sport.

EERIE!

Remember the gossip column when I mentioned that Avian flu sneezing, dead, passed away, turned moribund, ceased to exist parrot nonsense and the next week a parrot died of the decease in a quarantine centre in the UK?

At the same time I produced photographs of the Bush twins, each with a Royal prince. Some saw this not simply as more nonsense but discreditable nonsense at that:


Chaps! (none / 0)
Put on your digital photo goggles. Both are photoshopped, rather poorly at that.

Absolutely (none / 1)
"Both of these photos are as fake as can be. It's 100 percent obvious. Someone please delete this pathetic diary.
This mindless shit is what gives blogging a bad name. Please grow the fuck up."
Then, of course, the next thing that happened was Bush announced during his dinner speech welcoming Charles and Camilla that there was something between one of his daughters and one of the princes. (I think the poor man was very distracted at the time, which is why he couldn't remember the name of his daughter, let alone the prince. I'm sure it was that and not the amber liquid).
Now this is eerie. However improbable the event mentioned here, it subsequently happens. My understanding is that the genie once released out of the lamp offers you three wishes. Inadvertently I've used up the first on a parrot and the second on Jenna or whoever.

Help me out to make the final improbable prediction worthwhile. The United States soccer team winning the World Cup is just too ridiculous and would end civilisation as we know it. So what can I mention? George Bush hears a speech by Barrack Obama and resigns in his favour? Britney Spiers becomes a nun and opens an orphanage in the Sunni triangle? Or ....I think I really do need help on this one.