It's Sunday and instead of writing about energy, or politics, or torture, I thought I'd write a diary that's just for fun. How about a photo diary about cute little microcars.
Micro cars were developed in Europe and became popular after World War II. It was a time of collapsed economies and fuel shortages. That's much like what we might expect after peak oil. I remember seeing some of these cars as a boy growing up in Warsaw.
The reason for the micro car was economy. They used little fuel and tiny tires. In some countries their small engines allowed them to be driven on a motorcycle license, which is easier to get in many European countries. In Britain any three-wheeler qualified as a motorcycle. And all microcars were easy to park.
The BMW 600 was popular in Germany
Continued.

F. M. R. Tg-500

The Fiat Topolino is one of the earliest and best looking microcars.
Goggomobil made several microcars. This 1958 DARTwas the sporty model.


This Zeta Sports is from Australia.


1956 Avolette Tourisme (de Luxe)

A Goggomobil T300 is just the thing if you have a small barge.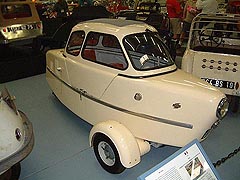 This 1955 Inter type 175a Berline is from France, where else.

A neighbor had two of these Subaru 360s. Many were sold in the US.


Mochet CM, very French.


1960 Vespa 400, and you thought they only made scooters.


Velorex Oskar. I remember seeing these Czech fabric bodied cars in Warsaw. There were quite a few around, though not in police trim.


Zundapp Janus, yes, that is a door at each end.


Fiat 600 Multipla. You'll still see these in Italy.


1959 Messerschmitt T-500 Tiger had a top speed of 90 mph (125 km/h) and only 20 horsepower.


Microcars are making a comeback the Smart car is the most successful of the modern versions.
If you like these, there are many more at The Microcar Museum.