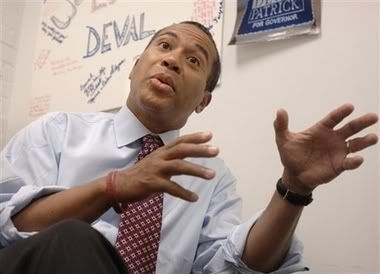 So big goings on in Massachusetts these days, kids. We have a very reasonable shot at electing a Democrat for Governor for the first time in 16 long years. My guy? Deval Patrick. Patrick has been doing town hall type events for 18 months all over the Commonwealth and I saw him on Saturday in Peabody, MA. I also have all the tape on the Democratic Gubernatorial Debate held last Thursday night.
Follow me below the fold to see why Deval Patrick, a kid from the South Side of Chicago, who lived the first 14 years of his life "every third night on the floor" will be the next Governor of the Commonwealth of Massachusetts.
... and some suggestions on what you can do to help make that a reality.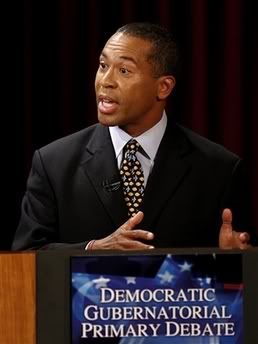 The Primary is next Tuesday September 19th. Anyone registered Democrat or Unenrolled in Mass. can vote in the Democratic Primary.
To find out how you can help on this most important GOTV weekend check the website for a volunteer contact in your city or town, every single one of them is listed there.
Tonight another debate will be held on CBS4 in Boston at 7:00PM ET so tune in to see if the volatile race takes another turn. You can also check out my last Deval diary Meet Deval Patrick with video and analysis. Since I wrote the last diary the race has come to a fever pitch - obviously it's the final week.
This is the ever so abbreviated history of the race:
Patrick started the race with 300,000 dollars, no endorsements, a lot of excitement and the right position on Cape Wind. He's been running as a change agent since the outset of the race.
The nominee apparent was Tom Reilly, the current AG and all around competent next in line Dem, with a multi-million dollar war chest and twenty years in government. Chris Gabrieli, a wealthy businessman, stepped in with a self-financed campaign.
Patrick stunned the party with the sweep of the Caucuses and the Convention and took the front-runner position in early summer. Patrick didn't have a lot of money yet, but he was on his way.
Reilly and Gabrieli did have a lot of money and they used it. All summer those two have been on the tube, one thirty second spot after another. The messages have been mostly positive and as a result the candidates ended the summer in a dead heat three-way tie.
Then the debate happened last week.
Volatile new polls show Patrick taking off from the pack in a big and unambiguous way. Reilly tanked in the polls that came out after the debate, he chose to go negative early and that seems to have cost him. Patrick converts nearly 100% of those Reilly voters. Check out this CBS 4 video. Patrick is +13 with Dems and +9 with Moderates since the debate. Reilly is down almost the exact same amount and Gabrieli is unchanged at about 30%.
The media is pushing hard the meme that Patrick is too liberal for the job. Is this sinking in with voters? Keep an eye on that developing tonight in the last debate before the vote.
Let's start this vlog with the debate held last Thursday night.
The Debate Part 1, Q & A with the reporters.
It was a raucous affair. The first half was questions to the three candidates from the three reporters on the panel: Bob Oakes of NPR, Janet Wu of WCVB-TV and Andy Hiller of WHDH-TV. Jean Shaheen, former Governor of NH, moderated the debate expertly. The second half was an open discussion led by Shaheen where the candidates "mixed it up" quite a bit.
The Debate Part 2, Q & A with the reporters.
Overall the Conventional Wisdom on the debate goes something like this: Reilly went negative in the first moments of the debate and never recovered, he blew his chance at winning the primary that night. Some people declared Gabrieli the winner because he didn't lose outright, and held his own with Patrick. Personally I'm sick of the low expectations game in politics. I do agree with the media's assessment of Reilly's performance and the polls indicate clearly that Patrick gained after the debate.
The Peabody Town Hall Event.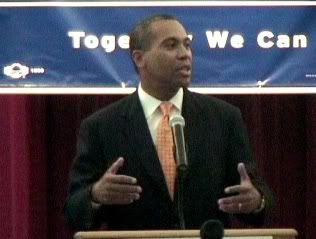 Deval starts his remarks here speaking about how far the campaign has come since the early days 18 months ago. When they started
with 300,000 dollars
a lot of excitement in the campaign for the grassroots strategy
even more skepticism in the populace
the right position on the Cape Wind Project, he's for it.
Deval knows that he's talking to a lot of the grassroots from the local area. I counted at least 15 people in the special green t-shirts that Deval supporters and workers wear. Patrick was talking to those of us in attendance with a sense of urgency in the final week before the primary.
Deval recalls the early days of his improbable campaign in his opening remarks:
Video: Buzz Clip 01

[I'd talk to all kinds of folks] and they'd say, I like your ideas, but can you do this? You've never done this before and you're not part of the political establishment...

We went to work on the ground community-by-community, town-by-town. Asking people who have checked back out to check back in. And that's how we have built the broadest deepest grassroots organization that this state has ever seen. 7,000 active volunteers ... We will have a captain in every precinct on Election Day regardless of how that precinct has voted in the past.

I'm not interested in asking people to come be good Democrats, I'm interested in asking people to come be good citizens. That transcends party.
Deval also got the surprise of his life when he looked out into the crowd and found his best friend of thirty years, Will, in attendance. Will came up from Delaware to surprise Deval and he succeeded admirably. He also gave me a quick interview after the show; Deval tutored him in Math at Milton Academy. That's how they got to be such good friends.
Patrick continues with his remarks, recall that he's running as an agent of change. Sorely needed change. He talks a lot about how the culture of his campaign, being a grassroots effort, is all about engagement and empowerment of civic minded citizens trying to "check back in" and take their government back from the entrenched powers and the money. Deval often says that the sweep in the Caucuses and the 58 % vote at the convention were all about the philosophy behind the campaign.
Video: Buzz Clip 02

That is how we will win the primary and how we will win the general because we are inviting people back in.

But listen - I know that we are a skeptical populace. And on the day that I take the oath of office and I'm standing there holding my hand up on your behalf, there will still be people saying, 'You know what? He can't win. He can't win because it's not supposed to be like this.'

But my whole life has been about what you're not supposed to do.

That's one of the reasons why I tell my story that and because I think unless we rebuild a sense of community with an understanding that we have a stake in each other then nothing good or good enough is going to happen.
Video: Buzz Clip 03

People are asking themselves whether it's still possible to make a better way for yourselves and your families. I think that the whole sense of community has been coming apart and I think that has something to do with the quality of leadership that we get, public and otherwise.

See that's what we have to put back together. Every single candidate in this race has a few good ideas, but nothing is going to happen if we don't rebuild that sense of community and take that sense and revolutionize Beacon Hill.

Because as we debate the how to win there has been another vision of government that has been spreading. Make no mistake about it, that's a vision that says government is bad and it's for the powerful and the well connected. That it doesn't do anything important enough to be done by anyone competent let alone committed.

And that everybody, all of us here, but especially poor people and vulnerable people are on their own and good luck. And it's not hypothetical. If you look back a year, that was the vision of government on display after Katrina. That's what it looks like.

A lot of us looked at those images and we were ashamed at what we saw and we were right to be ashamed, but my point is this. All those folks who were abandoned on those rooftops after Katrina were abandoned before that storm... And so many of us have been waiting for the Democratic party to figure out what it stands for. So I'm asking you to stand with me and we will stand for something again.
Patrick usually closes his remarks here with his take on politics and the Democratic party. I was delighted to see that his remarks focus on one of the most important issues in American politics today, the need for Democrats to return to the Democratic values and ideals that are the cornerstone of our progressive policy. Delighted, Mr. Patrick.
It's an exciting time in Mass. to be sure, but there's a lot on the line. The final week is crucial especially GOTV efforts. That means you! Check the signup sheet at the Deval Patrick website for your city or town contact issue. Hold a sign, man a phone bank or canvass your street for Deval this weekend - whatever. If you don't have the time then give some cash, they need it and it doesn't have to be a lot to make a huge difference.
Do something, do anything.
The full Peabody remarks can be viewed here:
Peabody Part 1
Peabody Part 2
Peabody Part 3

Additional Media Links:
GLOBE EDITORIAL: Patrick in the primary. The Globe has endorsed Patrick for Governor.
Patrick, Murray top redundant contest
Outsider's prize
Reilly renews criticism of rival. A Marie link.
It's time for the truth. A Marie link.
Anonymous campaign attack ads surface on YouTube
Campaigns' spin follows Web site's mock video ads
In Massachusetts, Momentum Shifts to Patrick
CBS4 Video: Patrick Surges Ahead In Exclusive New Survey
Blue Mass Group: Patrick way up in another poll.
During the debate Patrick said that by the time this election is over, in November, he "will have been called everything but a child of God."
How right he was. Gabrieli must have read the polls yesterday and has now decided to go on the attack big time against Patrick. Reilly went negative at the beginning of the week on both his opponents.
It's getting hot still, don't miss the debate tonight. Think about volunteering this last weekend or just donating a few bucks if you're too busy.
And a Big Congratulations to Carol Shea Porter who won her primary last night for the Democratic nominee from NH's first district. I got an interview with Carol on a previous vlog that I did on John Edwards for Labor Day.
I also got some of her supporters on that clip. It's a real grassroots effort all around for them, "their offices are in the streets." They told me that they had spent less than 30K on the campaign so far.
Carol will be facing off against incumbent Jeb Bradley (R-NH), you can check out Carol's website here to donate or volunteer.
See you out there...