[ introduction ] In regards to the recent flap over the now notorious 'We Are Going To Hit Iran. Bigtime' post, let me say this. Personally, I think the Bush Administration would like to do just that. And, I think it could happen. But, all we can do day to day is work to make such a possibility less likely, each in our own manner - by attending to electoral politics or, in my case, by focusing on the sorts of developments in the US military discussed in this post.

The real problem with dire predictions, no matter how likely they may seem, lies in their ability to paralyze us with fear. In such cases, dire warnings on allegedly impending disaster can serve to make such possibilities actually more likely by depressing us to the point of paralysis and inaction. Consider ; we're stuck with George W. Bush, for the time being, due to, in part, past disengagement of the left from the political process....
[ introduction, continued ] My intent, in this post, isn't to provoke fear. Quite the opposite - the American mainstream has for far too long avoided paying attention to the religious right as a movement. The subject can be very disturbing to some. But it's only by looking long and hard at the phenomenon that we'll move past aversive reactions, towards practical engagement. The way to make something that's scary less scary is to make it familiar.
***
Last week, before I went off on a short, much needed hiking trip in the White Mountains, I made a research finding that demonstrated, in my opinion, that apocalyptic Christianity has become the quasi official religion endorsed by top leaders at the United States Pentagon, headquarters of the most powerful military on Earth.
Currently, many Americans - here and elsewhere - are concerned that George W. Bush may order an attack on Iran. If President Bush does so, many in the leadership of the US military will, it seems, be fighting what they consider to be a religious war with apocalyptic overtones.
The American people did not vote, in 2000, 2004, and 2006, for religious war and apocalyptic conflict.
The evidence I've helped uncover, over the last several months working for the Military Religious Freedom Foundation, was not hidden or - I might say - was hidden in plain sight. No one, it seems, has thought to look for this. And, wasn't the religious right supposed to be all washed up ? Many said so. But, my findings indicate such sentiments are ill informed.
Let's start with the event itself :
*a correction: in my original writeup on this event, I made a dyslexic reversal and flipped the dates of Dave Kistler's two Pentagon visits, incorrectly dating Kistler's Pentagon courtyard appearance in 2007 rather than, correctly, 2005. I've corrected that mistake and also added some new material to this updated version. My apologies for the error.
In the early morning hours, 4:30 AM to be exact, on the day of June 9, 2005, Dave Kistler's H.O.P.E Ministries International ministry volunteers arrived at the Pentagon with the PA system and waited as security checked the equipment. Then they trucked it out to set up in the Pentagon courtyard, where Pentagon employees like to eat their lunch when the weather is nice. That day the weather was indeed nice.
Sometime around noon, while Pentagon employees were eating their lunch, the evangelical preacher Dave Kistler commenced his sermon. He had been invited to do this by the head Chaplain in the Pentagon, and there is no question that Chaplain Broom knows what sort of apocalyptic Christianity Dave Kistler espouses ; Broom's immediate subordinate, Pentagon vice-Chaplain Pomaville has spoken at events organized by Kistler's ministry.
Recounting his Pentagon courtyard sermons in his ministry newsletter, Dave Kistler exulted that the Pentagon put minimal constraints on the message of his sermons. The only constraint, in fact, was that Kistler could not give "the call" - the "come to Jesus, come to JESUS !" finale typical of revival sermons.
IN his ministry newsletter, Kistler wrote:
As many of you know, we were in Washington, DC this past week conducting services at the Pentagon. From a ministry and personal perspective, it was a highlight of my life. I was privileged to speak on Wednesday, June 8 at the Pentagon Prayer Breakfast. At the conclusion of my message, three men accepted Christ as Savior. I was informed later that this is highly unusual and almost never occurs. I was impressed, as was our H.O.P.E. Ministries team, with the dedication of those who know Christ in that facility and with their desire to be used of God in these days. On Thursday, June 9, we conducted two services in the Pentagon courtyard.From the outset, we saw God's gracious hand at work. Rain had been in the forecast all week, however the day was absolutely beautiful with partly cloudy skies. Three of our team transported all the sound equipment to the Pentagon for security inspection and delivery to the courtyard. Their day began at 4:00 am. Getting through security and into the Pentagon with the number of items that we brought in can be difficult. However, our men had everything set up by 9:30, an hour and a half before we were to begin. Both services were very well received. Just how many were saved, I do not know. I was told, by one of the Chaplains corps., that numerous people had no doubt called of Christ for salvation at the end of the services, and that many more would be saved in the following days. Because we were in a very public part of the Pentagon where large numbers of employees eat their lunch, and the potential of being accused of "coercing" people toward Christianity, we were not allowed to give a typical invitation, or to ask for an outward response on the part of those who accepted Christ. While we could not do a normal type invitation, there were no restrictions on the gospel message I preached. The Pentagon Chaplain later informed our entire team that our event was "cutting edge evangelism" in the Pentagon. Never before had a preacher been allowed to present the message of the gospel in the courtyard. I am honored and humbled that the Lord allowed us to be used in this great way.

At the conclusion of one of the courtyard services, one of the Army Chaplains came up to me and expressed great appreciation for my message and our being there. As he shook my hand, he placed a special coin in my palm. I thanked him for the coin, but we did not realize until later the significance of that gesture. Another Pentagon employee informed me that being given a coin like that from a military person means that they consider you one who has profoundly and powerfully affected their life. That coin and the entire incident will be something I will treasure the rest of my life. Over and over we were told how much our ministry was appreciated. Later in the day, when we had returned to our hotel rooms, the Chaplains office called to tell us that the soldier, who assisted us in getting our equipment into the facility, had received Christ as Savior that afternoon. Evidently he had received one of our DVD's, watched it several times, and had realized his need of Christ. He stopped by the Chaplain's office and after being counseled, accepted Jesus as Savior. I trust that you will pray for God's continued blessing and saving power on the word that was preached.

In addition to the three services we conducted, we were able to take a detailed tour of the Pentagon facility. It was an extra special treat to stand outside Secretary of Defense Donald Rumsfeld's office. I have a new appreciation for all that our military leadership does in the defense of freedom. I also have a greatly deepened sense of urgency to pray more diligently for our men and women in uniform.

As we left the Pentagon, the Chaplain's Assistant told us, "It's not a matter of IF you'll be back here to conduct services, but WHEN." At present, we are working on the details of returning either next year or 2007.

When I arrived home from DC, I already had several messages from Pentagon
officials requesting additional information about our ministry and the gospel. I believe that what we saw during our two days at the Pentagon is just the beginning of great things that God is going to do. My heart of overflowing with praise to our Lord for what He is doing and for His allowing us to have a small part in His great work of evangelism.[emphasis mine]
Dave Kistler's 2005 Pentagon courtyard sermon was not the last time Kistler would be invited to the Pentagon to preach. On June 6th and 7th, 2007, Kistler was invited by the Pentagon Chaplain's office to preach in the Pentagon. Kistler gave a replay of the 2005 "outreach" but preached in the Pentagon auditorium rather than in the Pentagon courtyard. Kistler's 2005 Pentagon junket a much higher profile event, and it is only one of several overtly Christian events that have been held in recent years in the Pentagon courtyard. Another, 2006 event featured the "1st Annual Pentagon Gospel Jubilee", with overtly Christian folk and Gospel acts and a special (overtly Christian) award ceremony. The June 9, 2005 sermons by Dave Kistler very likely amounted to a massive Constitutional violation, with the appearance of Pentagon endorsement of Dave Kistler's apocalyptic interpretation of Christianity.
Here's Kistler's description of the 2007 event, from Kistler's HOPE International Ministries newsletter:
We began our two-week ministry in DC with two days inside the Pentagon. It was my privilege to speak on June 6th at the Pentagon Prayer Breakfast (a second opportunity for me) and on June 7th in the Pentagon Auditorium. I am thrilled to report that three souls were saved among those who attended those events. The new Pentagon Chaplain, Col. William Broome and Deputy Chaplain Maj. Alan Pomaville were gracious
hosts. The time they spent with us, giving us a tour of the Pentagon and introducing us to notable individuals who work there, is something that I will never forget. A highlight of our visit to the Pentagon had to be meeting two-star General David Hicks, the Chief Chaplain of the Army. This incredible Christian gentleman has his testimony in print in the form of a gospel tract, published by Good News Publishers. He is bold and unashamed in his witness for Christ. I look forward to additional times of ministry in the Pentagon and to further cultivation of relationships with these fine men. [emphasis mine]
***
SO... who IS Dave Kistler ?
Evangelist Dave Kistler has stated, in a 2004 sermon, that George W. Bush will be "raptured" up to heaven but Senators Clinton, Kennedy, and Biden will not be "raptured". Kistler has called the theory of Evolution "ridiculous" and encouraged his listeners to read the "Left Behind" book series [towards the end of this post is an excerpt from a transcription I've made of that 2004 sermon].
Jason Leopold, for Truthout.org, broke my research finding last Thursday, and the timing was difficult in terms of the media cycle but I think we'll be hearing more about the incident in the near future.
End-Time evangelist Dave Kistler's Pentagon courtyard sermon junket was not an anomaly. Rather, it is part of a pattern that, in sum, can be construed to mean this:
Apocalpytic Christianity has become enshrined as the de-facto government endorsed religion, in the headquarters of the most powerful armed forces on Earth.
An Emerging Pattern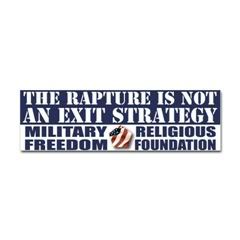 image, right: Military Religious Freedom Foundation bumper sticker

The day before his June 7th, 2007 Pentagon auditorium appearance, Dave Kistler gave a speech at a Pentagon "Prayer Breakfast" in the Pentagon's executive dining suite. A few weeks prior to that, "Operation Straight Up" founder Jonathan Spinks also gave a Prayer Breakfast address in the same Pentagon suite. OSU was recently the subject of considerable controversy for the Pentagon's apparent endorsement of the organization, which said it wanted to distribute the "Left Behind: Eternal Forces" video game to US troops in Iraq and which is planning an evangelism cum-entertainment tours in Iraq and Afghanistan that OSU founder Spinks termed a "military crusade". On the same day as Spinks's Pentgon Prayer Breakfast address OSU, which espouses an apocalyptic, fundamentalist form of Christianity, gave a performance in the Pentagon auditorium.
In an August 22, 2007 LA Times op-ed, concerning the Pentagon's endorsement of a group planning fundamentalist evangelical "Crusade" in the Middle East, Military Religious Freedom Foundation founder Mikey Weinstein and MRFF board member Reza Aslan wrote:
"American military and political officials must, at the very least, have the foresight not to promote crusade rhetoric in the midst of an already religion-tinged war. Many of our enemies in the Mideast already believe that the world is locked in a contest between Christianity and Islam. Why are our military officials validating this ludicrous claim with their own fiery religious rhetoric?

It's time to actively strip the so-called war on terror of its religious connotations, not add to them. Because religious wars are not just ugly, they are unwinnable."
Previous Prayer Breakfast talks in the Pentagon executive dining suite, given by two star generals at the Pentagon, have featured titles such as "Leadership For Christ In The Pentagon". The most active "para church" officer's religious association in the Pentagon, the Officer's Christian Fellowship, espouses apocalyptic religious views and is a branch of Campus Crusade For Christ. Last month, a Pentagon Inspector General report criticized several top Pentagon officials for appearing in the promotional fundraising video of another subsidiary of Campus Crusade, Christian Embassy. One of the officials criticized in the report made the excuse that he thought Christian Embassy, because it had been given free access to the Pentagon for literally decades, was a "quasi-governmental" agency. The report also notes that the Christian Embassy video scandal had caused considerable alarm among officers in the Turkish military who became concerned that the US military had fallen under the sway of religious extremist groups.
****
Constitutional Questions
Now, let me make one thing quite clear ;
The Constitutional line between legitimate free expression of religious belief, and constitutional violation, lies in government endorsement of, or the appearance of endorsement of, and material support for, any particular religion or sectarian religious belief. By inviting James Kistler to evangelize Pentagon employees, during their lunch break, over a PA system in the Pentagon Courtyard, the top leadership at the United States Pentagon sent a very clear message ; Apocalyptic Premillennial Dispensationalist Christianity is the de-facto state endorsed religion in the US armed forces.
That said, members of the US military have the Constitutional right to hold whatever religious or philosophical beliefs they want to hold, and they have the Constitutional right to associate themselves with para-church organizations of other like minded military members, in groups such as the Campus Crusade For Christ's Officer's Christian Fellowship. So what if Campus Crusade's founder, Bill Bright, said he worked for a "revolution" to "overthrow the world" and Campus Crusade's OCF espouses apocalyptic religious views ? From a Constitutional point of view that's neither here nor there. OCF members have the right to believe whatever they want to believe.
The principle of religious liberty, you see, cuts both ways. Para church ministries associated with the hard Christian right and typically fundamentalist have, literally for decades, targeted the US military for proselytizing and such efforts are usually unconstitutional only when they receive government support or endorsement or when superior officers proselytize their subordinates or discuss, or impose, their religious beliefs on their subordinates in a way that can be construed as coercive or which creates an atmosphere of coercion. Excepting those situations, evangelism targeting the military is usually quite Constitutional.
Short of Congress passing a law to ban all evangelical efforts targeting the US military, a legislative effort almost sure to be shot down (and correctly so) by the Supreme Court, the only way to combat the spread of fundamentalist and apocalyptic strains of Christian belief within the most powerful armed forces on the planet would be for Americans with different sorts of beliefs to form their own "ministries", targeting armed forces members in the same manner, to promote moderate religious beliefs, respect for church-state separation, pluralistic democratic values, and so on. But in terms of ideological influence within the US military, those sectors of American society which hold such expansive, tolerant, pluralistic democratic values aren't even on the playing field. They've long ago ceded the game to the extent they've forgotten the game is being played altogether. Or, perhaps they were never aware it was being played in the first place.
****
What I did For My Summer 'Vacation'
image, right: Military Religious Freedom Foundation coffee mug, with slogan. Click here for MRFF's full line of CafePress merchandise and here for the "The Rapture Is Not An Exit Strategy" line
For the last several months I have one of a few working to map out the influence of the Christian right within the United States armed forces. The goal is not to impede the freedom of religion rights of armed forces members but, rather, to protect the freedom of religion rights of minorities in the armed forces.
The project is, to put it bluntly, unprecedented. For all the torrent of books on religion and politics, the "culture wars" and the religious right that have flooded the American book market in the past few years, and for all the studies put out by think tanks and universities, no one seems to have thought to do this.
The only book which has more than scratched the surface has been Mikey Weinstein's "With God On Our Side: One Man's War Against An Evangelical Coup In The US Military". Not surprisingly, Weinstein's Military Religious Freedom Foundation is now taking the lead in funding research into this area which, I've become convinced, is the pivot on which the future of American Democracy rests.
In a conversation I was having a few days ago with a friend, an editor of a major national print bi-monthly publication who has been tasked with covering this subject, who I was advising because I've become, it seems, one of a handful of experts in this area, the editor expressed a belated apology - that prior to learning of the findings from the research effort I'm working in, he wouldn't have believed the influence of apocalyptic Christianity in the US military was so extensive. I responded that I didn't expect to find that either. It's just that whenever and wherever I found evidence of apparent church-state violations in the course of my research, the religious ideology involved was, almost without exception, that of apocalyptic Christianity saturated with crusading rhetoric.
Efforts by fundamentalist, typically apocalyptic, "para-church" ministries to win converts in the US armed forces have been ongoing for decades. There are many such ministries and they are well funded.
But during the Administration of George W. Bush and especially in the last several years those efforts have escalated dramatically. I have identified several elements common to many or most of these ministries ;
They are fundamentalist and apocalyptic, and tend to assert the United States was founded as a 'Christian nation' and that claim such a purported "Godly heritage" has been stolen or subverted.
****
A Historical Pivot
Let me suggest that we're at an historical pivot which, given the magnitude of what we're currently failing to confront and deal with - Global Warming, for example - probably has just one precedent not just in recorded human history but in the history of the human species itself ; the mounting threat of the nuclear arms race, during the 1980's, posed a similar threat to the one posed by the dramatically expanded war in the Middle East likely to ensue following a George W. Bush ordered attack on Iran.
This is the pivot : Will the US disengage from the morass of Iraq ? Or, will George W. Bush and his neocon and apocalyptic allies be able to force a dramatic and probably disastrous widening of the war in the Mideast ?
Religious wars are easy to start but not so easy to stop and the crusading rhetoric that's become associated with the Pentagon seems insane unless leaders there are actively trying to instigate a full blown religious war.
Religious wars, and "crusades" have a bad history. For example, during the first Crusade, after breaking through the defenses of one Muslim city the Crusaders, for want of food, turned to cannibalism, cooking adults in pots and roasting and devouring children who had been impaled on sticks. Following the siege of Jerusalem, soldiers of that First Crusade burned almost a thousand Jews alive in their synagogue. During the European religious wars that followed the Protestant-Catholic split in Christianity, one hobby of victorious armies was to torture enemy wounded by making small incisions in their sides and extracting their intestines, very slowly.
In short, religious wars are ugly affairs and those who foment them are of questionable sanity.
Such a fate, religious war, is not a given ; forces pro and contra a US attack on Iran are very roughly balanced. The Bush Administration, clearly, hopes to push over the edge and, by instigating a new war, shift the American domestic political balance.
So what can be done ? I'd suggest that one very powerful tool available right now is this :
Widespread publicity on the extent to which the US military has become permeated with hard right, politicized religious ideologies, is needed to wake mainstream America up before it's too late, because Armageddon is not a "plan", and...
The Rapture Is Not An Exit Strategy
image, below: I don't work for MRFF for the money, believe me, but because I consider it my patriotic duty.


****
Below - excerpt from sermon given by Dave Kistler, 5/20/2004, at a Hanover, PA church. ( here's more from that sermon )
"Any of you ever been in England or Europe ? Pastor, six years ago I was in Europe . The missionary said "Dave, I'm going to the grocery store, do you need anything from the grocery store" I said to my wife "honey, do we need anything ?" She said "get some milk, some bread, a little bit of cheese, and also pick up some Advil because I've got a terrible headache." I said "Alright, I'll go." I said "let's go brother Larry', and so the missionary and I drove to a British grocery store and we got our items, got in line and, pastor, in front of us - I would not have believed it had I not seen it - in front of us is a guy who has all his groceries up on the conveyor He gets it all rung up, and the gal says it'll be this number of dollars and this number of cents. I thought the guy'll pull his wallet out and he'll pay in cash, or he'll pull out a credit card and pay that way. He did neither. When she gave him the amount of his purchase, pastor, he took his hand, turned it upside down, ran it over that little device that reads the universal product code, UPC Code - "everybody know what I'm talking about ?" When he swashed his hand across that thing, the little thing went "bleep, bleep" and it read something. Forgive me, but I'm a Yank, American, in England. I'm looking at the missionary and I'm going "DID YOU SEE THAT ?1 DID YOU SEE THAT ?!" He said "YES". I said "ARE YOU GOING TO ASK OR AM I ?" He said "GO AHEAD!" I said "Sir, pardon me just a second, what was THAT ?" He looked at me and said, uh, as they've said before, "you're not from around here, are you ?". I said "no I'm not, I understand my speech betrays me." He said "My World Bank account number has been embedded under my skin." He said, "The amount of my purchase was just been deducted from my World Bank account."

Now, friends, listen to me - had I not seen that with my eyes I would have not believed we were there yet. I said to missionary Larry Curtis, "Larry, what is this ? Can you see how AntiChrist the, the - all the technology is there for the Mark to now be required ?" He said, "Dave, England is behind. They've drug their feet on this technology, the rest of Europe is ahead of us, miles ahead. England's drug their feet," he said, "but, yes, the technology is there." Now folk, listen very carefully - with cases like JonBenet Ramsey, and other kids that are abducted and killed, you listen friends - they're gonna to push and push and push even this side of the Atlantic, they're gonna push for us to have, embedded in our children's bodies here, or here, or somewhere, a code, whereby they can be located. They're already doing it with animals. And, they'll perfect it and do it with humans. AntiChrist is gonna make people take a Mark. And you won't buy or sell unless you have it."
I realize what I have written here will prove upsetting to many. So, let me offer, to soothe your jangled nerves, a few images I took a few days ago while hiking.