Last Night Barack Obama displayed Grace expected in an eventual Nominee and discussed the purpose of the Obama Fellows for the first time publicly.
Q. You recently talked about a fellowship program where you will train some of the young grassroots activists that have joined your campaign. Can you talk more about that?

A:Basically what we've done is we've been attracting so much volunteer talent, so many young people who have gotten involved in the campaign, that we wanted to give a handful of them an opportunity to have some more intensive training. So we've asked them to apply for fellowships. I think they're called Obama Fellows. They will get intensive training, and they will be put on staff and will have an experience, starting in June.

Q:The nomination may not be decided by then, are you sure you're going to be ready to set those grassroots volunteers loose in June?

A:We're still going to be interested in training. Even if I'm not the nominee, I'm still going to be somebody who cares very deeply about the Democratic Party winning in November, and still will hopefully have a little bit of influence on the process.
You might be asking yourself now, What the heck is Obama talking about???
It's called the "Obama Organizing Fellowship" and it's an opportunity to organize and prepare for the fall campaign (Down-ticket Too) this Summer!
This summer we are looking for people who want to be a part of a new generation of leadership that believes, like Senator Obama, that real change comes from the ground up.

Fellows will be trained on the basics of organizing & campaign fundamentals and then placed in a community to carry out grassroots activities. Fellows will be asked to commit to a minimum of 30 hours per week and will:

participate in training on field organizing, messaging, and other activities

organize in a community, working in conjunction with grassroots leaders and campaign staff

continue to build the movement

Applications are due at the latest by Monday, May 5th at midnight eastern time. We strongly encourage individuals to apply early. Applicants should expect to receive further communication in May. Program participation will start on June 5 and run through the end of the summer.
Kossack's do you have hope? APPLY TODAY!
Obamaniac's do you have time to devote to making America Great Again? APPLY TODAY!
Well, Obama has a Fellowship to you... APPLY TODAY!
VERY IMPORTANT:
Note: this is an unpaid position.
That said, the Pay Off is Priceless.... You, yes YOU will be directly involved with CHANGING AMERICA FOREVER!!!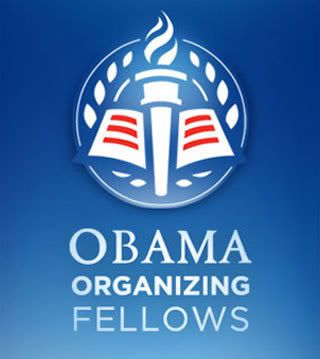 You'll need to upload your Resume, detail your Campaign-Related Trainings, provide References, and answer these questions:
Everyone has a unique story that brings them to this movement for change. Why are you personally motivated to be involved in this campaign?
One of Senator Obama's first jobs was to organize in the South Side of Chicago and register voters in the community. Please tell us if you have any experience as an organizer – either community organizing or political organizing.
If you have been working with the campaign, please describe your activities (types, dates, locations) and what you have learned. If you have not been involved with the campaign yet, please describe why you have decided to get involved now.
Here is the Body of an Email Obama sent out this week explaining in greater detail the program:
I want to tell you about one of the most exciting projects of this campaign. It's called the Obama Organizing Fellowship.

When I was a young man, I was inspired by the Civil Rights Movement and the idea of people working at a grassroots level to bring about change.

I got my chance on the South Side of Chicago, as a community organizer, and it was the transformative experience of my career.

It allowed me to put my values to work and to see that real change comes not from the top-down, but from the bottom-up, when ordinary people come together around a common purpose.

The experience changed the course of my life -- and I want to share that kind of opportunity with you.

That's why we're introducing a program that's going to train a new generation of leaders -- not only to help us win this election, but to help strengthen our democracy in communities across the country.

If you apply and are selected, you'll be trained in the basic organizing principles that this campaign and our movement for change are built on. You will be assigned to a community where you'll organize supporters. Assignments will begin in June, and you'll be required to work a minimum of six weeks over the summer.

This program is designed to give you real world organizing experience that will have a concrete impact on this election.

Apply to be an Obama Organizing Fellow and put progressive values to work in the real world:

If you can't take the time away from work or your family that's required for the fellowship program, you can still get involved.

Reach out to someone you know who may be interested in this program, and let them know we could use their help:
Invite Fellows

House an Organizing Fellow -- If you have a spare room, you can help by offering housing to an Organizing Fellow near their training or near their eventual assignment. We haven't set locations for all of the trainings and assignments, but if you sign up, our staff will be in touch as the campaign grows:
House a Fellow

Support this program by making a donation to this campaign:
Support the Program with Donations
And, Incase you wonder what you'll be doing, I'll go ahead an repost an earlier diary here below which explicity illustrates the General Election Strategy, Obama's Strong Suits, and Our Role in Making Democratic Politics Forever Different in the USA...
____________________________________________________________________________
How Obama may Forever Change Democratic Politics and Electorate
I've previously written about the fact that Barack's first political experience forever changed the Democratic Landscape of Chicago and Illinois and turning a once toss up state Solid Blue. Today Politico brings forth the official General Election strategy. To put it in the simplest of Terms, what Barack Obama and his well funded army of over 1,000,000 volunteer/donors intends to do is forever change the playing field in numerous states and nationwide.
Hildebrand said the campaign is likely to turn its attention and the energy of its massive volunteer army this fall on registering African-American voters, and voters under 35 years old, in key states.
Here is a bit of Obama's history in his own words.

Detractors may dismiss this potential as yet another pie in the sky promise. Certainly it is the same strategy Howard Dean openly advocated in his own run... yet, this year, with Obama, one has to really stand back and say, This Time It'll Be Reality. And for any democrat, that's just got to make your liberal heart turn a deep shade of blue.
Every four years, Democrats claim, and reporters write, that a massive voter registration and field operation will reshape the electorate in their favor. In recent years, they've been matched or bested by the Republican National Committee's targeted outreach to likely Republican voters.

But there are signs that this year could be different. In the Obama campaign, youth turnout and Internet-based organizing - so often promised, and rarely delivered in the past - have been made real. And the first black nominee could reach deep into the large non-voting tracts within the African-American community.
Something few pundits realize is that part of Obama's success thus far has been success in registering huge numbers of new voters. Certainly Hillary Clinton, to her credit, with the help of Emily's List and other organizations, has been pushing for increased voter registration amongst her key constituencies, however Obama has key successes to show for it.
South Carolina, Hildebrand said, was the site of another intensive effort. "A great case study for voter registration was the South Carolina primary, where we dramatically expanded the African-American vote and dramatically expanded the youth vote," he said. "It was such a big part of getting us to that 28-point margin of victory."
And Pennsylvania, what I labeled a Dry Run for Obama, is now on tap to be the next state in play due to this same effort. Much has been said about the huge number of new Democrats registered in Pennsylvania and other states, and some have supposed it's to Obama's overall advantage, but here is the mana for Obama fans thinking about Pennsylvania..
"We put together a massive effort," said Hildebrand, saying that the numbers include "over 200k Obama supporters" - an impressive number, and likely more than 10 percent of the total turnout in the primary.
That's of the 234,000 new voters registered this year in PA, the Obama Campaign is claiming now they have 200k supporters in that grouping. INCREDIBLE. Good news for those concerned about the length of the campaign season... Barack's Campaign is well funded enough that they don't have to wait for Hillary to drop out to begin this effort in earnest in key states.
"We are pretty convinced that Barack is going to be the nominee, and so we're going to prepare for a general election no matter how long this two-person race goes," he said. "What we did with those two demographic groups [in South Carolina and elsewhere] is what we will have the capacity to do in the general election in every state where there's large pockets of under-35s and African-Americans" - states that include Ohio, Florida, Pennsylvania, New Mexico, and other battlegrounds.
This is phenominal news considering Obama's Track Record on this strategy. He got his Political Chops doing just this thing way back when he was just a young guy with a funny name on the South Side.
A huge black turnout in November 1992 altered Chicago's electoral landscape-and raised a new political star: a 31-year-old lawyer named Barack Obama.

In the final, climactic buildup to November's general election, with George Bush gaining ground on Bill Clinton in Illinois and the once-unstoppable campaign of senatorial candidate Carol Moseley Braun embroiled in allegations about her mother's Medicare liability, one of the most important local stories managed to go virtually unreported: The number of new voter registrations before the election hit an all-time high. And the majority of those new voters were black. More than 150,000 new African-American voters were added to the city's rolls.

At the head of this effort was a little-known 31-year-old African-American lawyer, community organizer, and writer: Barack Obama.

Within a few months, Obama, a tall, affable workaholic, had recruited staff and volunteers from black churches, community groups, and politicians. He helped train 700 deputy registrars, out of a total of 11,000 citywide. And he began a saturation media campaign with the help of black-owned Brainstorm Communications. The group's slogan-"It's a Power Thing"-was ubiquitous in African-American neighborhoods. Posters were put up. Black-oriented radio stations aired the group's ads and announced where people could go to register. Minority owners of McDonald's restaurants allowed registrars on site and donated paid radio time to Project Vote! Labor unions provided funding, as, in late fall, did the Clinton/Gore campaign, whose national voter-registration drive was being directed by Chicago alderman Bobby Rush.

"We were registering hundreds a day, and we weren't having to search them out. They came looking for us. African Americans were just so eager to have a say again, to feel they counted."

"I think it's fair to say we reinvigorated a slumbering constituency," says Obama. "We got people to take notice."
This diary is for every Obama volunteer in every single state. Get ready, we have work to do. I am a precinct Captain for 0711 on Houston's west side, Harris County, Obama Country. We live where there are dozens of apartment complexes, full of under 35 and minority groups... full of unregistered voters who are there, waiting to be tapped. In my own precinct, we had 14 wonderful Obama Delegates and several alternates turn out to the SD-17 Convention, and this group of Delegates will mobilize starting in June to go door to door and knock every single door to register every single voter who is favorable to Obama. I'm not looking for Republicans... I'm looking for Democrats (or people who can become Democrats if Obama is the Nominee). And this will happen in 50 states, it will create intense Coat Tails the likes of which consultants have only ever dreamed of before. And if can and will forever change American Politics.
I've already diversified my own support, joining the Micheal Skelly campaign as a Precinct Captain, and I have an appointment next week to meet the candidate himself as well as his campaign director and field director... they're very interested in talking to and working with any grass root actives, especially actives who carried water last month in the Obama Campaign.
Senator Barack Obama has truly inspired me to make a difference, to shed complacency, and to continue working, registering, and block walking no matter what, and it's a commitment I'll carry for Rick Noriega, Michael Skelly and hopefully Barack Obama.
That said... Barack Obama will not simply go home... instead, even if the nomination is Stolen from him at the convention, his Obama Fellows will still Organize Nationally to Benefit the entire Democratic Party and Hillary should she be the Nominee.
That's Honorable
That's Grace