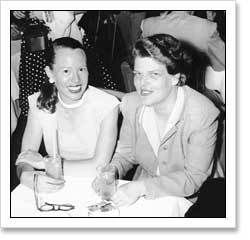 On February 12, 2004, Del Martin and Phyllis Lyon, two activists who had been together for 51 years, married each other after San Franciso declared same-sex marriages legal. The California Supreme Court subsequently nullified their marriage and some 4000 others in a ruling saying the city had no authority to approve the marriages in defiance of state law. Last month, the same court ended the state's ban on gay marriage. So, Monday night, Martin, 87, and Lyon, 83, got married again. Once again, as in 2004, they were the first couple to take advantage of the legal change.
Same-sex weddings start with union of elderly San Francisco couple

Mayor Gavin Newsom, who officiated the ceremony in the reception area of his office, said it was a fitting way to memorialize last month's state Supreme Court decision legalizing same-sex marriage in California, which took effect at 5:01 p.m. ...

The couple made their way out of the office and onto the balcony area where a cake - and large crowd- was waiting. Rose petals fluttered down from the ceiling as the crowd cheered and cameras flashed.

"This is an extraordinary moment in history and extraordinary moment in time" Newsom said to the crowd. "They are extraordinary people who have lived extraordinary lives and spent half a century fighting for justice and equality."

Lyon drew laughter with her comments.

"When we first got together, we were not really thinking about getting married, we were thinking about getting together," she said. "I think it's a wonderful day."

"Ditto," Martin said.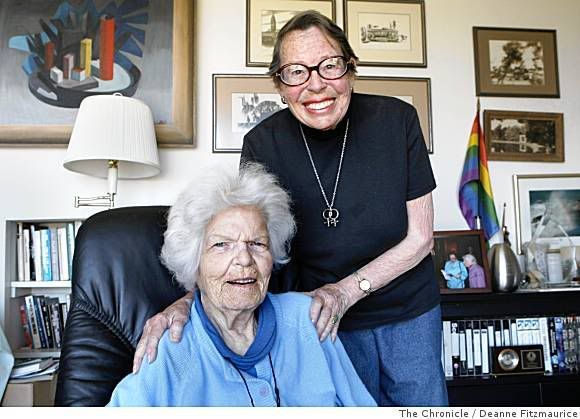 Martin and Lyon have lived in the same house in San Francisco since 1955. That same year, at a time of flourishing McCarthyism, which hunted not only communists, but also gays, the pair helped found, with six other women, the Daughters of Bilitis, the nation's first lesbian rights organization. They risked everything. Martin was elected president and Lyon secretary. "DOB went on to define its purpose as bringing lesbians into the public discourse through education, encouraging responsible research studies, and advocating for changes in the penal code."
The organization held its first national convention in 1960, in downtown San Francisco.
Highlights included discussions on psychosexual behavior, status of gay bars, religious attitudes, legal problems of lesbian couples and entertainment. Phyllis and Del hosted a pre-convention reception at their home. Their address and phone number were printed in the program. From that point on there was no turning back for DOB or the couple who brought it out of the closet.

Unfortunately, in 1969 the National Organization for Women (NOW) President Betty Friedan labeled lesbians "The Lavender Menace." Again entering unfriendly territory, Del and Phyllis were two of the first out lesbians to join NOW, insisting on the couple's membership rate. At the 1971 and 1973 NOW conventions, the oppression of lesbians as a feminist issue was acknowledged in resolutions that Del and Phyllis were instrumental in getting adopted.
In 1972, they were also instrumental in setting up the Alice B. Toklas Memorial Democratic Club. That year their book Lesbian/Woman, depicting lesbian lives in a positive way, was published. The book was chosen in the 1990s by Publishers Weekly as one of the 20 most influential women's books of the '70s and '80s).
In 1976, Martin wrote Battered Wives, a catalyst for establishing a network of battered women's shelters. Lyon became co-director of the National Sex Forum, which initiated the use of explicitly sexual films as a teaching tool, and subsequently became a member of The Institute for Advanced Study of Human Sexuality, which grants doctoral and other degrees in sexology.
Activists for life. Spouses forever. Congratulations!
+ + +
Tuesday is the 1875th day since Mission Accomplished.
There are 216 days left of the Cheney-Bush regime.
The Overnight News Digest is posted and includes the story, U.S. abuse of detainees was routine at Afghanistan bases.