This last weekend, Charlie Brown continued to make contact with voters of all political stripes by paying a visit to the Nevada County Fair. Unlike career politicians, Charlie knows that voters don't want poll-tested responses and well-polished speeches: they want direct access and conversation with their elected officials. Charlie Brown once again proved his roots run deep in the 4th District by visiting one of Northern California's most anticipated county fairs.
The Nevada County Fair is one of the district's most popular summer events. This year's theme, "Barnyard Buckaroos" was geared towards the Junior Livestock Association, Future Farmers of America and 4-H youth.

Charlie speaks with Skip Lusk, President of the Fair

Among the various groups present at the fair were local police, fire and probation officers.
With 3,000 tall pine trees, Nevada County Fair was named by the LA Times as one of the top 10 rural fairs in America and recognized by California Legislature as "California's Most Beautiful Fairgrounds."

No question is too tough for Charlie-- one of the great things about him is his accessibility and willingness to have civil discussion.

Charlie speaking with PlanIt Solar, a local Nevada County alternative energy provider.
Charlie recently released his ambitious energy plan, which has been getting great reviews on the blogosphere and within the alternative energy community. For more details, please visit our website and be sure to sign our petition urging the federal government to make the change to renewable energy.

KVMR radio's booth was powered exclusively with these solar panels. Nevada County is taking the lead in renewable energy in the district.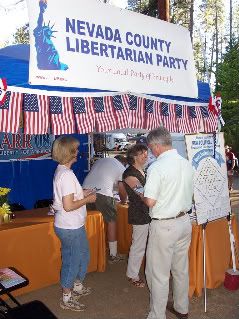 Charlie Brown taking the Libertarian Party's "shortest political test ever." Charlie received a warm reception from the Libertarians gathered at the fair.

Ever true to form, Charlie was even able to get a few new registered voters!
According to the California Department of Food and Agriculture, the Nevada County Fairgrounds is an economic, social and cultural treasure for Nevada County. On average, the Fair contributes nearly $21 million in economic impact to Nevada County, creates approximately 250 local jobs and generates about $225,000 in local tax revenue each year.