So...things got pretty hectic in Denver, and I didn't end up posting photoblogs 2 and 3 while I was there. Like many people at the Convention, I was wearing a number of of hats, shuttling between groups and locations. Apologies to the five or six of you who were waiting patiently for an update :)
Rather than overloading this diary with three days worth of photos, I'll post Invesco photos in a separate diary this weekend.
Tuesday started with another NY Delegation breakfast, where two amazing women spoke: Caroline Kennedy Schlossberg and AZ Governor Janet Napolitano. Yes, New York did get some great guests.



After breakfast, I went with a couple of my NY friends to Union Station for a press conference at Union Station with Democratic Congressmen/women on alternative energy.



From there we headed over to the MSNBC stage, where David Schuster was conducting interviews. Next up was Governor Schweitzer.




And the good Governor took time out for a few photos before heading off to prepare for the kick-ass speech he was going to give that night.




I spent most of the afternoon and evening in The Big Tent; political celebrities continued to pass through. Here's Markos with Ned Lamont.




There were more parties Tuesday evening than anyone could possibly attend. We watched some of the comedy from Laughing Liberally, stopped in an extremely loud DL21C party, then headed over to a party hosted by DFA.
DFA special guests included Andrew Rice,
Scott Kleeb. Scott gave a shout-out to Paul (aka Kid Oakland), who is working like hell to help Scott win in Nebraska. Why don't you give Paul and Scott a hand?



I spent most of the day Wednesday trying to get Pespi Center credentials and to find Invesco tickets for friends.
After trying (again, unsuccessfully) to get convention credentials from the NY delegation, I headed back to the Big Tent.



Among the people who passed through while I was there were Joe Trippi, T. Boone Pickens, Rick Noriega, WA Governor Gregoire and Senator Dick Durbin.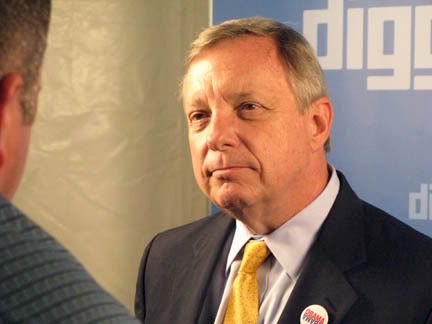 Later in the afternoon, my friend (and hero) lipris offered me his credentials for the night. To say that he made my day would be an understatement. Thanks again, lipris!
It was a strange feeling approaching the Center, kind of like finally arriving at Oz.
Here's a view of the entrance (from the inside!)



Getting in the door was one thing; getting into the hall was another. By the time I arrived at my section, there were no seats. Fortunately, people left and a I was finally able to go in (who were these people leaving before the speeches?)
Here's the view from my seat.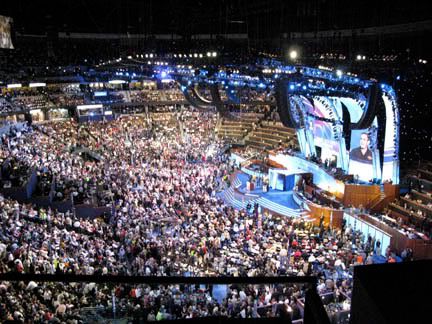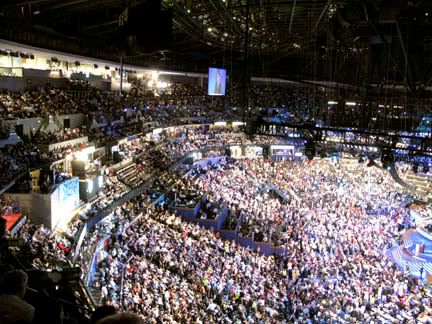 The speeches were amazing. The energy was amazing. Melissa Ethridge was amazing. It was such an unbelievably emotional experience.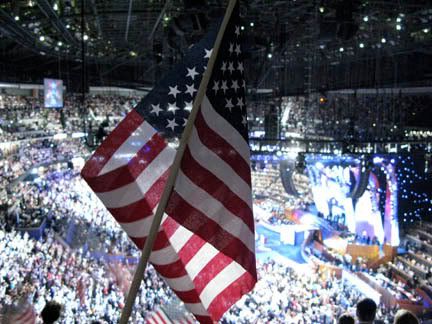 I got to hear Bill Clinton endorse Obama -- REALLY endorse Obama.



And I was there when Joe Biden accepted the nomination for Vice President. What an amazing night!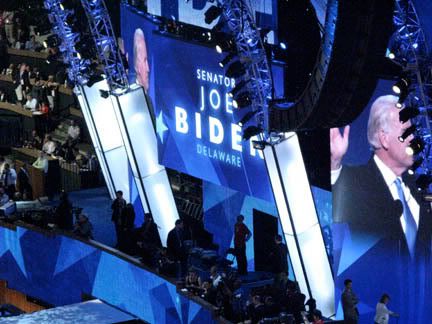 Some people starting leaving their seats after Biden finished speaking, but were stopped in his tracks when his wife Jill said there was a suprise guest. I knew immediately who it was.



The beautiful Biden family joined the candidates on stage.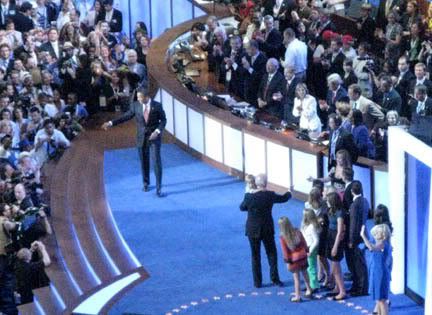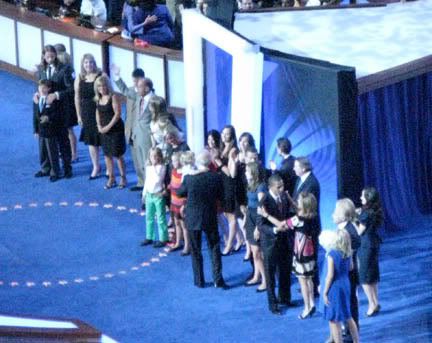 I feel blessed and grateful to have been in the convention hall to witness history. (Thank you again so much, lipris.)