Four years ago to the day, if you had clicked on and opened Daily Kos on October 29, 2004, this is what you would have seen: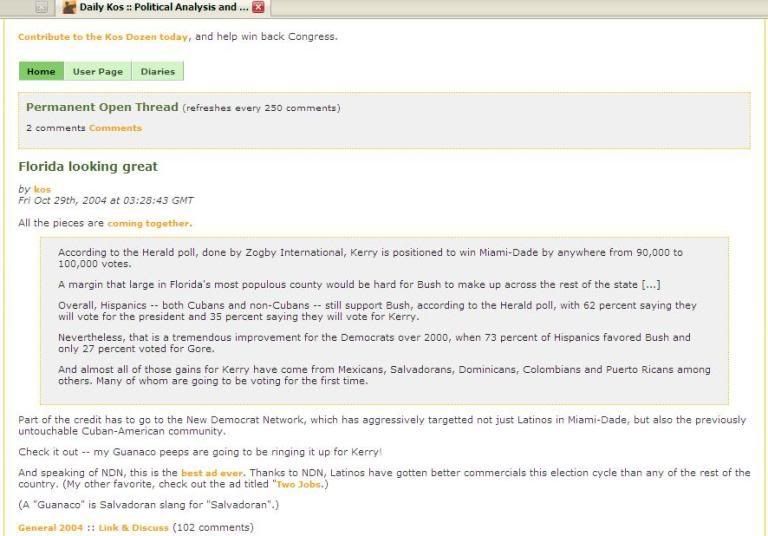 But wait - there's much, much more.
Here are the diaries followed by their introductory sentence/paragraph that were on the front page four years ago today, October 29 2004 (according to Archive.org):
"All the pieces are coming together."

Ohio new voter registrations looking gooood...

"We've got 'em registered."

"Looking at quadrennial changes in certified voter registration totals in Colorado gives me pause. In other analyses I have done here on DKos (i.e., for FL, IA, MI, NH), the trend has either been a slight boost in the two-party share of Democratic registrants, or a rise in independents, or both."

"Seriously, the GOP must keep voters away from the polls in order to have any chance to win."

"Zogby has been going around telling anyone who'll listen that this is Kerry's election. I had friends at the Daily Show taping today, and Zogby was on. To great cheers in the studio audience, Zogby declared Kerry the winner."

Without Arafat, Whither Palestine?

"While some sources, including The Guardian, are writing what is tantamount to obituaries for Yasser Arafat, it is unclear precisely what ailment he is suffering, and whatever else may be said of the man, he has few peers as a survivor. It is nonetheless obvious that his condition is exceedingly serious since he will be flying out of internal exile in Ramallah Friday morning to be treated in France."

"That's Kerry and the Boss. More pictures in this diary. AFP has a story."

DNC heads into Arkansas, both barrels blazin'

"Arkansas is back in play."

"Oops. Looks like those embeds with the 101st in Iraq got pictures of the very same high explosives that later went missing. All of it captured on tape by the Minneapolis/St. Paul ABC affiliate."

"Congrats to Mithras the Prophet for his diary on Bush's fake "Whatever it takes" ad."

"Apparently, we have to bomb Iraq to oblivion in order to save it: an estimated 100,000 deaths thus far. To borrow the incomparable Juan Cole's mathematical slide-rule, that would be the equivalent, in American population terms, of 1.1 million people here."

"There are some amazing things happening on the ground."
By my count, 8 out of 12 of those front page posts were very, very optimistic about the election that would occur four days hence. Compare and contrast that to today's front page posts, four years later (as of this writing):
"It seems everybody is jumping aboard the Obama express. The latest: Ken Duberstein, Ronald Reagan's former chief of staff, offered his endorsement this morning."

"Half a day left for Orange to Blue fundraising. We've crossed the $2.2 million mark. Our goal is 30,000 contributors by midnight."

MT-Pres: Edge to McCain, but not over

"Research 2000 for Daily Kos. 10/28-30. Likely voters. MoE 4.5% (10/15-16 results)"

"About a week ago, I received a great email from Northside DFA here in Chicago explaining what you can do on election day. Remember, if you're a student or if you're working, ask to take the day off.  I'm taking a couple days off next week, because this election is too important to not leave it all on the road. So make whatever plans you need to make, and let's jump right in:"

AK-Sen, AK-AL: Tubes going down the tubes

"Research 2000 for Daily Kos. 10/28-30. Likely voters. MoE 4% (10/14-16 results)"

"Today, most of the O2B campaign offices will be receiving a huge basket of cookies and brownies (the biggest size) to give their volunteers a nice sugary boost heading into the weekend. The two exceptions are the Baker campaign, which will get theirs tomorrow (I missed the cutoff time), and Begich's campaign which will get theirs Tuesday because Alaska is apparently on the other side of the world next to Putin's rearing head."

"Research 2000 for Daily Kos. 10/28-30. Likely voters. MoE 4% (10/14-15 results)"

AZ-03: The wingnutty Arizona Republic

"Last night, we saw that the Arizona Republican had been taken over by wingnut bloggers."

Obama airs ads in Arizona, Georgia, and North Dakota

"Nice."

ID-01: CQ Shocker--The Race is a Toss Up

"The normally staid and conservative CQ has done something pretty damned radical. They've moved the race for Idaho's 1st congressional district in to the toss up column."

AZ-Pres: Neck and neck, and check out 2010

"Research 2000 for Daily Kos. 10/28-30. Likely voters. MoE 4% (No trend lines)"

McCain Foreign Policy Surrogate Says Palin's Not Ready

"Nico Pitney and Sam Stein report that former Secretary of State Larry Eagleburger, one of John McCain's key foreign policy surrogates, now says Sarah Palin isn't ready to be president:"

ID-Sen: Getting Idaho out of the 1970s

"Here's a fun fact about Republican candidate for Senate in Idaho, Jim Risch. He's either really, really bad at math or a liar."

"Last week, the always insightful Rick Hasen of the Election Law blog penned a piece in Salon Slate regarding the need for a simplified, fair, and universal voter registration system. The entire piece is a must read, but this part was particularly pragmatic, and it reiterates ideas that many of us in the election reform community have been advocating for a while:"

"A feel good web ad from Barack Obama reminding us just how exciting it's going to be to actually get out and vote for change."

"Where will the candidates be today?"
My count is 12 out of 16 front page posts today were optimistic about the election four days hence.
Here's another flavor, posted Monday, November 1, 2004:
Gallup: Big Kerry mo'! (or CYA?)

Two weeks ago, Gallup had Bush with an 8-point lead. Today, in their final poll, they have it tied. I suppose the story should be "Big Kerry Mo'". But I no longer trust Gallup. I smell a CYA attempt to bring their numbers closer to what other pollsters are reporting.

Gallup. 10/29-31. MoE 3%. (10/22-24 results)

Likely voters, allocating undecideds
Kerry 49 (46)
Bush 49 (51)

Registered voters
Kerry 48 (47)
Bush 46 (49)
Look. I have a few points to make.
First - we were optimistic before the 2004 election. We should ALWAYS be optimistic. But we have to back that up - I'm not telling you (dear reader) anything you don't know. You were optimistic and willing to back it up four years ago. Yet we fell short. So "backing it up" this time around requires substantially more effort than what we did to "back it up" that time around. So for the love of [insert belief item here] - if you're doing everything YOU personally can, go get and find someone else willing to give even an hour on phone bank or on canvass or on literature drop. You'll be able to say you tried (and succeeded) if we do what we're supposed to do in these remaining few days.
Second - I'm not a concern troll. I've been here almost four years. And I remember the shock and disbelief that graced the front page here on Wednesday, November 3 2004. I wasn't a registered user yet - but I'd started reading. And man - I do not - DO NOT - want even a hint of a possibility of a whisper of a chance that we feel that way again this coming Wednesday.
We've worked so hard. I know I can say that I'm physically exhausted - between a very stressful and pressing job and working the election. But I keep telling myself I'll rest on November 5. And I will, come hell or high water. But NOT before then. NOT before the polls close here in Virginia on November 4, and not even then. Not until we've won. I collapse first - I swear to God.
So that's my big pitch. A little bit of historical reality-based fear to push you just a bit harder in the coming days.
Let's get this DONE.