I was very lucky and got invited to a special dinner in Rockefeller Center.
Well not so much luck as the fact that I've been writing about the host of this New York City dinner where all the food was cultivated within the five boroughs since the first time I heard of him. The first time I heard of the efforts of Jim Denevan I wrote Outstanding in the Field: from Ephemeral Art to Food Awareness and after taking a trip with OrangeClouds115 to San Francisco for Slow Food Nation I actually met this localvore hero and had a very happy story to tell about a cross country plate in Got a Happy Story? Outstanding in the Field Edition.
But enough about me and my good blogging fortune. On November 3rd, the day before this nation restored sanity to our government, just outside Democracy Plaza and above Rockefeller Center there was a presentation of local food efforts in New York City that was a great night on the town.
As I tell this story of people who know where their next meal is coming from gathering to explore local food, since this is the Thanksgiving Eve please remember the many food insecure households across this rich nation.
The Los Angeles Regional Foodbank reports that demand is up 41 percent and the quote that "One out of every ten people in Los Angeles County is at risk of hunger" is a sad truth. In Chicago there is 33 percent rise in the number of people who have turned to a pantry for food assistance compared with a year ago. According to New York City Coalition Against Hunger demand is up 28 percent in NYC. With record numbers appearing at food banks and a Thanksgiving dinner costing 12 to 15 percent more than it did one year ago 72 percent of the food banks across the nation are receiving less government funding then they did one year ago.
At this exclusive dinner there were displays of fresh vegetables that were gathered in New York City and donated to food banks after the feast.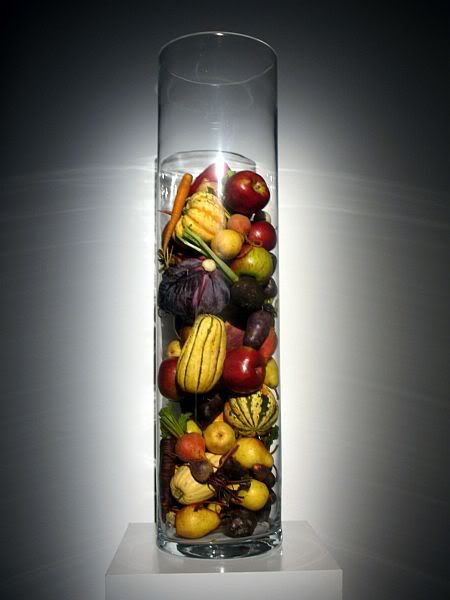 If that reminds you of an Absolut Bottle it should. Absolut sponsored the event and contributed the only Manhattan item in this five borough feast, Viburnum berries from Central Park. There was also local tomatos for those who imbibe.

COCKTAIL RECIPES:

ABSOLUT® Viburnum Berry Martini
1.5 parts ABSOLUT® Mandarin
1/2 part Agave
1/4 part Campari
3 Pieces of Lemon
Handful of Viburnum berries from Central Park (or cranberries from your local greenmarket)

Muddle berries and lemon, add agave, Campari and Mandarin. Shake and strain with double strainer.

ABSOLUT® Bloody Mary
1 ½ parts – 2 parts ABSOLUT® or ABSOLUT® PEPPAR
2 dashes Worcestershire Sauce
4 dashes Tabasco Sauce
Pinch of salt and pepper
¼ oz Fresh Lemon Juice
4 oz Tomato Juice

Tip: Pulp tomatoes at the height of season and freeze in batches; defrost pulp and strain for juices.
An Absolut press release offers a good introduction to Jim Denevan;
As an artist, Denevan is known for creating large-scale (measuring up to three miles across) geometric freehand drawings on the sands of deserted lakes and beaches. He is also widely recognized as founder of Outstanding in the Field, in which he began hosting dinners at organic farms (nearly 10 years ago) around his home town of Santa Cruz, bringing people closer to the food they eat by setting the table in the open air on the soil where the food was grown. Today, Outstanding in the Field stages dinners at farms across the country and soon, around the world.
But I've always loved the way Martha Tischner of
CBS Sunday Morning
presented this visionary;
Jim Denevan is a maker of moments. He is about the perfect wave caught, the gentle geometry of a diner table in an urban garden on a warm September evening or this colossal design drawn into the sand, soon to be washed away by the tide. He is an artist whose art is the ephemeral, like the sound of his whistling, there and then gone. Once you know that about Jim Denevan all the rest makes sense. All the very different things he does.
Ablosut also offers a youtube video that explains what Jim does and how he prepares to display his art;
Rockefeller Center was the perfect New York City setting for a New York City meal because after being farm land and before becoming the centerpiece of the Big Apple it was once the setting for New York's first Botanical Gardens.
The centerpiece at the long winding table where the invited guest would hear from New York city farmers was a Newtown Pippin as in the Newtown Creek along the Brooklyn Queens border.
Jim spoke with great emotion about this heirloom apple that is our oldest commercially grown native variety of apple and was once enjoyed by George Washington and Thomas Jefferson. As he spoke about this apple of our roots he told us of his son who was recovering from an accident and following in Jim's footsteps as a farmer.
Jim said "Not a lot of people are aware that food is produced in New York," and "It's important for people to know the real story of food."
Then we all enjoyed the delicious menu. I recall at Slow Food Nation that someone said it was the taste of locally produced food that would win over many converts and this meal was most memorable.

Staten Island eggplant puree on Sullivan bakery pizza bianca
Marinated roasted garlic & chard crisps
Wild New York scalop ceviche
♥
Brooklyn cranberry beans, roasted beets
heirloom tomatoes and basil
♥
Rockaway striped bass
with bronx collards
sunchokes, heirloom potatoes
carrots & rosemary
♥
Queens roasted heirloom pork
with chard & tomatillo
roasted leeks, pepper compote
♥
Queens pumpkin tarts
with Bronx honey & sage
I cannot ever describe how great the food was and the dinner conversation was even better since I was sitting with many of the people who grew the food. This second and shorter video is dedicated to the actual event and has a few short interviews with some of the people that made that Rockefeller Center feast possible.
Jenna Kirkutis-Gonzalez gave a good description and offered an interesting thought for New York City;

A true visionary, Jim is revered by art-lovers and foodies alike through his two seemingly unrelated professions that are united by his awe for nature and the environment. The ABSOLUT dinner was attended by 100 of today's most influential urban activists, professors, designers, chefs, financiers, food growers and producers, like Mario Batali, Tom Colicchio, Treehugger.com's Graham Hill and sustainable construction king Robert Politzer, who highlight the challenges and experiences of city farmers and open our minds to the ways city-based micro-farms can enrich the lives of citizens across the world.

It gives pause to think that if New York City's 14,000 acres of available rooftop alone were used for city farming, it would feed as many as 20 million people year round. But the environmental, nutritional and socioeconomic benefits would also include: providing fresh fruits and vegetables to areas that have been historically malnourished; reduction of the worldwide carbon footprint; generating new sources of wealth to communities; and recycling important city resources, like turning compressed garbage into soil fertilizer and using water run-off to cool buildings.
After the dinner
Jim Denevan and Katy Oursler
Jim's director of the organization who is billed as
"Wendy to his Peter Pan"
in an old
New York Times bio,
offered some more information about what they do. Katy is the
"form and focus to Deneven's airy musings"
and just an all around wonderful person.
Then Katy offered the microphone to some of the New York City farmers who made the meal possible. Michael Grady Robertson from the Queens County Farm that dates back to 1697 and occupies New York City's largest remaining tract of undisturbed farmland was also there to give a speech about Appleonia. You really don't want to hear the name and life story of a pig you just finished eating but Michael told Appleonia's story very well and only got a little emotional about the death of a delicious pig.
In this photo Bobby Watson, the son of Abu Talib who is director of Taqwa Community Garden is holding the microphone. Katy is on the right and Deborah Greig who is the Urban Agriculture Coordinator of East New York Farms is over on the left;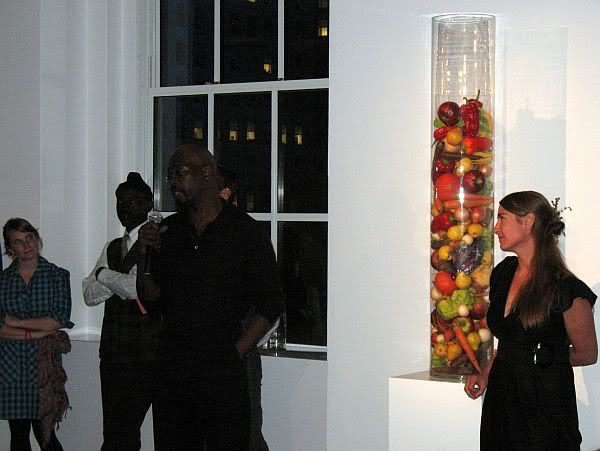 There were two very different stories told by Abu Talib and Deborah Greig. Both are leaders of a community-driven urban gardening movement but come from very different places.
Abu Talib who is now 74 years old was once a share cropper in south Carolina. When he started his farm in an abandoned junk yard sixteen years ago in one of the most poverty stricken sections of the city, he was doing what he knew. The farm is only one acre and produces a bounty of food while offering community youth some direction. Talib's story tied in with the rebirth of the Bronx.

He wants to make sure that his farming skills and knowledge are passed on to others.

"If all farming dies," he said, "we all die."

Talib and his son work with four youths in the neighborhood, teaching them the basics of farming. On weekends, he and the youngsters typically sell between 1,500 – 2,000 pounds of produce from the garden. They make enough in sales to cover the paychecks of the youths.

"I wanted to do something to get kids off the street and create some jobs in the community," said Talib.
Deborah Greig considers herself to be the new order of young urban professional. Educated enough to choose any field she wanted, young Deborah picked working in the field;

From my end,farming is always creative, but there is also a need to make it economically sustainable, to make the work easier and not just for the art of it. Making farming economically sustainable is where the creativity comes in. You have to experiment in different ways to make everything functional.
And it is a real field of community activism with
both adult and youth programs
building a stronger community.
"It keeps us off the streets, and gives us something positive to do. A lot of the kids around us are getting into gangs and stuff like that," said Sakinah Abdul, 15, an intern at the farm.

In East New York and New Lots, three out of 10 adults were obese, and were nearly twice as likely to have diabetes as those in the rest of Brooklyn - and New York City as a whole - in the city's "Take Care New York" profile figures for 2006.

East New York Farms hopes to help solve some of these problems.

"We're always around the tables, dancing and welcoming customers in. Whenever we see someone walking down the street, we try to invite them in to look around," said intern Musheerah McCray, 15.
There was also a speech from Michael Hurwitz, the director of the GreenMarket.

Greenmarket promotes regional agriculture and ensures a continuing supply of fresh, local produce for New Yorkers. Greenmarket has organized and managed open-air farmers markets in NYC since 1976. Greenmarket supports farmers and preserves farmland for the future by providing regional small family farmers with opportunities to sell their fruits, vegetables and other farm products to New Yorkers.
It is amazing that this whole local food movement seems so new when it is really our roots. As the Greenmarket points out.
Eating locally grown food is nothing new. A hundred years ago, over 95% of Americans lived on farms. City dwellers ate food brought by horse and cart from nearby farms. In the 1800s, Brooklyn was the top producing agricultural county in the US.
It was a very educational evening in the Big (Sustainable) Apple above where the Elgin Garden once stood and the view from
the rooftop at 620 Loft & Garden
on a perfect evening was spectacular too.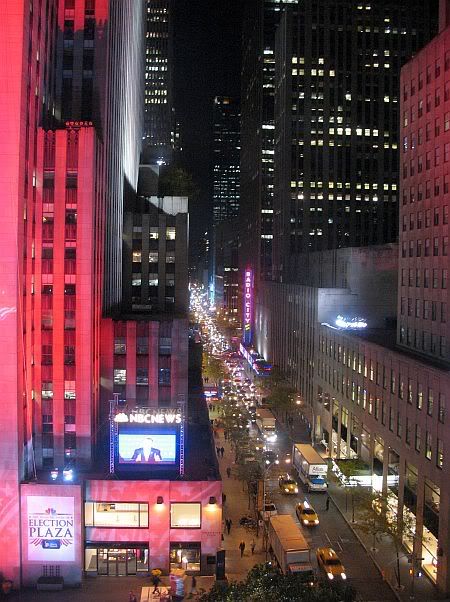 Note:This dairy was cross-posted at La Vida Locavore and Progressive Blue
Happy Thanksgiving.