Good morning. Welcome to the first diary in our weekend-long blogathon to provide meals throughout the summer to hungry American children.
Across America, for hungry children, summer is a particularly difficult time. With schools closed ~ and too few local organizations willing or able to take over government-sponsored breakfast and lunch programs offered at schools ~ millions of American children simply will not have enough to eat.
You can help! And in honor of the mothers of these children (and mothers everywhere), we hope you will. For just $36, you can feed a hungry child for the whole summer. What a lovely Mother's Day gift.
Although the United States is the wealthiest nation in the world, millions of children in our nation . . . are either currently hungry or nearing hunger. Children who are undernourished are at greater risk for serious health, social, and educational problems. Today, many public food-assistance programs and private organizations strive to meet the nutritional needs of vulnerable children, but more needs to be done to fight child hunger.

* * *

For too many children, access to complete nutritious meals is limited to what (they) receive at school. This leaves evenings, weekends, and vacations where children may be lacking adequate nutrition.
When children are hungry, the whole family suffers.
As Meteor Blades wrote, in his heartbreaking closing diary in last winter's Filling Empty Bowls series:
I was 6 years old and sitting next to my grandmother at the table where as many as 14 of our extended family members ate our evening meals. I quickly finished my small plate of rice and beans, and said, "But, grandma, I'm still hungry." Everyone went silent. My grandma, Simmalikee, smiled at me, took her plate and scraped off the several spoonfuls she had not yet eaten onto mine. No, I thought. Not your food, grandma. Some other food. I sobbed as she coaxed me to eat each bite. No matter how empty my belly felt, I never again said I was still hungry after a meal.

That was a long time ago, and my grandma has been dead more than 50 years, but I have never forgotten that terrible moment nor what it means to be poor. If there was meat or fish on the table then, it was possum, deer, catfish and the occasional wild hog. In those days, before food stamps, we received surplus government hand-outs every month: rice, beans, cornmeal, lard, cheese and powdered milk. It was never enough, and toward the end of each month, everybody's portions got smaller.
~ Meteor Blades Going Hungry in the 'Richest Country in the World'
You can read about the devastating extent of child hunger in America in this diary by RDemocrat.
How can you help to make sure that there is enough this summer?
You can join us in contributing to the Magic Lunch Box Program at Feeding America.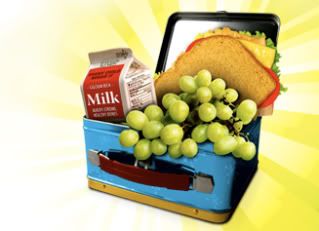 As a result of economies of scale and the generosity of their corporate sponsors, Feeding America will provide $15 worth of food to Food Banks and to the Magic Lunchbox program for every dollar donated.
Each year, the Feeding America network provides food assistance to more than 25 million low-income people facing hunger in the United States, including more than 9 million children . . . .

Our network of more than 200 food banks serves all 50 states, the District of Columbia and Puerto Rico.The Feeding America network secures and distributes more than 2 billion pounds of donated food and grocery products annually.

The Feeding America network supports approximately 63,000 local charitable agencies that distribute food directly to Americans in need. Those agencies operate more than 70,000 programs including food pantries, soup kitchens, emergency shelters, after-school programs, Kids Cafes, Community Kitchens and BackPack Programs.
Must we, as a country, do much more to solve the problem of hunger once and for all? Absolutely. But no changes will come in time to feed hungry children this summer. So, for today at least, the choice is clear: We can either argue about what needs to be done, or we can take action to feed hungry children.
And, moreover, the choice is ours. We can, as a progressive community, either choose to help now, as we can, or decide to engage in bickering about what we must do in the future. I choose to help hungry children this summer. Right now. Please join me.
I am so grateful to the following diarists, who will be supporting the series this Mother's Day weekend:
Saturday (1 pm EDST): TheFatLadySings
Saturday (4 pm EDST): boatsie
Saturday (7 pm EDST): Patriot Daily News Clearinghouse
Saturday (10 pm EDST): Hardhat Democrat
Saturday (midnight overnight): jellybeardemmom
Sunday (10 am EDST): rb137
Sunday (1 pm EDST): Norbrook
Sunday (4 pm EDST): srkp23
Sunday (7 pm EDST): blue jersey mom
Sunday (10 pm EDST): Timroff
Please read and recommend them all.
Thank you, so very much.