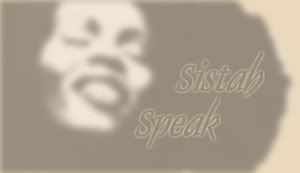 Commentary
Robinswing, Black Kos Editor

The blackwoman is feeling pretty good right about now. Our President is on the world stage making me feel good about being an American. A black American. And pushing peace. Sonia Sotomayor will be the next Supreme Court Justice. Hell, we might even get the public option on health care. As an old friend of mine used to say at moments such as these "What more can a black woman ask for?"

In answer to the question I would like to give my list of things I am asking for.
(commentary con't.)

One, I would like to live in an America where black men are not fodder for police and each other. So many young black men are murdered on the mean streets of cities around the nation, it doesn't even make the news. If I'm asking, it's for the opportunity to reach manhood for my young brothers.

Two, I would like to live in an America where black women don't have to work so damn hard. We've been working outside of the home since we were kidnapped and enslaved in this country.

Three, I would like to live in an America where children don't go to bed hungry. Restaurants throw away good food in many places and the homeless go to sleep hungry. Some of those homeless are children and it just ain't right.

Four, I would like to see justice happen when police officers shoot and kill unarmed black men.

Five, I would like to see Pat Buchanan and folks like him herded together and quarantined from interacting with decent people.

I would also like to see peace in the Middle East and the end of genocide everywhere in the world.

I would like to see Africa and Africans prosper.

I would also like to see Bush and Cheney frog marched to Gitmo and Rumsefeld tried in Hague.

It would also work for me to have Sean Hannity beg for forgiveness for all the lies he tells.

Come to think of it, watching noses grow on live television as pundits lie also makes my list of things I want.

I was raised by parents who taught me I could not have everything I want. Part of me still rebels at this idea. Inwardly I rail against the wrongs that I see. Have seen.

Though this country has made some forward movement in race relations, the last couple of weeks listening to the strum and drang of racists makes it clear we still have a ways to go.

Finally if I could have one more thing that I want, it would be live video of the sister karate chopped by that Epstein idiot pimp slapping him into another dimension.

What else could a black woman ask for? You tell me.

Now run and tell that.

------------------------------------------------------







Newark Mayor Cory Booker sat down with Bill Moyers of PBS to discuss race, politics, and the future of America.




---------------------------------------


NY Times === On Diverse Force, Blacks Still Face Special Peril.

Two black police officers stand outside the 70th Precinct station in Brooklyn and consider the disastrous turn of events the night before: an off-duty black officer dead in a Harlem street, felled by the bullets of a white officer who mistook him for a threat.

One runs his hand across his corn-rowed scalp; he is disgusted. "Same deal always," he says of the deadly encounter between colleagues on Thursday night. "They'll say it's about training."

A block away, a Latino officer with six years on the force acknowledges being conflicted. "Tell you the truth, I feel bad for the shooter. It happens so fast, and now he has got to live with this." His voice trails off.

At the Newkirk Avenue subway station, a black officer of many years' experience stares straight ahead. "There's your training and there's your reaction," he says quietly of such split-second tragedies. "That's two different things."

Its serried ranks are more diverse than ever, its training and rules on the use of force more rigorous than in the past, yet the New York Police Department still struggles with the problem of fraternal shootings across the color line. Beginning with the first such shooting in 1940, when white officers in Harlem mistook a black officer, John A. Holt Jr., for a burglar and shot him dead in his own apartment building, these relatively rare shootings come attended by an air of political ritual: protesters march, panels are appointed and reforms are most often accepted by police commissioners.......More







Atlanta Journal Constitution === Black Arts event names new CEO

The National Black Arts Festival on Wednesday named Neil L. Barclay, leader of the August Wilson Center for African American Culture in Pittsburgh, as its new CEO and executive producer.

Barclay replaces long-time NBAF Executive Producer Stephanie Hughley, who resigned in March to return to the New Jersey Performing Arts Center.

He departs Pittsburgh just as the Wilson Center prepares to offer a preview Saturday of its $39.5 million facility scheduled for a Sept. 19 grand opening.

"In accepting the leadership of the nation's premier celebration of African Diasporic culture in Atlanta, I quite simply return to working more intimately with my first loves —- artists and the development of creative capital," Barclay said in a statement released Wednesday to Pittsburgh media........More


---------------------------------------


As Colson Whitehead's and Lydia Diamond's new dramas show, the way black artists represent themselves and are perceived by others is changing.
LA Times === Center stage: middle-class African Americans.

Guess who's coming to the beach barbecue this summer? Middle-class African Americans, that's who.

In two new critically esteemed works, Lydia Diamond's play "Stick Fly" and Colson Whitehead's just-published semiautobiographical novel "Sag Harbor" (Doubleday), the focus is on middle-class blacks summering on, respectively, Martha's Vineyard and rural Long Island. While both works address some of the perennial challenges of African American life, they also depict their characters basking in such fair-weather pleasures as hanging out with family, eating waffle cones, playing board games and schlepping across sand dunes.

Diamond's comic drama, which is running through June 14 at the Matrix Theatre on Melrose Avenue, and Whitehead's buoyant coming-of-age tale follow on the heels of Jill Nelson's "Finding Martha's Vineyard: African Americans at Home on an Island." Published in 2005, her book is a lyrical memoir-history of the author's half-century love affair with the Oak Bluffs community, a longtime African American enclave off the picturesque Massachusetts coast.......More


---------------------------------------


In a retrospective at the Studio Museum Harlem, a close-up of the celebrated video artist Kalup Linzy. Part America's Funniest Home Videos, part Lil' Kim, the collection of 17 videos offers captivating commentary on celebrity, masculinity and sexuality.
The Root === How Video Made an Art World Star

There is nothing virtuosic about 32-year-old artist Kalup Linzy's videos.

The lighting is harsh, the editing perfunctory, the costumes, at times, haphazard. The style is best described as a pastiche of public access television, YouTube, daytime soap operas, hip-hop and Web pornography. To the average person, the videos would be better described as America's Funniest Home Videos crossed with Liam Sullivan (of Shoes fame), layered with a generous helping of Lil' Kim.

With this unusual combination, Kalup Linzy transitioned from being one among a group of emerging black artists, to being the standout star in quick and dramatic fashion.......More








Archbishop Desmond Tutu has pleaded for increased support for Zimbabwe's fragile national unity government.
BBC === Tutu in Hay appeal for Zimbabwe.

The anti-apartheid icon, a key-note speaker at Hay's literary festival, said Zimbabwe had become a "hell on earth".

He was questioned by a Zimbabwean activist on the lack of unity among the leaders of southern African countries in dealing robustly with Robert Mugabe's regime.

He said the new unity government was the best option and that change could only really come at the next election.

Archbishop Tutu told the woman that he "felt very deeply" with her anguish.......More


---------------------------------------


The UN is working to release more than 80 child soldiers taken prisoner by the Chad army during fighting with rebels.
BBC === UN team meets Chad child soldiers

The children were seized from the rebel Union of Resistance Forces (UFR) group, the UN children's fund (Unicef) says.

The UFR mounted a failed attack in the east of Chad early in May which led to troops capturing many prisoners.

On Wednesday, Unicef staff finally began interviewing the children to establish their age and identity. Some are believed to be as young as 13.

It is hoped they will all be released to a demobilisation centre in N'Djamena as soon as possible.

The issue has highlighted by the British actor Ralph Fiennes, who has just concluded a visit to Chad as a Unicef goodwill ambassador.

More than 200 prisoners were taken at the battle of Am Dam in May, where the UFR rebels suffered a big defeat which forced them to retreat completely.......More


---------------------------------------


Harry is a hit Harlem.......More


---------------------------------------


The Root === Brooklyn Kids Lend a Hand in South Africa

CNN's 'Black in America: The Sequel' has taken the time to cover the efforts of "Journey for Change," a volunteer initiative spearheaded by Malaak Compton-Rock, wife of comedian Chris, which take at-risk teens from Bushwick, Brooklyn, pairs them with college-age mentors and sends them to South Africa to help AIDS orphans in South Africa. Compton-Rock requires that each student who takes part in the program sign a one-year contract to be global ambassadors--whose duties include "tell[ing] their friends and neighbors about their experiences -- through writing, blogging, photographs and speeches." No stranger to service, Compton-Rock is not merely trying to expand the horizons of underprivileged kids through travel. She often intones the words of her mentor Marian Wright Edelman, founder of the Children's Defense Fund: "Service is the rent we pay for living."........More








NY Times === The Waves Minority Judges Always Make

Justice Thurgood Marshall, the first black member of the Supreme Court, ended his 24 years there bitter and frustrated. He had been unable, he said, to persuade his colleagues in many cases concerning racial equality, the cause to which he had devoted his life.

"What do they know about Negroes?" Justice Marshall asked an interviewer. "You can't name one member of this court who knows anything about Negroes before he came to this court."

But the other justices did get to know Justice Marshall, and even the more conservative ones acknowledged that his very presence exerted a gravitational pull more powerful than his single vote.

"Marshall could be a persuasive force just by sitting there," Justice Antonin Scalia told Juan Williams in an interview for a biography of Justice Marshall, recalling the justices' private conferences about cases. "He wouldn't have to open his mouth to affect the nature of the conference and how seriously the conference would take matters of race."

President's Obama's nomination of Judge Sonia Sotomayor to serve on the Supreme Court, where she would be the first Hispanic and the third woman, has raised questions about how her background would affect her decision-making. But there is another question, too: How would she alter the larger dynamic among the justices?

The first woman on the court, Justice Sandra Day O'Connor, often says that wise old women and wise old men reach the same conclusions. But empirical research on federal appeals courts tugs in another direction........More


---------------------------------------


Not to often Bob Barr makes Black Kos, but....
NY Times === Death Penalty Disgrace.

THERE is no abuse of government power more egregious than executing an innocent man. But that is exactly what may happen if the United States Supreme Court fails to intervene on behalf of Troy Davis.

Mr. Davis is facing execution for the 1989 murder of an off-duty police officer in Savannah, Ga., even though seven of the nine witnesses have recanted their testimony against him. Many of these witnesses now say they were pressured into testifying falsely against him by police officers who were understandably eager to convict someone for killing a comrade. No court has ever heard the evidence of Mr. Davis's innocence........More



SOME FRIDAY WAKE-UP MUSIC

This Friday were steppin' into the "...Way Back When..." machine. The legendary Tyrone Davis







math4barack tackles Tokenism and the GOP

The myth of the "black male boogeyman" by Deoliver47

Why it is Critical that the African American Community Unite Behind Sonia Sotomayor by Kamala Harris