On a day during which we honor all fathers, I would like to take a few moments to remember one young father in particular:
DoD Identifies Army Casualty

The Department of Defense announced today the death of a soldier who was supporting Operation Iraqi Freedom.

Sgt. Joshua W. Soto, 25, of San Angelo, Texas, died June 16 in Iraq of wounds suffered when an improvised explosive device detonated near his vehicle. He was assigned to the 1st Battalion, 77th Armor Regiment, 4th Brigade Combat Team, 1st Armored Division, Fort Bliss Texas.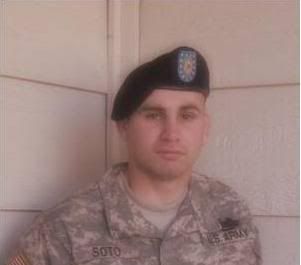 Sgt. Joshua W. Soto
Twenty-five year old Joshua Soto, father of a ten month old son, died last week in Tallil, Iraq of wounds suffered in a roadside bomb attack. He was serving his third tour of duty in Iraq, having received a Purple Heart during his first tour and posthumously awarded the Purple Heart and Bronze Star according to GOSanAngelo.com.
The Fresno Bee reports that Sgt. Soto's brother Shane, who is a member of the Air Force, was notified of his brother's death and is accompanying his remains home to the family.
Family friends told KMPH News that Sgt. Soto had followed in the footsteps of his brother and grandfather when he joined the Army in 2002 upon his graduation from Avenal (California) High School.
"This is devastating news, but he was doing what he loved to do and that was to serve his country," friend Brenda Brown told KMPH.
Koneeshia Brown said, "Josh was a big joker and loved to mess around and play jokes on people. He was into sports and (was) an all around good friend."
Friends also said Soto was a proud husband and a very proud father.
Though funeral arrangements are pending, Sgt. Soto will be buried in Bakersfield, CA near his mother and grandfather.
Rest in peace, Sgt. Soto.

I Got the News Today (IGTNT) is a diary series intended to honor service members who have died as a result of the wars in Iraq and Afghanistan; its title is a reminder that almost every day a military family gets the terrible news about a loved one.

Click here to see the series, which was begun by i dunno, and which is maintained by Sandy on Signal, monkeybiz, noweasels, greenies, blue jersey mom, chacounne, twilight falling, joyful, roses, SisTwo, SpamNunn, a girl in MI, and JeNoCo.

Please bear in mind that these diaries are read by friends and family of the service members chronicled here. May all of our remembrances be full of compassion rather than politics.
Diarist's note: On this day, I would like to publicly remember my own father, John Peter "Pete" Amodt - Though far from perfect, he had a positive impact on the lives of many, many of his students during a teaching career that spanned three decades. He was full of life and laughter and I miss him very much. --Nancy Eckert (JeNoCo)