President Obama,

You don't have to travel to the far side of the world to see protesters being arrested as they attempt to save their families, communities, and future. You don't have to travel to the far side of the world to find a place where the powerful oppress the poor, and where corruption breeds poverty. You don't have to travel to the far side of the world to find tragedy being written in people's lives and in the land. You can get in your car and drive there in less than six hours.

Thirty Americans were arrested in West Virginia this week, while protesting a mountaintop removal mine that leaves millions of gallons of sludge hanging above an elementary school. Last week, fourteen others were arrested protesting at another mine. Both mines were owned by a company whose CEO took one state supreme court judge to the Rivera, and who spent more than three million dollars on another hand-picked "justice."

Some may find it audacious, if not outrageous, to compare what is happening in West Virginia to what is going on in places where people are dying in the streets. It's true that the recent arrests have been, with a few exceptions, as close to peaceful as such events can be. But while there have been no tragic images recorded on camera phones in West Virginia this past week, people died because of mountaintop removal. Miners have died, but we take that as a matter of course. We accept that flipping on the light switch comes at the price of blood. However, mountaintop removal mining has killed far more than miners. Dozens of people in surrounding communities have died when walls of black sludge plunged down on their homes. Whole families have died, Mr. President, whole towns... so that other Americans can buy their electricity some fraction of a cent more cheaply. And that's not even considering the lives cut short from contaminated water and fouled air.

It's evident that you're a very intelligent man, Mr. President. That's a big part of why so many of us supported you in the last election. And you may believe that by looking at the horrifying pictures and by reading the staggering numbers, you understand what mountaintop removal is about. Sir, you don't. You can't. The scale of this tragedy can't be expressed in a table of statistics, no matter how frightening.

President Obama, I know that there are some in the Senate and elsewhere who have attacked you over the past few weeks for not inserting yourself more fully into the unrest in Iran. I believe those people are wrong. You've wisely chosen to take a path that's less vainglorious, but more effective.

However there are those in your own administration who are telling you that you should not insert yourself more powerfully into the issue of mountaintop removal. That you should step back, wait for Congress, and use the power of your office to constrain, rather than end, this practice. Mr. President, those people are wrong. You cannot bargain with mountaintop removal, any more than you can make a deal with a disease. Mountaintop removal mining is unsupportable -- and unconscionable. It's not needed to meet America's energy needs. It's not needed to provide jobs in Appalachia. It's simply not needed.

Come and see for yourself, Mr. President. When you've seen it, you'll know what to do.
For those of you who aren't President Obama, I'd like to ask a favor this morning. Go to Twitter and send this message:
President Obama. Go to West Virginia. See for yourself what Mountaintop Removal is doing to the land, water, and people. #mtr
If you don't use Twitter, put it on your Facebook wall. If you don't use Facebook, use your blog site, or a diary on another site, or send it in email. Do all of the above. Get the message out there. Want a quick solution? Try the Help President Obama See the Truth About Mountaintop Removal page from the Rainforest Action Network.
This isn't about getting help to an area of America that can't help itself. The mountaineers of West Virginia are strong. They don't need outsiders to solve their problems. But they do need the rest of us, those taking advantage of their misery and those charged with caring for the whole nation, too understand what is happening.
(UPDATE) Jeff Biggers has another call to bring Obama to the mountaintops over at Huffington Post.
Here's the beyond-the-Beltway truth: With millions of pounds of explosives ripping across the Appalachian mountains every day, and the Office of Surface Mining (OMSRE) still operating without a director, it is almost beyond belief that President Obama, CEQ chief Nancy Sutley and EPA head Lisa Jackson have made no attempt to visit actual mining sites under their jurisdiction.
Please read his post, and if you've made a post about this on your blog, let me know.
West Virginia Blue has also joined the call.
Public opinion in West Virginia is against mountain top removal. I think even most people who mine coal know that mountain top removal is a horrible way to make a living. It is a Faustian bargain.
These kossacks have already sent a Twitter or email or post in support of this effort. Please join them.
| | |
| --- | --- |
| Patriot Daily News Clearinghouse | vito619 |
| Cassiodorus | hockeyrules |
| peace voter | Plutonium Page |
| Sue Stone | Darksyde |
| Mcjoan | Asinus Asinum Fricat |
| wv voice of reason | klamothe |
| Laura Clawson | LaughingPlanet |
| PLCOT | Angie in WA State |
| Bill in MD | derekmaune |
Need more information? Come inside...
This week the Senate Committee on Environment & Public Works held the first hearings on Moutaintop Removal in a generation. This hearing will help to raise the importance of the Appalachia Restoration Act (S 696) and the Clean Water Protection Act (H.R. 1310), twin bills that are hoping to finally put an end to this practice.
But even if the bills get passed, that's no guarantee. After all, those who passed the Clean Water Act thought they had stopped Mountaintop Removal. They didn't know that administrations from Reagan to Obama would spend their time debating the meaning of "waste" vs "debris" vs "fill," all the while allowing the mountains to fall. It will take both good legislation, and good administration to make this procedure stop.
Worried that stopping mountatintop removal would threaten our electricity supply? MTR is a small part of the coal used in the United States and provides less than 3% of our electricity. It can easily be replaced by other sources. If it stopped tomorrow, nobody's lights would go out.
Worried that stopping mountaintop removal would cost jobs in Appalachia? MTR actually competes with other forms of coal mining that require more people. The first thing that would happen if MTR were ended is that there would be jobs in mining. Besides, there are already three times as many people in the area working on tourism rather than mining. MTR threatens to take those jobs away forever. If you think that MTR jobs are the "only good jobs in the state," you simply don't know the area. Not only that, but studies have shown that many MTR sites are well suited for renewable energy projects that would generate more jobs, more revenue, and save the mountains.
In 2007 a wind potential study was commissioned to see if there was the potential to place wind turbines on Coal River Mountain. The wind potential study and the following economic study found that it is possible to place 328 MW of wind energy on Coal River Mountain. That's enough to power 70,000 West Virginia Homes and provide permanent jobs and $1.7 million in taxes to the county every year.

Unfortunately, Massey Energy is applying for permits to mountaintop removal mine the mountain which would destroy the wind potential. This is the last mountain left standing in the area. Please help save it.
Worried that people in the area don't want MTR to end? Surveys show that 2 out of 3 West Virginia voters oppose mountaintop removal. And the more knowledge or experience with MTR they have, the more likely they are to oppose it.
Appalachian Voices has great materials, links, and images (including those seen below). If you're looking for more information, they're a great resources.
Sierra Club has a permit tracker that looks as MTR sites, as well as a good collection of information on the issue.
Also check out the I Love Mountains site focused on this issue and West Virginia Blue which focuses on this issue among others in West Virginia politics.

This is a shot of the Buffalo Creek area on the day after a slurry containment dam failed, killing 125 people and leaving 4,000 homeless. These slurry dams in MTR areas are rarely inspected and fail regularly, releasing millions of gallons of sludge. If we don't stop these practices, it's only a matter of time before another disaster like Buffalo Creek.
If you have a site with additional information, or a post on this subject, please point it out in the comments.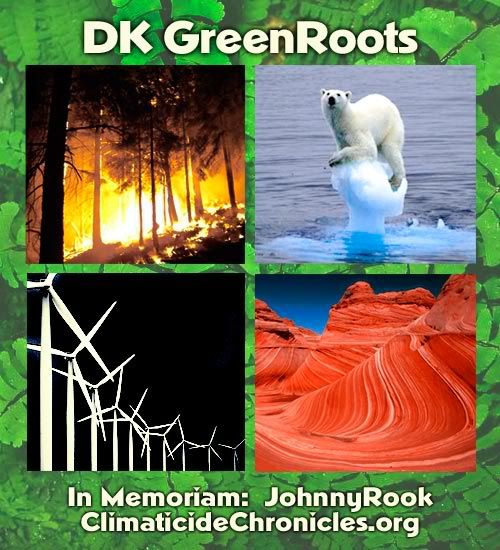 If you are interested in environmental issues, please join DK GreenRoots, a new environmental advocacy group created by Meteor Blades. DK GreenRoots is comprised of bloggers at Daily Kos and eco-advocates from other sites. We focus on a broad range of issues. We alert each other to important eco-stories in the mainstream media and on the Internet, promote bloggers at one site to readers at other sites and discuss crucial eco-issues. We are in exciting times now because for the first time in years, significant environmental legislation will be passed by Congress. DK GreenRoots can also be used to apprise members of discussions and strategy sessions happening in Meteor Blade's Green Diary Rescue thread, which is also our workroom.