Welcome to Fitness Monday! Every Monday, a fitness diary is posted by some insane Kossack one willing to share their stride(s) toward better fitness. If you'd like to admit confess host a Fitness Monday diary, you can sign up for an open week by going to gmail, signing in with the user name "FitnessMonday", password "exercise", and using the calendar feature to stake out a future Monday.
We'd be thrilled for the company. NOW! Let's do jumping jacks across the jump! One! Two! Three!
Four!
Excellent!
I have several topics from which I could choose right now. For example, on Friday, Sasha
and I went for a walk at Waterfall Glen Forest Preserve. We made about 8 miles of the 9.6 mile circular trail when "Garrick" picked us up (to save me from ferocious mosquitoes.) I did take photos, but the trek - while long and tiring, really was more of a nature walk than a fitness walk.
I really (really) wanted to go horseback riding this weekend, and really (really, really) nagged Garrick about it. I mean, I even waited until he was half asleep and started asking questions... until I started to get "Uh huh" replies regularly. Then I asked, "Are we going horseback riding?" and he said "uh huh." And (this was the clincher) then I asked, "Will you marry me?" and he said, "Wha?" - so... that was like VERIFYING he knew what I was saying.
We didn't go horseback riding. We DID go to the Cruise Nights (Classic Car show) in Lombard, and spent 20 minutes or so dancing to the "Neverly Brothers." Well, I danced around Garrick, who mostly stood like a lump and grinned. The older couple on the bench to the west smiled at us. (Garrick said, because he was smart enough to NOT dance.)
So, instead, I write about the 11th Annual Heart for Life 5K in Lisle, IL - we participated this morning. It is a free race, chip timed, with bananas and water and granola bars at the end... a surplus of water stops, each with a hilarious theme. This was my second time in the race. It was Garrick's first 5K.
I've asked him to describe it.
The truth of the matter is, I was filled with a sense of deep foreboding. The race course was treacherous, and the competition was fierce. The dark skies and clouds foreshadowed what was to come. It was really very sunny, but it was very windy & hard to run against. There were perils all along the way. We ran into the likes of dastardly pirates and drunken musketeers with sabres. And drunken frat brothers in togas, handing out "beer". Running the race was one thing, but negotiating these obstacles was quite another.
After mile one, I hit the wall, and started walking fiercely, whereupon, I came upon a playground, and wanted to stop for a breather. This allowed several seventy year old gentlemen to pass me by. Sheddhead pulled me to my senses. She said, "Pull yourself together, dammit! You've got to beat those old men," and I thought, 'What a wonderful idea, I could beat them!"
The trail was long, and the pain in my ass side was unrelenting.
I was shocked and dismayed by all the water bottles carted in on trucks, and the piles of plastic cups being picked up for recycling - I thought this was going to be an eco-friendly race. But no matter. I was running walking it to the end.

Finally, the end was near. And, I broke into a sprint, passing several old men in wheelchairs and a grandma or two. I thought I stepped over the finish line, but just had to take one last turn and see sheddhead right on my tail - she was giving it her all - and I could not pass up this photo opportunity, and took a shot of her "breaking the tape" (as it were) at the finish line.

I collapsed to the ground, suffering from severe dehydration, cramps and loss of control of my bowels. [Note from sheddhead - that last is nothing new.]

People looked away in disgust, but no matter, I was proud of all I accomplished today, and if I had to do it over again, I wouldn't. Or would I? We enjoyed strawberry pancakes for brunch, and returned home for an invigorating nap.
Please enjoy the following photos...
Garrick getting in running form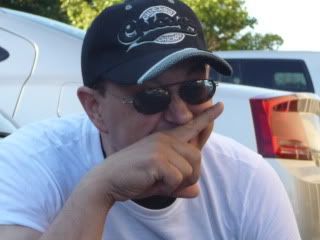 Garrick... um... using performance enhancing drugs.
Note the fierce competition.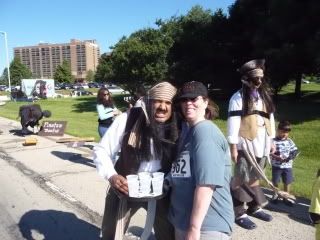 Dastardly pirates.
Checking in with the medical staff.
Sponge Bob is in the house.
One for all and all for one.
Breaking the tape. As it were.
The trophy I could have had (if I could have still run at the end.)